The Process: Starting a Business with Dustless Blasting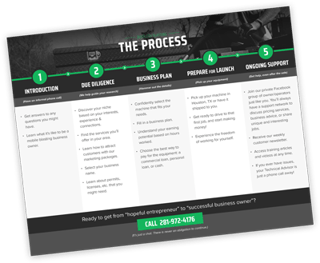 Your story starts now. But what does the path ahead look like?
We've broken down the journey to business ownership step-by-step, so that you know exactly what to expect.
Stage 1: Introduction
It all starts with a phone call.
This is an informal chat between you and one of our Startup Business Advisors, where we:
Answer any questions you might have
Tell you more about Dustless Blasting
Share what it's like to be a mobile blasting business owner

(It's just a chat, there is absolutely no obligation to continue!)
Stage 2: Due Diligence
You're ready to take control of your future and move on to the next step.
In this stage, we encourage you to discover your niche based on your interests, experience or connections. This understanding will help you:
Find the services you'll offer in your area
Learn how to attract customers with our marketing packages
Provide the details you need to consider registering a business name, etc.
Stage 3: The Business Plan
During this stage, a number of exciting things happen.
You confidently select the machine that fits your needs
You'll understand your earning potential based on hours worked
Choose the best way to pay for the equipment: a commercial loan, personal loan, cash
If necessary, create a business plan to help secure financing
Stage 4: Prepare for Launch
Get ready to roll — literally!
With your new turn-key mobile business, you're ready to pick up your machine, drive to that first job, and start making money!
Welcome to the freedom of working for yourself.
Stage 5: Work for yourself, but not by yourself
Our relationship doesn't end after you purchase your equipment. You become a part of our family, and get to benefit from our amazing community of fellow blasters.
We'll add you to our private Facebook group of owner/operators just like you. You'll always have a support network to discuss pricing services, business advice, or share unique and interesting jobs.
You'll also receive our weekly customer newsletter, and training articles from our online Academy.
Of course, your Technical Advisor is only a phone call away if you ever have questions about running the machine, or running the business.
It's just another way that you'll work for yourself, but never by yourself.
Ready to start the journey towards business ownership?
Want to print out this info?