Tips For Promoting Your Business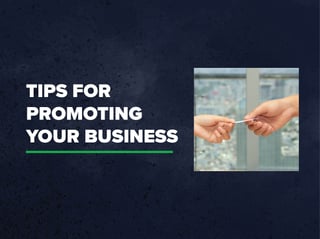 Whether you're just starting a new business or already operating an existing one, you're probably looking for the best ways to advertise your company. Promoting your business while also managing it may seem overwhelming, but it can be as simple as telling your neighbor about your business. Marketing your company is crucial and it is one of the most effective ways of bringing in potential clients.
When it comes to promoting your business online, it's important to be strategic. A well-thought-out marketing plan can help you structure your business for success and promote it effectively to reach your target audience. There are several ways to market your business. Don't know where to start? We've compiled a list of some helpful tips and resources that you can use to ramp up your marketing and help grow your business.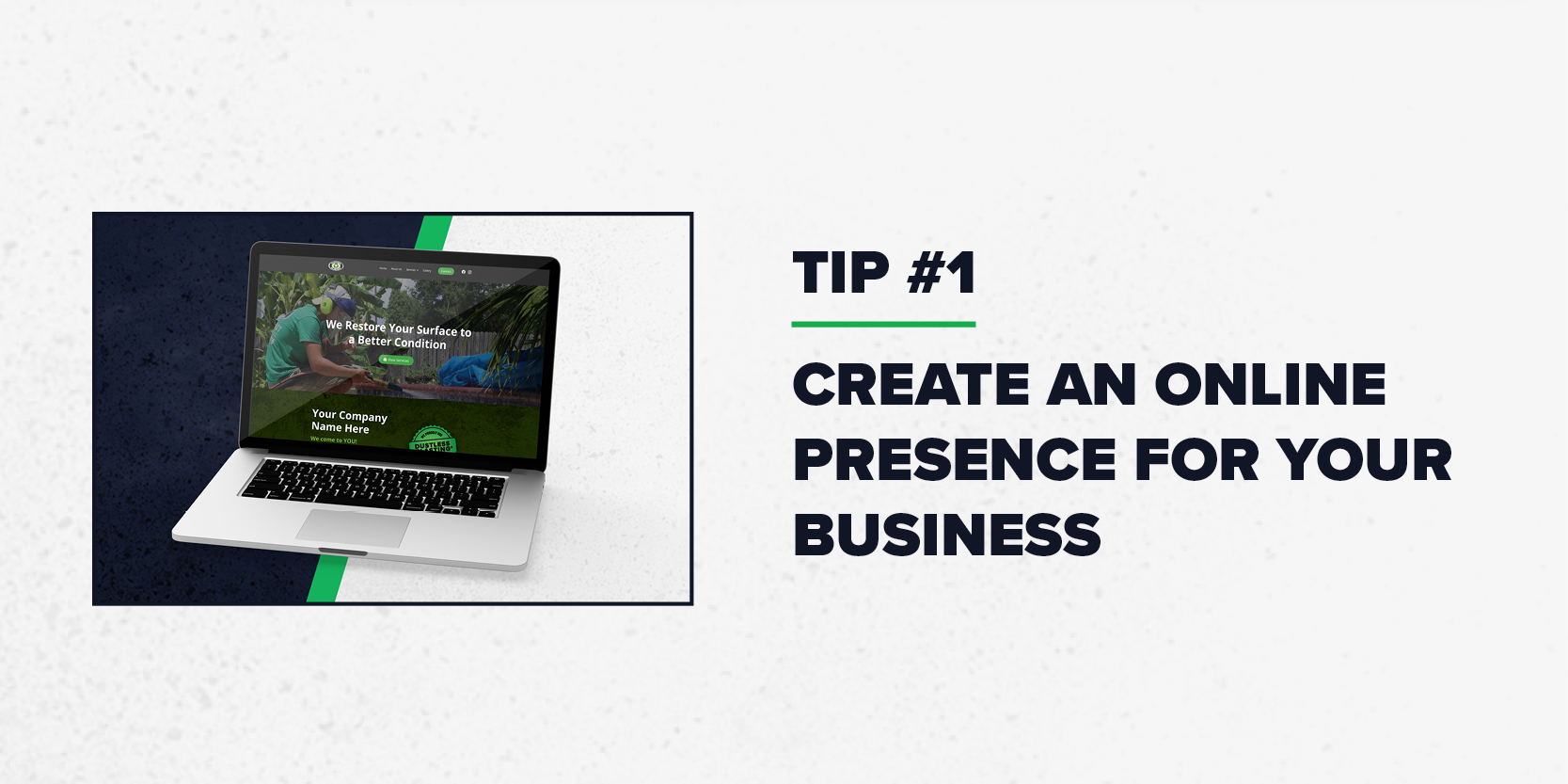 In today's digital world, the first place people go to find information is online. Ensure your business has a website where visitors can learn more about what you do and the services you provide. Having an online presence builds credibility and professionalism for your brand--two essential elements for any business. In addition to having a website, making use of social media is critical.
Social media platforms like Facebook, TikTok, and Instagram are excellent opportunities to promote your work, highlight your company culture, and reach a larger audience. Take the time to develop a solid social media strategy that aligns with your overall business goals. Once you have a plan in place, commit to posting regularly and engaging with your audience. With consistency and effort, you can build a strong online presence for your business and a good rapport with clients.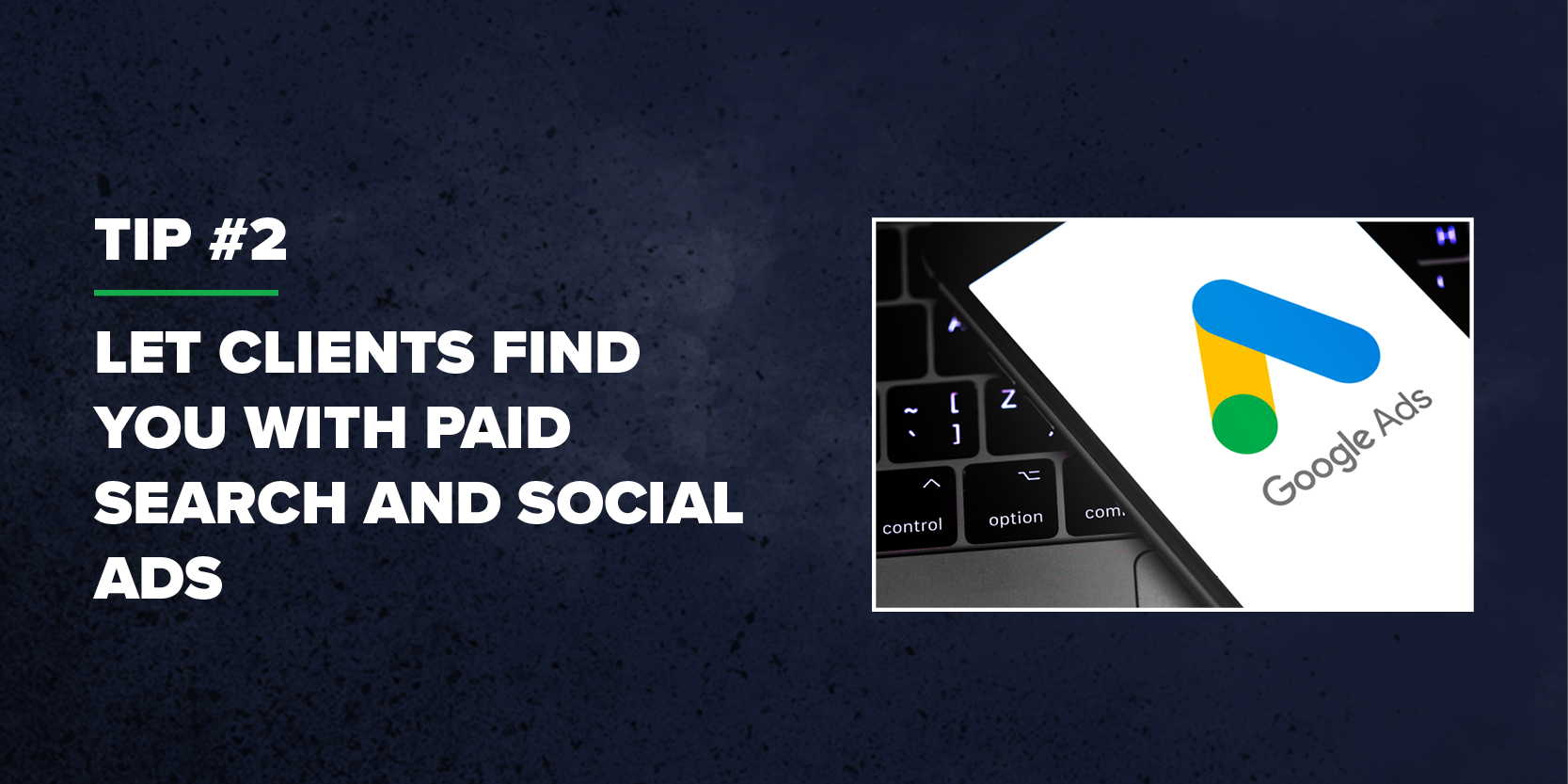 Let potential clients come to you by setting up paid search and social ads for your company! You could increase traffic to your website or receive more calls inquiring about your services. This gives you an advantage against competitors who aren't advertising online. A successful online advertising campaign starts with a strategy. Consider your goals and who you want to reach, then select the right platform and create ads that will captivate your audience.
Don't make the common error that many businesses do- thinking you need to be on every social media platform. It's much better to focus your efforts where they'll have the most impact: on the platforms where your target audience is active. You should also consider your goals for the campaign and create ads that are relevant to what they're searching for.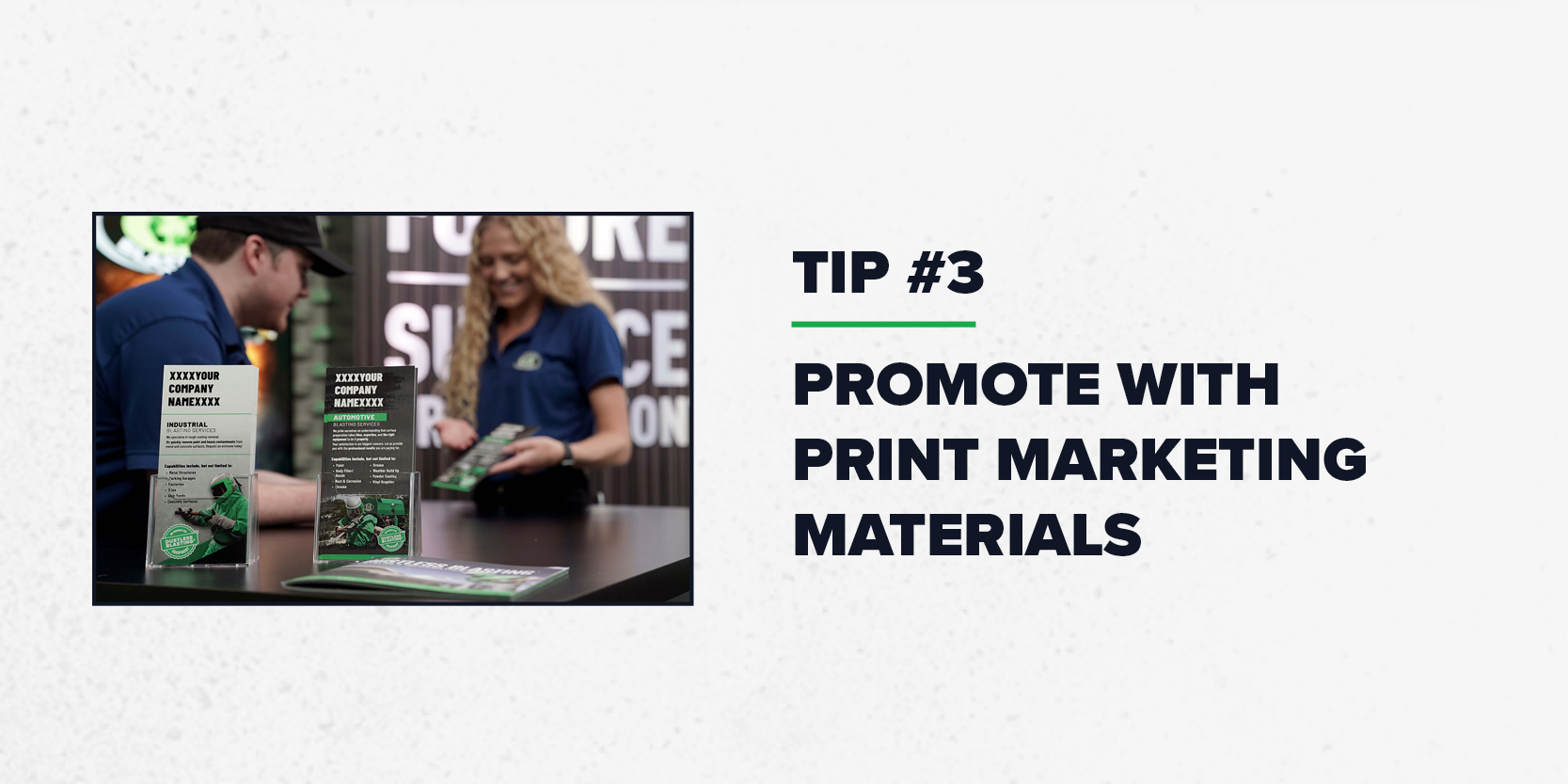 Though modern marketing has shifted to digital means, traditional methods like print are still effective. Business cards are a tried-and-true method of print marketing, but they're not the only way. You can also use vehicle magnets or even smaller promotional items like pens that people will see and use every day.
One great way to get your brand in front of potential customers is with a truck wrap. A truck wrap is a large vinyl graphic that covers the entire body of a truck. This type of advertising is highly visible and can't be missed. Plus, it's a great way to show off your company's personality and make a lasting impression. Here at Dustless Blasting®, we offer various custom-branded promotional items to help you advertise your business more effectively.
Attend Trade Shows and Local Events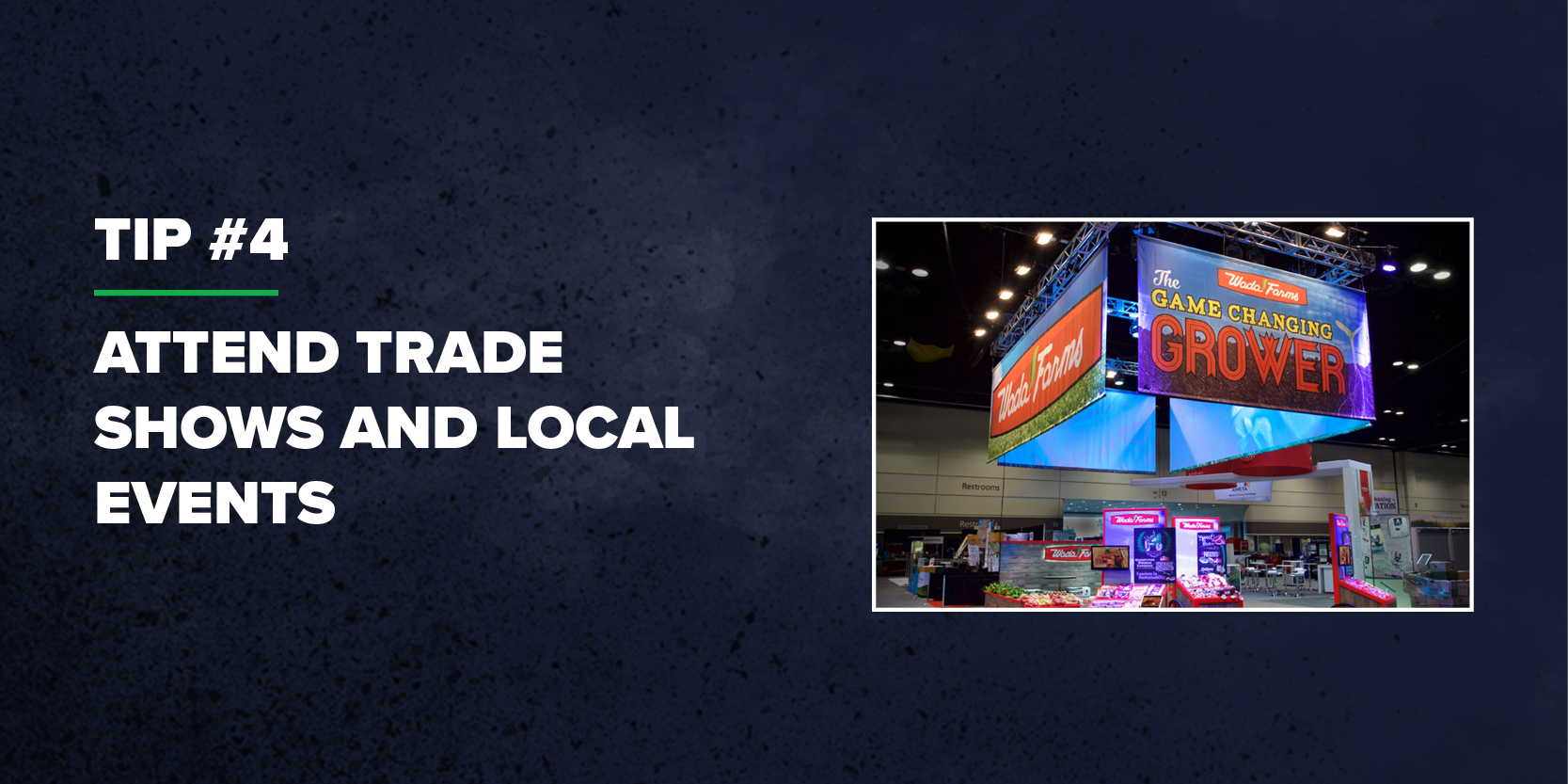 You can make your business's involvement in different causes known by getting involved in online and local communities. This is a great way to get your company's name out there. By attending industry-related events, such as trade shows or fundraisers, you have the opportunity to network with individuals who could be potential customers or partners. Having a custom-branded booth will let people know more about your company while also impressing them with demonstrations of your equipment's effectiveness.
High-quality trade show videos are a great way to introduce your company and can help you deliver an impactful message while adding a touch of professionalism to represent your company at your next event. These videos can be used as a powerful marketing tool to grab the attention of attendees and draw them into your product or services. Trade show videos are a great way to make a lasting impression on your potential customers.
List Your Business on Local and Online Directories
Getting your company's name out there can be difficult, but one way you can do it is by submitting your business to local and online directory listings. One of the most popular and modern ways to market your business is through a Google Business Profile. By creating one, you're adding an extra layer of online visibility and utilizing a free resource. When you search for a business on Google, the block of information to the right of your screen is called a Google Business Profile. A business listing usually contains pertinent information like location, hours of operation, customer reviews, and photos. Having a strong Business Profile allows web searchers to get an overview of your business quickly and easily, and even provides them with direct links to call you or visit your website.
You can also register your business on a subcontractor list on sites like Angi and TheBlueBook. This way, General Contractors can send out requests for proposals (RFPs) for subcontractors with the necessary skills they're looking for. Other directory listing sites include Yelp, Yellowpages, foursquare, and Craigslist. Listing your company on these local and online platforms adds credibility to your business and provides a sense of credibility and establishment to your business.
Take Advantage of Word-of-Mouth Marketing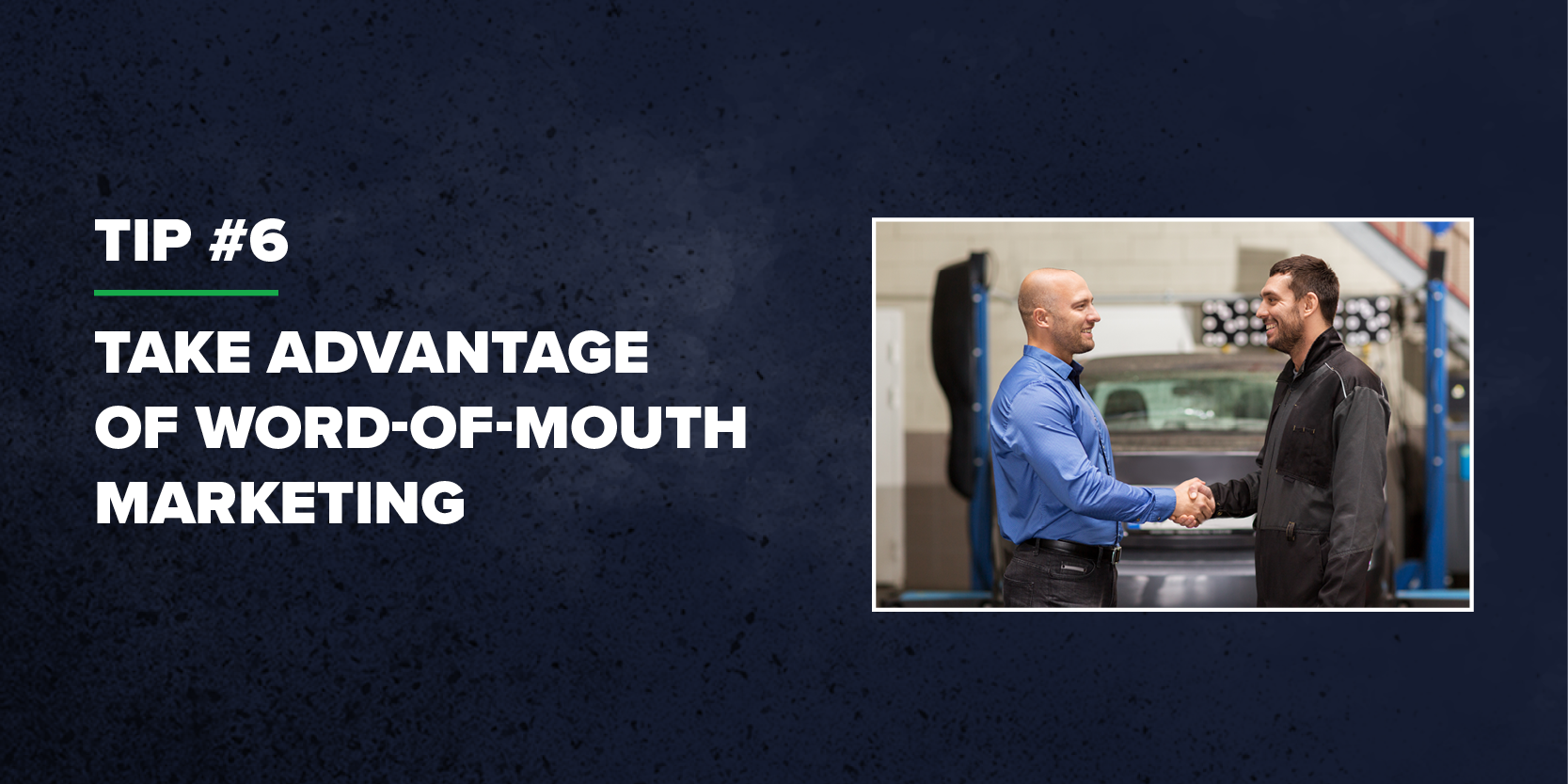 While often overlooked, word-of-mouth promotion is one of the most powerful tools at your disposal. Though it may seem like a last resort when compared to other advertising methods, speech can be immensely influential. Once people start talking about your business, its chances of becoming more well-known increase dramatically. This strategy works well with print materials.
Referrals from current customers are key in acquiring new ones. If you're out and about, don't forget to pass along your business card or ask for referrals after completing a job - satisfied customers will be more than happy to recommend you. Utilizing this method of advertising effectively could result in attracting happier customers down the road!
---
Use these resources to expand awareness and interest in your business. Start by making your company known and follow up with a concise marketing plan so you can grow your business and develop a loyal clientele. Consider your brand identity then think about which of these methods will help you advertise most effectively. There are many interesting and successful ways to promote what you do, so don't limit yourself– and don't be afraid to get creative!
If you need marketing services or more help on ways to successfully market your company, visit our Marketing Services page for more information.