Steps to starting a business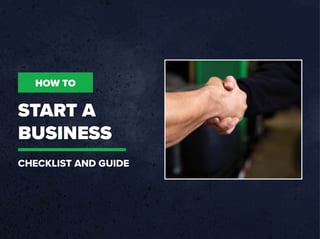 If you're thinking about starting your own business but are unsure where to even begin, then this startup checklist is for you.
Dustless Blasting is what we know best. While this startup guide will be focused around the business opportunity that our machines provide, this outline can be applied to any business you're looking to start.
In a hurry? Download the Start a Business Checklist and take it with you!
do the

market
research
gather industry information
Even with a straightforward business like Dustless Blasting, there's still plenty to learn and familiarize yourself with. While there's no one-size-fits-all approach to market research, we'll give you some great starting points:
At this stage, ask yourself these questions:
Which applications stand out to you?
Where in your area are things painted, rusty, or dirty?
define your target market
Collect information on the overall demand in your area to better understand who you'll be providing your services to. Time invested here can help you to identify marketing opportunities that you may have otherwise missed.
determine your services offered
Now that you've done some research on the demand in your area, decide which services your business will focus on. This will determine how you position your business in the market.
Why is this important? Keep in mind that your typical customer cares more about solutions and quality-of-service than the tools you're using. A customer with a hazy concrete driveway, for example, will more likely be looking for a "concrete sealer removal business near me" than a "Dustless Blasting business near me". Keying into this now will help you when you begin working on building an identity for your business.
Key takeaway: Your typical customer cares more about solutions and quality-of-service than the tools you're using.
When your clients needs' don't stop at abrasive blasting, neither should you. Consider adding additional services like priming, painting, or sealing. Take full advantage of your machine's powerful compressor and auxiliary air ports to offer additional services that bring additional value to your customers and more income for your business.

Create a
Marketing plan
Now that you've conducted some market research, it's time to start thinking about how you're going to reach your target market and land that first job.
Want to know what we think? Digital marketing is where it's at. A recent study has shown that 97% of consumers looking for local businesses are first searching online. If you want to be blasting business they find, you need to establish an online presence for your business.
create a business website
Your website is the home base of your online presence. It's where people go to learn more about you, your company values, and the services you offer.
Your business website should:
Be mobile-friendly
Describe the services you provide with video/photo examples
Offer a way for customers to contact you

create a google business profile
92% of all search volume globally is through Google - That's 5.6 billion searches per day.
With a Google Business Profile, your business location, hours, contact info, and more will pop up higher in Google's search results. This is a great way to make sure your customers can find you and get in touch. Creating a business profile is quick, easy, and absolutely worth it.

use social media
55% of consumers are learning about new brands through social media. If your business isn't poised to capitalize through these channels, consumers are most likely going to discover your competitors first.
Use social media platforms like Instagram, Facebook, and TikTok to:
Showcase your work and offer limited-time promotions
Build brand trust by interacting with your customers
Conduct market research

get help from us
This is a lot to keep up with - we get it.
Everyone knows that, nowadays, having an online presence is more important than ever. But it feels almost impossible to keep up with how fast things change!
With our one of our online presence packages, we'll help you create a customized business website and boost traffic through paid digital ads.
develop your
Business Plan
Your business plan is a document that outlines your business goals and how you plan to achieve them. It's important to have a business plan because it can help you secure funding and keep track of your progress as you grow.
The U.S. Small Business Association has many resources including business plan templates for you to utilize.
name your business
Need some ideas? Read How to Name Your Blasting Business.
Here are some factors to consider:
select the right
Equipment
To start, try our build and price tool.
We know this business inside and out. If you have any additional questions or are unsure, schedule a call with a member of our team.
Secure
Funding
Whether you're paying in cash or financing, we're here to make the process go smoothly. There are many avenues available for you to get your equipment including our in-house financing.
Order

Your Dustless Blasting Machine

The final step is to order your Dustless Blasting machine and prepare yourself to finally put all of your plans into motion. If you're at this step, congratulations! You've taken a huge step towards taking control of your future in a thriving industry with a tried-and-true system. You're ready, all that's left to do is to get to work.
Pro Tip: Custom printed marketing materials may take up to 2 weeks to arrive. It's a good idea to order them ahead of picking up your machine, so you can be ready for anything.
get
started
We hope this checklist has been helpful for you in preparing to start your Dustless Blasting business! Remember, entrepreneurship is an ongoing learning process. It's impossible to know and prepare for everything, but with this checklist, you can be confident you've taken every major step there is to be prepared for what's next: getting started.

Good luck! And if you have any questions along the way, don't hesitate to reach out to us.
Download our Dustless Blasting Business Startup Checklist to reference later!