What is my total investment?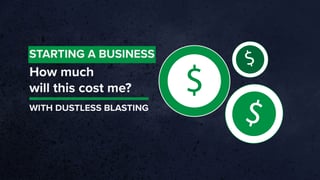 In a rush? Download our easy-to-use total investment checklist.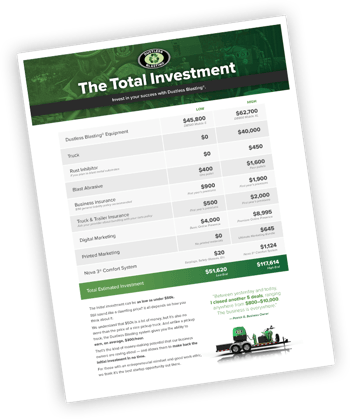 Every business opportunity requires an initial investment, but the costs can vary based on your own unique circumstances.
With no Franchise fees and no brick and mortar location to pay for, a mobile blasting business is a relatively affordable way to start your own profitable business.
However, before starting any business, it's a good idea to run some numbers so you have a good understanding of your total investment and operating costs.
This article will give you some costs and considerations for planning your business operations.
---

Dustless Blasting® Equipment
Choosing the right equipment is an important consideration. It affects the size of jobs you can perform, and will probably make up the majority of your investment. When starting a business, most people choose a model between the DB500® Mobile S and DB800® Mobile XL.
Still wondering which model is best? Read Which Dustless Blasting Mobile Should I Choose?
LOW END: $45,800
DB500® Mobile S
HIGH END: $62,700
DB800® Mobile XL
---

Truck
In addition to the trailer, you'll also need some kind of vehicle to tow it. Not sure if your current vehicle can handle it? Find out here.
Another great option is to ditch the truck and trailer combo and go with the DB500® GT Series Truck – an all-in-one blasting solution.
LOW END: $0
You already have a capable vehicle
HIGH END: $45,000
Approximate MSRP of a base-model Chevy Silverado 3500. Of course, higher trim levels can make a big difference in price.
DB500 GT Series Truck: $86,000
A truck AND mobile blasting business in ONE affordable package.
---

Blast Abrasive
You will also need to start with some blast abrasive. We recommend 40/70 recycled crushed glass, because it is inexpensive and works for a wide variety of substrates.
Most people source their abrasive from a local vendor, or the Dustless Blasting Online Store.
LOW END: $400
One pallet of abrasive, which lasts for about 10 hours of blasting
HIGH END: $1,600
Four pallets of abrasive, which last for about 40 hours of blasting
---

Rust Inhibitor
Dry blasting or wet blasting – Rust Inhibitor is necessary if you plan to blast metal items such as vehicles, trailers, or metal buildings. Learn more about Rust Inhibitor here.
LOW END: $0
If you don't plan to blast metal substrates
HIGH END: $450
10 gallons of Rust Inhibitor, which is enough for approximately 23 hours of blasting
---

Business Insurance
We recommend a $1M general liability policy, which generally runs $75–150 per month.
LOW END: $900/year
First year premiums

HIGH END: $1,900/year
First year premiums
Truck & Trailer Insurance
Ask your current provider if you can bundle this with your current auto policy to save money.
LOW END: $500/year
First year premiums

HIGH END: $2,000/year
First year premiums
---

Digital Marketing
Effective digital marketing is the best way to get new customers, and keep a steady stream of work flowing in.
We have developed several digital marketing packages, especially for Dustless Blasting business owners, that take all the guesswork out of marketing. They include a website, Facebook and Instagram business pages, $1,500 worth of online advertising, and more. Learn more about The Importance of Marketing.
LOW END: $4,000
Basic Online Presence

HIGH END: $8,995
Ultimate Online Presence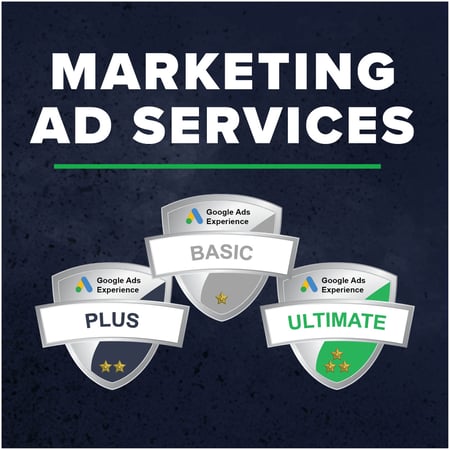 ---
Printed Marketing
Printed marketing materials, such a trifold brochures, business cards, and banners are also a great way to generate business and set your business apart from the competition with a professional look.
LOW END: $0
No Printed Marketing
HIGH END: $645
Ultimate Marketing Bundle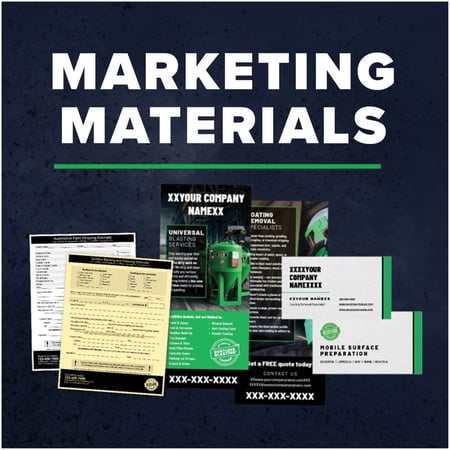 ---

Nova 3® Comfort System
During blasting, we require hand, ear, and eye protection. A great way to stay safe (and comfortable!) is the RPB® Nova 3® Comfort System.
The helmet comes with a climate control module that is like wearing your own personal A/C system. Learn more about why blasting operators LOVE the Nova 3® here.
LOW END: $20
Earplugs, safety glasses, and leather gloves from a store like Harbor Freight
HIGH END: $1,300
Nova 3® Complete Comfort System

---
Total Investment
After adding everything up, the initial investment can be as low as $52k.
LOW END: $51,600
HIGH END: $116,214
Keep in mind, financing is available to well-qualified borrowers.
Still sound like a daunting price? It all depends on how you think about it.
We understand that $50k is a lot of money, but it's also no more than the price of a nice pickup truck. And unlike a pickup truck, the Dustless Blasting system gives you the ability to earn, on average, $300/hour.
That's the kind of money-making potential that our business owners are raving about — and allows them to make back the initial investment in no time.
For those with an entrepreneurial mindset and good work ethic, we think it's the best startup opportunity out there.