Personal Climate Control is a GAME CHANGER for Abrasive Blasters.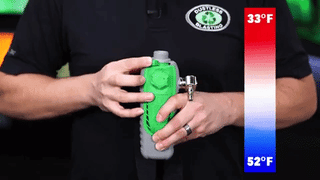 Our Dustless Blasting machines are famous for their quality and reliability. They can operate in any weather conditions, but unfortunately the same can't be said about you. Whether it's the middle of summer or the dead of winter, you might need some help staying comfortable outside.
Luckily, you can blast in luxury year-round with the Nova 3®. This climate-controlled, sound-insulated, insanely comfortable blast respirator will make any job a breeze, regardless of the weather.
C40 Climate Control Device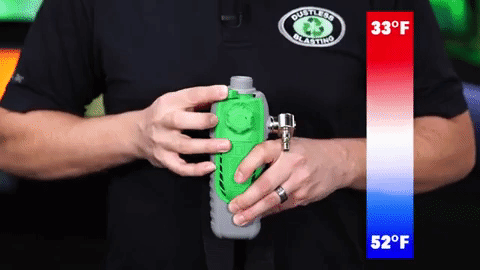 The C40 Climate Control Device is worn on your hip, and it supplies air to the Nova 3® blast hood. By simply toggling the switch, you can send hot or cool air cascading over your face and neck. You can heat the air up by to 33°F or cool it by up to 52°F — all with no batteries!
"I live in Louisville KY and this time of year it's hot and humid. I sweat a lot so I get media sticking all over me. I hate the mess. With the Nova 3 and the air supply I stay cooler."


— Steven H, Dustless Blasting Business Owner
Visibility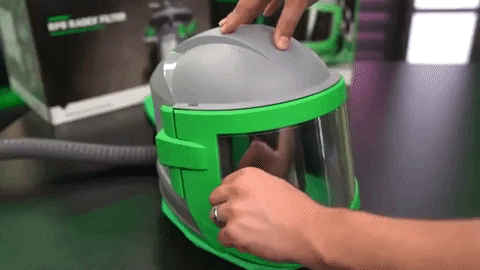 The Nova 3® gives you an ultra wide viewing angle for maximum visibility. It also features tear off lenses so you can always have a clean mask.
"The thing is awesome, cool fresh air, no fogged mask, great view and very comfortable. Why did I wait so long?"


— Gary A, Dustless Blasting Business Owner
Noise-Cancelling Design
Plush foam pads can be adjusted with the turn of a dial, to achieve a custom fit for every operator. These pads help reduce ambient noise by nearly 78 decibels.
Our users have reported that they listen to music with earbuds or even take calls inside their Nova helmets while they work.
"I don't care if it's but a couple of wheels or odd parts, I don't blast without the Nova 3! I ALWAYS use my Tones earbuds while blasting and the time disappears."


— Jeff B, Dustless Blasting Business Owner
World Class Protection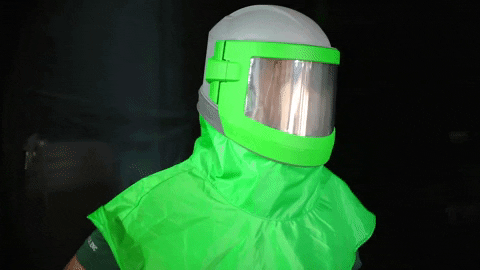 The helmet itself acts as your eye and ear protection during blasting, and is certified under NIOSH, CE, ANSI Z87.1 High Velocity Impact, and ANSI Z89.1 Hard Hat Protection standards.
"It is a heck of an investment. Worth every dollar."


— Travis G, Dustless Blasting Business Owner
We've never heard a bad review — seriously.