How to choose the right Portable Sandblaster for your Business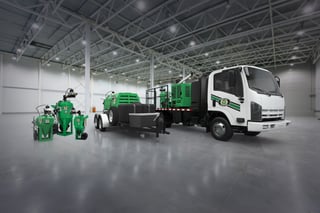 Which Portable Dustless Sandblaster is right for my startup Business?
You're thinking about making some changes and purchasing a sandblasting system to offer surface preparation services. Excellent choice. You've done the research and understand the services you can offer in your area, but you're still unsure of the differences between traditional sandblasting equipment and the abrasive blasting systems we offer. In this article, we will break down the key differences and considerations to help you evaluate which portable sandblaster is a good fit for you and your business.
What is Dustless Sandblasting Equipment?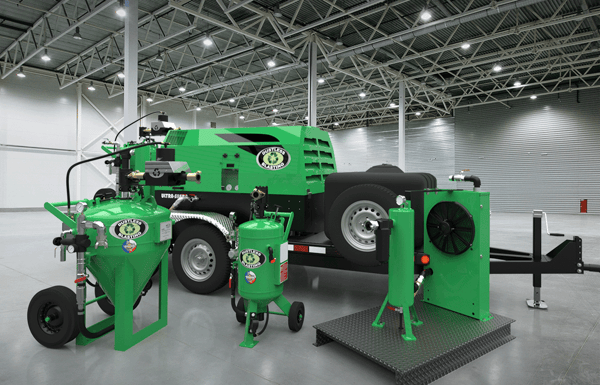 Dustless Blasting is an abrasive blasting system that uses compressed air and abrasives for dry blasting, soda blasting and wet blasting. If you choose to wet blast, it works by mixing water and blast media inside the pressurized machine to remove paint, rust, mill scale, powder coat and so much more from a variety of surfaces. This is the ultimate surface preparation tool due to its versatility and ability to switch between wet and dry blasting. When dry abrasive blasting, simply add your blast media of choice to the pot without water and the abrasive media will be delivered through the blast hose and out of the nozzle at high speeds with the use of an air compressor - similar a traditional sandblasting process.
Learn more about sandblasting in this ultimate guide.
How is A Dustless Abrasive Blasting Machine Different From A Traditional Sand Blaster?
There are many differences between traditional sand blasters, blast cabinets and Dustless Blasting machines. From the blasting media you can use and the dust control to the portability and efficiency. Let's take a look at the key differences you should consider when purchasing a quality sand blaster.
Blasting Media: A Dustless sandblasting machine can use a wide variety of blasting media due to its ability to blast wet or dry. With a traditional sandblasting machine or blast cabinet you are limited to what materials you can use. Here is just a short list of abrasive media that a Dustless Blaster can use: crushed glass, glass beads, baking soda (sodium bicarbonate), steel grit, garnet, walnut shells, corn cob, and so much more! Please note that you should avoid using sand as your media of choice. Silica sand is known to create many health hazards that can be detrimental to the blaster and others nearby. Regardless of your media choice, we recommend wearing protective clothing while wet or dry blasting and using respiratory protection whenever dry blasting.

Dust control: As the name suggests, a dustless blaster is designed to minimize dust during the wet blasting process - creating a safer working environment. The water helps to suppress dust particles, making it a cleaner process compared to traditional sandblasting. When wet blasting, the water encapsulates the abrasive and coatings, causing them to fall directly to the ground - making cleanup easier than ever. Containment and cleanup aside, dustless sandblasting is a much safer system for both the environment and workers. The dust plume you see with traditional sandblasting has many potential hazards which is why local governments are shutting down operators who are creating dust plumes with dry blasting. This is an important consideration and businesses should always do their part to protect the public during the blasting process.

Portability: Our dustless sandblasting machines are the perfect choice for on-the-go blasting! The standalone pots have wheels that make moving around a shop hassle free unlike stationary blast cabinets. This provides businesses with more options in terms of use and applications. We also have mobile sandblasting units that come with the abrasive blasting system mounted onto a portable trailer. Go directly where the work is with this completely portable sandblasting unit. Here just a few common applications that require a mobile sandblasting machine: Pool restoration, marine maintenance, paint removal from homes, auto restoration, graffiti removal, concrete resurfacing, etc.

Versatility: Our trailers come with an ADCS (air drying and cooling system) that provides clean and dry compressed air. This allows workers to hook up various air tools, like a paint gun, to provide a finished product for customers. Bring in additional income after blasting the surface by offering additional services with this unit.

Efficiency: Dustless sand blasters are more efficient than traditional sandblasting as the water helps to increase the cutting power of the abrasive media. This means that the same amount of work can be completed in less time, saving time, blast media and labor costs.

Venturi Blasting Technology: Dustless sandblasting equipment uses a revolutionary venturi suction process that creates a vacuum when air flows through a constricted section of pipe. Basically, as the stream of high pressure air is pushed through the system, it sucks up the abrasive and water mixture with it out to the blast hose. This process is ideal to prevent clogging or other issues we see with traditional slurry blasters.
Picking the Right Dustless Portable Sandblaster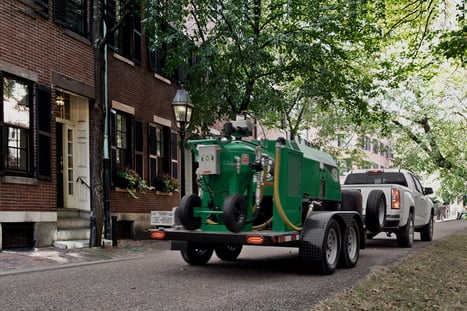 All our Dustless Blasting trailers and trucks are designed from the ground up to be a reliable and high quality mobile business platform. Each sandblasting system has adjusting pressure settings and can use a wide variety of media to blast a surface dry or wet. They are all capable of performing the same process, offering a wide variety of services to help you make a profit. The only difference in our products is the amount of continuous run-time you'll get, the size of the compressor and the size of the trailer.
Every mobile sandblasting system includes a sandblasting pot, a powerful air compressor, an air drying and cooling system, a blast hose and an appropriate size nozzle. Here are some of the considerations to help you pick the right equipment for your business.
Budget

Vehicle towing capacity

Blast pot and trailer size

Compressor Size

Services You'll Offer
Budget
When starting a new business, budget is always a key consideration. Our line of portable sandblasters includes powerful equipment that can tackle large, profitable jobs, but if you have a limited budget, it's important to choose a model that fits within your financial means. Each sandblasting machine is capable of removing paint, rust and a variety of coatings from many surfaces, the only difference is how quickly you'll get the job done. So if you choose to go with a smaller machine due to your budget, there's no need to hit the panic button. You can still perform the same services - it just might take you longer than if you went with a larger, more expensive system.
Towing capacity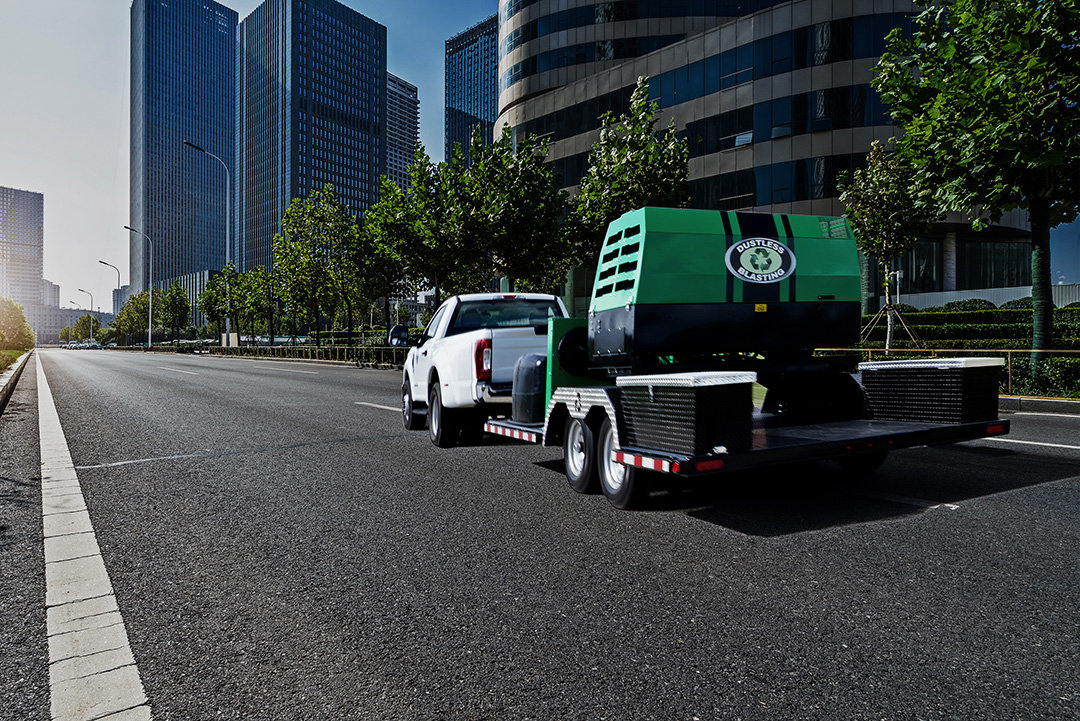 An often overlooked, but important part of choosing a portable sandblasting machine for your blasting business is your current vehicle's capabilities. More specifically, do you own a truck, and what is its towing capacity? The bigger the trailer, the heavier it is. Don't forget about additional materials such as water and abrasives that can quickly add weight to your towing capacity.
For reference, a full 150-gallon water tank can add 1,200 pounds and a 40 bag pallet of abrasive can weigh 2,000 additional pounds! Of course, you wouldn't always need to carry a full pallet of abrasive with you to a job site and additional weight can always be split between your truck bed and the trailer.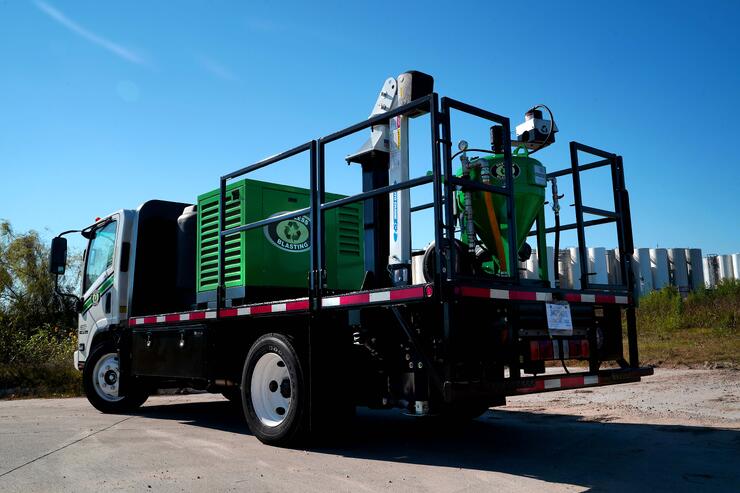 No truck? -- No problem. Meet the DB500 GT Pro Series.
It's the same trusted system mounted on a flatbed Isuzu truck providing you with an easy-to-drive, ultra-convenient, mobile business. All backed by roadside assistance and concierge maintenance services for 5 years.
If you do own a truck, then you may have heard the terms 1/2 ton, 3/4 ton, and 1-ton trucks. These terms are generally used to describe the truck's size, hauling, and towing capacity.
1/2 Ton Truck Examples
Chevy Silverado 1500

Ram 1500

GMC Sierra 1500

Ford F-150

Toyota Tundra
3/4 Ton Truck Examples
Chevy Silverado 2500HD

Ram 2500

Ford F-250 Super Duty

GMC Sierra 2500HD

Nissan Titan XD
1-Ton Truck Examples
Chevy Silverado 3500HD

Ram 3500

GMC 3500

Ford F-350 Super Duty
Always be sure to check your owner's manual for your vehicle's specifics, but here are some general guidelines.
Blast pot and trailer SIZE
Again, while all of our machines are capable of the same reliable process, choosing the right blast pot and trailer size can maximize your time and profit. Depending on the size of the jobs you plan to tackle, you may need a larger or smaller dustless sandblasting system. A larger machine can handle bigger jobs and complete them more quickly at high speeds, but it may also be more difficult to transport and maneuver. A smaller sandblasting machine, on the other hand, may be more portable and easier to use, but it may take longer to complete larger jobs.
blast Pot size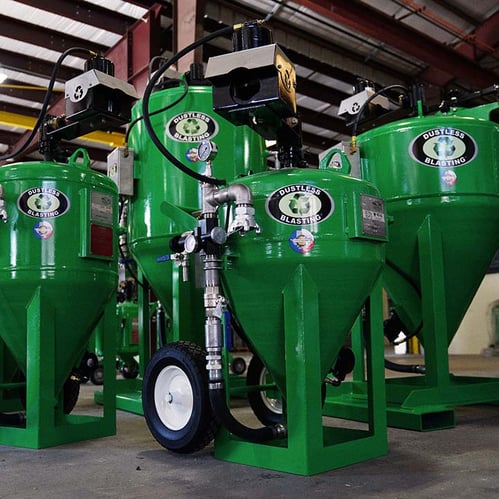 You may have noticed all of our equipment names contain a number – DB500, DB800, DB1500, etc. The number is indicating the blast pot's size and capacity.
The larger the capacity translates to a longer runtime between refills. Less time stopping to refill your blast pot with abrasive materials means more time sandblasting and getting the job done faster.
For example, if you're taking on big jobs like commercial sandblasting or restoring a hard surface like concrete, it's beneficial to think bigger! You'll need a longer run-time to stay efficient on industrial surfaces than someone who is simply cleaning a smooth surface.
Check out the run times below for comparison.
| | | |
| --- | --- | --- |
| Equipment | Blast Pot Capacity | Blast Time |
| DB500 GT Series Truck | 5 Cubic Feet | 60 Minutes |
| DB500 Mobile S | 5 Cubic Feet | 60 Minutes |
| DB500 Mobile XL | 5 Cubic Feet | 60 Minutes |
| DB800 Mobile XL | 8 Cubic Feet | 90 Minutes |
| DB800 Mobile XXL Dual | 8 Cubic Feet (each pot) | 90 Minutes (each pot) |
| DB1500 Mobile XXL | 15 Cubic Feet | 2-3 Hours |
Trailer size
Focusing on residential jobs and need something small and easy to maneuver around town? – we've got you covered.
Interested in a trailer that fits in a standard garage? – check.
Want to ditch the trailer completely for an all-in-one mobile blasting truck? – we have that too.
Regardless of what's important to you, we have options. The basic components of our mobile sandblasting machines are the same, the only difference is the size of the trailer and the systems on it. Our trailer size and configuration is indicated by the letters - S, XL, XXL, and GT
S Trailer
Ultra-compact
Fits in a standard garage
Single toolbox
Deck Dimensions: 14 ft x 5 ft
XL Trailer
Low deck design for easy access to controls and loading
Two toolboxes for storing additional materials
Deck Dimensions: 16 ft x 8 ft
XXL Trailer
Same low deck design for easy access to controls and loading
Two toolboxes for storing additional materials
Deck Dimensions: 20 ft x 8 ft 6 in
GT Truck
NPR Isuzu - America's #1 selling low cab forward truck since 1986
Gas-powered V8 engine
Optional Jib crane and under storage toolbox
The air compressor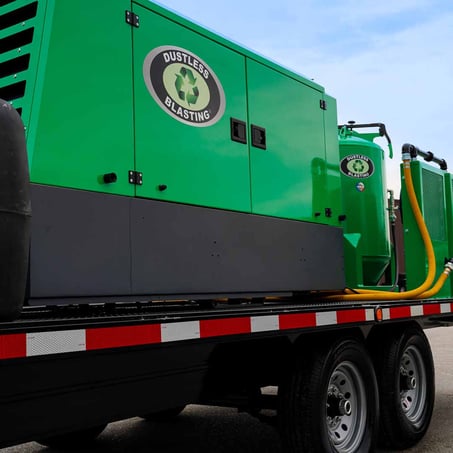 It's the heart and power of our mobile dustless sandblasting equipment. We partner with the best suppliers of air compressors in the industry to provide you with a complete sandblasting system with exceptional performance and high pressure. The compressor is responsible for providing the compressed air needed to blast the sand or abrasive material onto the surface being blasted. A larger compressor can handle bigger jobs and provide a more consistent pressure, but it will also be more expensive and heavier.
We pair our blast pots with a specific sized air compressor to supply you with enough power for any job you're trying to tackle. Larger air compressors provide you with greater air volume. With more air volume, you're able to use a larger blast nozzle while still maintaining the same PSI. This allows you to cover more surface area at once, and complete jobs faster.
If you're thinking of going after commercial or industrial jobs – a larger air compressor is a good consideration.
Services You'll Offer
Our sandblasting units are capable of using just about any blast media on the market for any surface restoration project. By using the right media, a capable blast nozzle and a versatile abrasive sandblasting system like ours, there are no limits to what can be blasted. Operators can remove paint, rust and contaminants from cars, boats, heavy machinery, concrete, metal and other surfaces.
Because our sandblasting equipment is so versatile, it's helpful to decide what services you'll offer before choosing a machine. If you're still unsure about what to offer, checkout more sandblasting applications in this blog.
Additional resources
In conclusion, there is no right or wrong answer with it comes to choosing a dustless sandblasting machine. Everyone's needs and wants are going to be different. If you're looking for more detailed specs, check out these additional resources.
Take our sandblasting equipment matcher to see what machine is best for you.
Still have questions or are unsure, book some time with a knowledgeable member of our team.