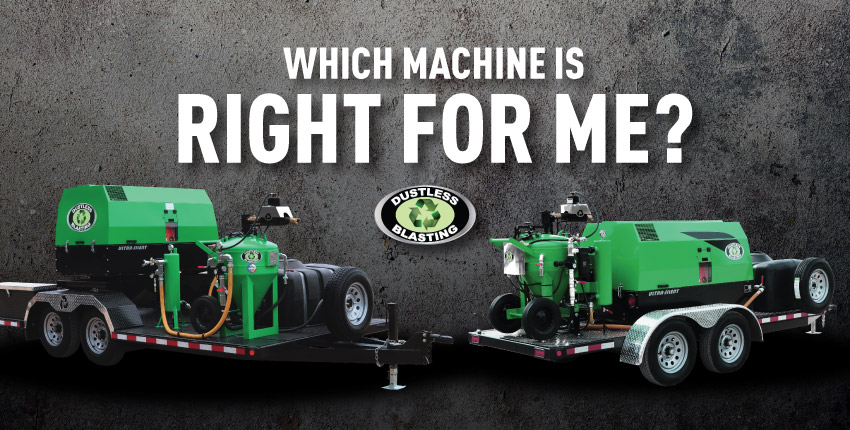 So you're thinking of starting a mobile paint stripping and cleaning business.
That's great! Our turn-key business packages are one of the best ways to start working for yourself. With so many choices, you might be wondering which Dustless Blasting machine is right for you. Keep reading to find out.
All of our machines are capable of the same process.
However, some models are more productive than others. For example, it might take 3 hours to strip a car with the DB500, whereas it would only take 2 hours with the DB800.
This is due to the output of the air compressor, which is measured in CFM (cubic feet per minute). The higher the CFM, the larger the blast pattern you will be able to achieve. This allows you to cover more surface area at once, and complete jobs faster. Also consider the size of the blast pot. With a larger pot, you will have to stop and refill less often, saving time.
Technically you can complete ANY job with ANY of our machines, but choosing the right one will maximize your time -- and your profit.
Identify Your Industry

Residential & Light Commercial
This may include jobs such as:
Automotive paint stripping
Graffiti removal
Marine applications (such as removing anti-fouling paint and removing barnacles)
Surface cleaning (such as pool tiles, driveways, and buildings)
Wood restoration (such as barns and antique furniture)
These jobs tend to be on the smaller side, but don't let that discourage you. Small jobs are plentiful, and can provide a steady stream of work -- keeping you busy and profitable!
For this industry, we recommend the DB500 Mobile S or the DB500 Mobile XL, both of which include a 185 CFM compressor. As the least expensive of our mobile machines, you can quickly recoup your initial investment. They are the most popular models with our contractors.
So how do you decide between the two? The compact DB500 Mobile S can fit inside a standard garage, potentially saving money in storage fees. Plus, fully loaded at ~5,500 lbs, it can be towed by most vehicles.
The larger DB500 Mobile XL offers extra cargo space and room to store a pallet of material. However, fully loaded at ~9,100 lbs, it generally requires a 1-ton truck to tow it.
Commercial & Industrial
This may include jobs such as:
Marine applications on larger boats (such as removing anti-fouling paint and removing barnacles)
Line stripe removal from parking areas
Heavy equipment (such as removing paint and concrete buildup on machinery)
Fleet vehicle stripping (such as removing old graphics and branding)
For this industry, we recommend the DB800 Mobile. Its 300 CFM compressor is 35-40% more powerful than the DB500. This higher productivity allows you to take on large jobs, and complete them faster than the DB500.
Some of our contractors have said that it's a smart financial move to upgrade from a DB500 to a DB800. This is because by completing jobs faster, you essentially increase your hourly pay!
Heavy Industrial & Infrastructure
This may include jobs such as:
Fleet vehicle stripping (such as removing old graphics and branding)
Refinery and offshore work (such as removing coatings from large tanks, pipes, and structures)
Asbestos abatement
The DB1500 Mobile and DB3000 Mobile are recommended for existing businesses (such a shipyards), or for contractors with pre-existing large contracts. The giant 425 CFM air compressor allows for maximum speed and productivity, which is perfect for huge industrial jobs.
Choose Your Machine
Of course, you can expect some overlap between those categories as you start to take on jobs and decide what kind of work you like doing best. But these guidelines can help give you an idea of which machine suits your needs the best.
If you're still wondering which machine you should choose, feel free to contact us at team@dustlessblasting.com or call 713-869-2227.
Don't forget to download our comparison chart below, which include pricing and specs!