Your Top Questions, Answered.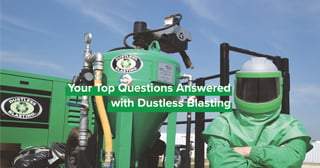 An Investment You Can Feel Good About
We understand starting a business is a big decision. At Dustless Blasting, we're here to help answer any questions you may have before, during, and after the startup process.
We've compiled our top questions and resources from a recent webinar (read to the end for bonus Q&As!) to guide you through the business-building process.
Curious to see the entire two-hour webinar highlighting the complete ins and outs of owning a Dustless Blasting business? Watch the full-length video here.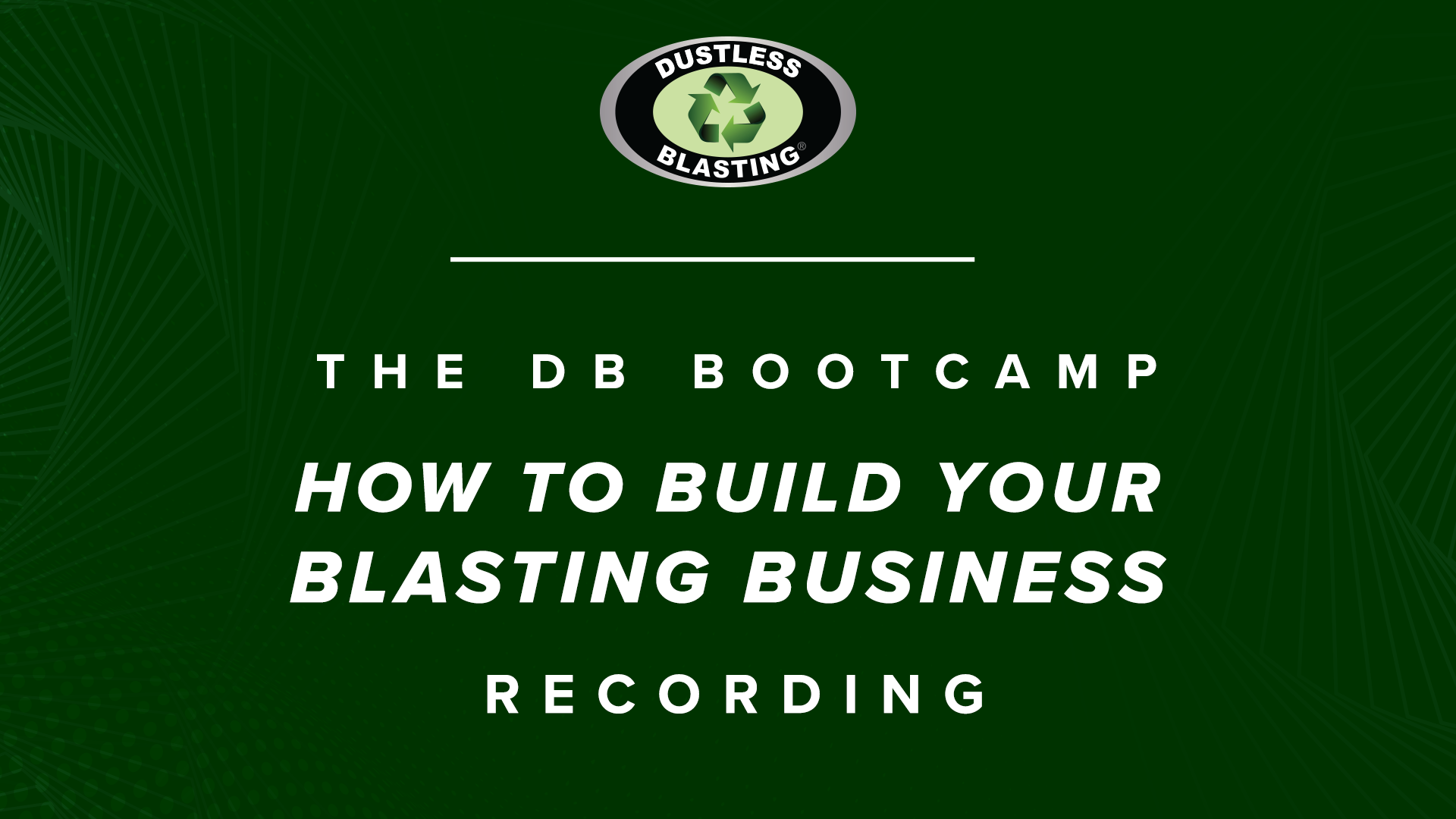 Question One
Is this a good business opportunity? Is it a franchise?
When you compare the cost of common franchise startups to the cost of a Dustless Blasting machine, the difference can get up to the hundreds of thousands of dollars. With a dustless blaster, you can start your business for under $50,000 and make an average of $300 an hour off the factory lot. Some customers even start to make money before they pick up their machine! Your dustless blaster offers a premium, high-demand service, which means you can charge a premium price.
Investing in a dustless blasting machine allows you to build your business, YOUR way. There are zero franchise fees or royalties, and you keep 100% of the profits. You get the benefits of brand recognition, community support, and business-building materials at no extra cost. Check out this blog for more information on why a Dustless Blasting startup is NOT a franchise.
"This is an investment that absolutely pays you back, potentially within the first week or two of ownership."

Question Two
What services can I offer?
If you know you want to start your own business but the thought of where to begin is overwhelming, we suggest taking a moment to think about what industry or community you'd like to offer services in. This helps narrow down the type of dustless blasting machine you'll be matched with.
A smaller, compact mobile trailer might be best if you want to focus on more residential applications like pools or house restoration. A larger machine with longer run time and a more powerful compressor might be better if you see yourself blasting bigger industrial applications.
The best part of a blasting business is the freedom to build your enterprise in an industry you care about. With so many applications for a dustless blaster, you're sure to finally enjoy the work you do.
"If you're tired of your corporate job dictating what you do...you can find your true passion in a new industry or the people you're serving in your community."

Question Three
How do I know what machine to buy?
Once you figure out what services you want to offer, it's time to find your perfect machine. A few factors go into selecting your dustless blaster. The first items to consider are budget and towing capacity. You can check out our trailer specs to see if your truck has the capability to tow the machine of your choice.
The next factor to consider is run time. If you're thinking you'll spend about 80% of your time blasting smaller projects, our compact Mobile S trailer is a perfect fit for you. If you're considering spending the majority of your time blasting larger projects like industrial-scale buildings or vast parking lots, a bigger mobile trailer will be more efficient.
It's important to remember each dustless blaster offers the same, great blasting services. The difference comes in the size and run time of the machine.
We have sales reps that would love to help match you with your perfect dustless blaster based on your specific application, budget, and towing capacity. Not ready to speak to a representative? Check out our build and price tool to start your machine matching process.
"All of our machines offer the same high-quality surface preparation power, the difference comes with run time and towing capacity."
Question Four
Do you offer financing?
Are you ready to take the next step in your dustless blasting startup process? We offer a simple-to-use financing option as another way to get your business on the road faster. We work with several outside lenders that are familiar with Dustless Blasting and are happy to answer any questions you have. It usually takes no more than 72 hours to access your financing plan, with the response coming directly to your inbox. Visit our website to fill out an application today.
"We try to make your lives simple, whether it's through communication with our sales team or filling out a financing application."

Question Five
Do you help me find jobs or customers?
Okay, you've decided this business is a good fit for you, found your industry passion, and invested in your machine...now what? How do I go about getting actual paying customers? There are three key factors when sourcing new customers for your startup.
Let's start with your digital presence. Since you most likely don't have a physical store for your blasting business, the way you market yourself online is crucial to how customers will find you. Think about how many times a day you use Google to help you find a service. As the experts in digital marketing of abrasive blasting, we offer online marketing packages for purchase to take the work of building a website, social media accounts, and running ads off your shoulders so you can focus on blasting.
Taking marketing offline, we also offer print materials. This includes items like business cards, rack cards, and quote forms. Operators have found business from featuring their rack cards at a local store counter or even passing their business card out to people who spot their machine in a Home Depot parking lot!
Finally, reach out to local businesses. You'd be surprised at how many companies are still using outdated, costly surface preparation methods. They'll appreciate the reprieve your dustless blaster can bring to them.
"Reach out to local businesses...You'd be surprised how many companies are still using hand grinders and are desperate for you to come help them save time and money."
Question Six
Where can I find help starting my business?
One thing we love to do here at Dustless Blasting is offer our contractors the support they need to be successful in their business. From hands-on demos at our Houston, Texas facility to hundreds of hours of support materials in our academy, we'll guide you every step of the way.
You can schedule a free onsite demo here to see the dustless blaster in action before you even buy your machine!
Can't come to Houston? No worries. Check out our online academy or blog content for videos and downloads covering how to price jobs, machine start up and shut down, containment, clean up, maintenance, and so much more.
We have a free-to-use technical support line, and any question is a good question! Additionally, once you purchase your machine, you'll gain access to our exclusive Dustless Blasting contractor Facebook group. There, you'll get real-time advice and support from veteran dustless blasters for any question that pops up on the job.
Your success is our success. We know starting a business can be an overwhelming time, but we're here to help when the projects start rolling in.
"If you ever have to call us for questions, we will answer the phone. We want you to succeed."
Bonus Questions
1. Is the wet blasting option really dustless?
There are many benefits to utilizing the wet blast option of your dustless blaster. One of the major benefits of incorporating water into the blast process is dust suppression. When you take advantage of the wet blasting power of your machine, you can prevent up to 95% of the dust plume typically associated with dry blasting.
Imagine you're stripping a car in a football stadium. With Dustless Blasting, the blast media would be contained in an area about the size of the logo on center field. Alternatively, if you were dry sandblasting, the entire stadium would be filled with airborne media.
Because the spent media is encapsulated in water droplets, the abrasive and blasted surface particles are contained and simply fall to the ground. This gives you the freedom to blast nearly anywhere. Crowded neighborhood? Check. Boat marina? You got this.
Though the majority of the media is contained and not airborne, there is still some containment and clean up involved for proper project wrap up. Check out containment and clean up tips here.
2. But if you wet blast, won't it rust metal?
When introducing water to a rust-prone material, you'll want to use a rust inhibitor. This is very important to keep flash rust from forming. Check out our specially formulated rust inhibitor to prevent flash rust for up to 72 hours. Simply add to your blast pot during the blast process and use as a rinse when you're done. You can see a detailed how-to on rust inhibitor here.
3. Does a dustless blaster warp metal?
Because of our innovative wet blasting technology, the dustless blaster protects your surfaces from warping. The water in the system reduces the temperature of the blasted surface about 10ºF from ambient. This cooling effect is important to prevent friction-based heat warping.
Keep in mind, you can still bend the surface if the blast pressure, standoff distance, or angle of blasting is incorrect for the application. For large, flat pieces of metal like auto trunks or hoods, we recommend using about 70 PSI at a 20º angle to avoid bending metal. The recommendations may vary slightly based on what you're blasting, but it's a good rule of thumb.
Check out this 1956 Buick Riviera restoration to see how beautifully the Dustless Blaster works on metal!
4. Can I blast in freezing temps?

Even when the temperatures dip below freezing, you can wet blast with your dustless blaster - with a few modifications. To prevent water from solidifying at its normal freezing point, you can add isopropyl alcohol to your blast water. At 32°F add rubbing alcohol to the water tank at roughly a 1:100 gallon ratio. The colder it is, the more alcohol you will need to add, up to 1:20 ratio.
If you don't want to introduce water to the cold temps, don't forget about the dustless blaster's dry blasting function. The ability to switch between blast methods can keep you in business, no matter what the elements throw at you.
For more tips and tricks to blast in freezing weather, check out this video from a Dustless Blasting veteran to see how he stays in business during the Alaskan winter!
5. How do I know how much to blast from a surface?
The SSPC, the NACE and the SIS have established four degrees of blast surface cleanliness. Understanding these standards will help you provide the best surface prep for your customers, and keep your costs down where possible.
For example, a car body and a dump truck bed don't require the same level of cleanliness.
You'll want to consult the owner, or the coating manufacturer, or both before the job to decide what level of cleanliness is needed.
The four levels of cleanliness are: white metal blast, near white metal blast, commercial blast, and brush-off blast.
For more information on industry-standard degrees of blast cleanliness, check out this helpful Academy article.
6. How much should I charge people for my services?
Pricing varies significantly across the country, so it's important to base your prices on YOUR area. Though we can't give you exact pricing, we can share tips, tricks, formulas, and ballpark numbers. In no time at all, you'll be a pro at estimating jobs. Download our How To Price Jobs Guide – it's full of tips and examples!
7. I'm not around Houston, TX, can I still buy a machine?
We are able to ship our machines direct from our factory in Houston, Texas anywhere in the world. For more details on shipping internationally, give us a call at 713-869-2227.