5 Reasons Dustless Blasting® is the Best Startup Business!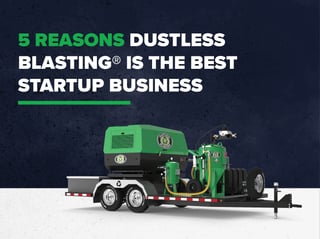 For those looking to start a new venture, there's no better way to start a business than with Dustless Blasting. This portable equipment gives you the freedom to run a business how you see fit, work your own hours, spend more time with family and keep 100% of your profits! How you choose to operate your new operation is totally up to you and your business goals - we are just a helping hand along the way! Here are five reasons why Dustless Blasting is the best option for a startup business.
1. Less Expensive Start-up Costs

Usually, starting a business from scratch requires a lot of money upfront, which can be difficult for many entrepreneurs. The best thing about Dustless Blasting is that it's a low-investment, high-return business opportunity. It's also more cost-effective compared to starting a franchise which would include paying franchise fees and ongoing royalties or even having to worry about dealing with inventory. Most franchises have cash requirements of around $200,000, but with Dustless Blasting, you can be in business for yourself for less than 50k. We also will never charge fees or royalties, because unlike a franchise, you own 100% of this business.
Our complete Dustless Blasting mobile systems are the most cost-effective way to start your own blasting business. Operating costs are minimal since all that's required are simple repairs and regular maintenance checks on equipment – we offer warranty on our blasting equipment, so long-term overhead expenses stay low too.
2. High Demand

Dustless Blasting provides you with the opportunity to be the solution to people's problems. Surface preparation work will always be needed and there are ample opportunities in various industries where your services are a must-have. There is high demand from both industrial contractors and companies who need large-scale work done quickly, such as rust removal services, marine maintenance, heavy equipment restoration, industrial inspections and so much more. There are also residential customers who want their homes cleaned up without making a mess or creating health hazards in their neighborhood! The potential of clients is limitless! People in your area will have restoration projects and seek out your services. Here's how to find them!
With proper marketing and word-of-mouth, you can make a name for yourself in the blasting industry and turn it into a successful business! Many businesses need regular surface preparation services, so they'll be looking for someone to keep up with their needs year-round which has the potential to lead to long-term, steady contracts, and an increased income. With the right skills and equipment, you can become a professional in surface preparation and make a living out of it. It will take time and dedication, but if you're willing to put in the work, the rewards will follow. Reach out to people who need your services, build up your portfolio, and start making money!
3. Unlimited Possibilities & Applications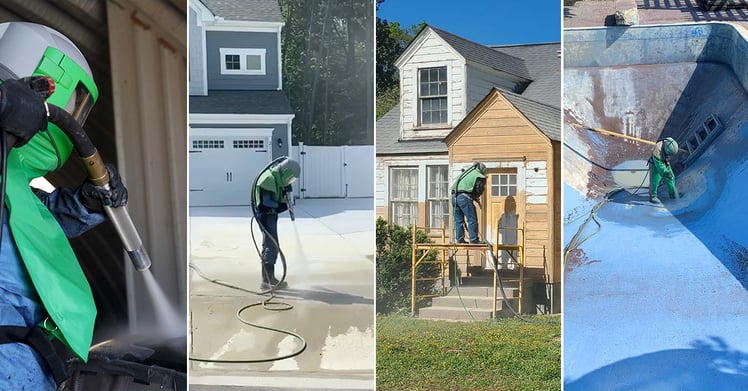 With standard sandblasting equipment, you're limited to one type of abrasive material and one pressure setting, which limits what kind of materials you can work on. With Dustless Blasting, however, you can use different types of abrasives depending on the job at hand, as well as adjust pressure settings easily and safely to fit whatever surface needs cleaning. This makes it much easier to tackle any project that comes your way without having to buy additional specialized equipment or materials.
Dustless Blasting technology has endless application capabilities which enable users to tackle any job in any industry — from automotive restoration and graffiti removal to marine maintenance and construction clean-up. This versatility gives businesses incredible opportunities for growth as they can expand their services into multiple industries with ease. It also means that jobs can be completed quickly while still delivering quality results every single time.
4. Flexibility & Autonomy

The best thing about being your own boss is that you don't have to answer to anyone else – no one tells you when or where to work, it's up to you. With Dustless Blasting, you can set your own bids and decide how much time and effort you want to put into each job. You also have complete control over your schedule, allowing for greater flexibility when it comes to taking care of family obligations or pursuing other interests.
5. Safety and Efficiency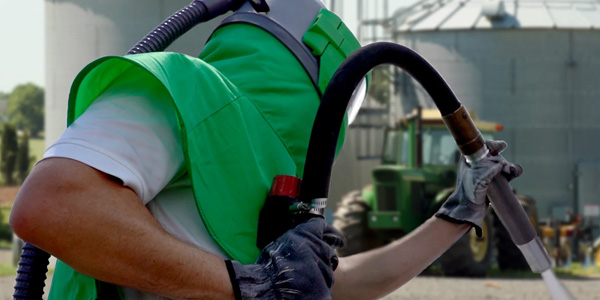 One of the biggest benefits of using Dustless Blasting is that it takes significantly less time to complete a job than traditional sandblasting techniques. This means more projects can be completed in less time, allowing your business to take on even more jobs and increase profits. This allows for more optimal blasting and clean-up times and increased productivity.
Dustless Blasting is safer and cleaner compared to traditional sanding and grinding because it does not produce large dust plumes or hazardous waste debris and eliminates the risk of potential exposure to airborne particles or harsh chemicals found in some traditional blasting processes. The process itself is also much faster than conventional methods – so not only will jobs take less time to complete jobs. In some cases, jobs that would require days on end of work with sanding would take a matter of hours with Dustless Blasting equipment.
Starting up a new business can be intimidating, especially if you're unfamiliar with the field you're entering. However, when it comes to this industry, special skills aren't required and you can pick up the process in no time with training and effort. We offer on-site demos to show you how to properly use the blasting equipment. Choosing an innovative method like Dustless Blasting makes perfect sense because it's versatile enough for all types of projects, has a diverse application profile, and is even environmentally friendly too! Not only does this method cut down on start-up costs but also labor times so businesses can turn around jobs faster, leading them towards success faster than ever before! If you're looking for an exciting new career with high potential returns then consider investing in Dustless Blasting today.
Editor's Note: *This post was originally published on March 8, 2018, and has been updated to stay up-to-date and relevant and reflect any changes to the information hereby provided.
*Dustless Blasting® is a registered trademark of MMLJ and may not be used in your business name. Our business owners must abide by the Guidelines for Using MMLJ Trademarks and Copyrights.