How to Follow OSHA Regulations With Dustless Blasting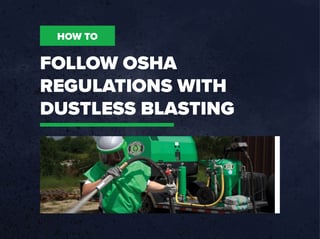 Dustless blasting is a sandblasting method that uses water to suppress dust. This makes it safer than traditional sandblasting, which can create hazardous conditions for workers.
OSHA has strict standards for sandblasting, and dustless blasting meets or exceeds all of them. This means that you can be confident that your workers are safe when using this method.
In addition, dustless blasting is also more effective at removing debris and cleaning surfaces. This makes it a great choice for any sandblasting project.
What is OSHA?
The Occupational Safety and Health Administration (OSHA) was established in 1971 to protect workers' health and safety on the job. OSHA sets and enforces standards for workplace safety, and provides training and education on worker safety.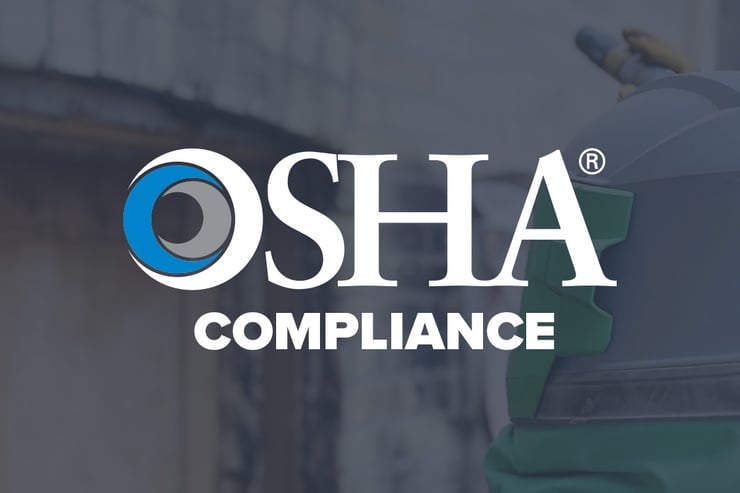 OSHA's standards for sandblasting are very specific, and require that sandblasting be done in a well-ventilated area. This is to ensure that workers are not exposed to harmful dust particles.
Many of the standards that OSHA requires in the abrasive blasting business have to do with silicosis.
WHAT IS SILICOSIS?
Silicosis is a lung disease caused by exposure to silica dust. It is irreversible and can be fatal. OSHA estimates that over 2 million workers are exposed to silica each year, and about 300 die from the disease. The scientific community began to suspect that crystalline silica inhalation was the cause of a variety of illnesses in the 1960s.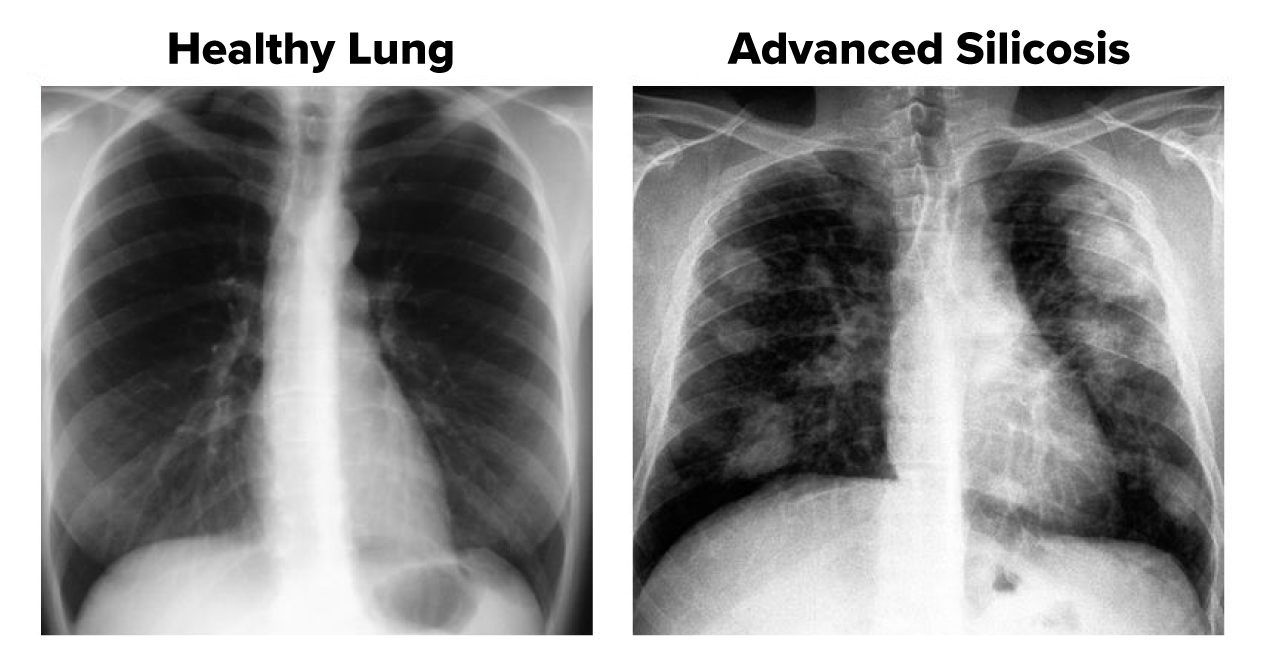 Abrasive blasting is one of the main sources of silica exposure in the workplace. That's why it's so important to follow OSHA's standards for sandblasting. Both the blasting operator and persons near him/her are at risk from blast media that includes crystalline silica. Silica dust, while appearing to be harmless, can cause an array of problems. It may cause scarring and stiffening of the lungs, as well as an increased risk of lung cancer when inhaled.
Dustless blasting is a safe and effective way to comply with OSHA's standards. By using water to suppress the dust, dustless blasting significantly reduces the amount of silica exposure for workers.
HOW CAN YOU LIMIT SILICA EXPOSURE?
The following three safety measures are recommended by OSHA, both to reduce silica exposure and to ensure the overall safety of abrasive blasting employees.
The Dustless Blasting® system makes it easy to comply with these standards.
1. USE A LESS TOXIC ABRASIVE BLASTING MATERIAL
There are many different types of abrasive blasting materials, and some are more toxic than others. For example, sandblasting sand contains high levels of crystalline silica, while coal slag does not.
When choosing an abrasive blasting material, always opt for a less toxic option. This will help to reduce the amount of silica exposure for workers.
When it comes to Dustless Blasting, the recommended blast media in 2022 is 40/70 recycled crushed glass. While crushed glass does not cause silicosis, it is still unsafe for you and your workers to breathe in. Keep in mind that even the most reliable and safe abrasives can generate a lot of dust when utilized in a dry blasting environment.
OSHA requires employers to safeguard employees from these risks. That is when the next control method comes in handy.
2. USE A WET DELIVERY METHOD TO SUPPRESS DUST
Dustless Blasting is a great method to protect your workers, in fact OSHA recommends using a wet abrasive blasting delivery method for dust suppression. Yet another reason Dustless Blasting should be considered.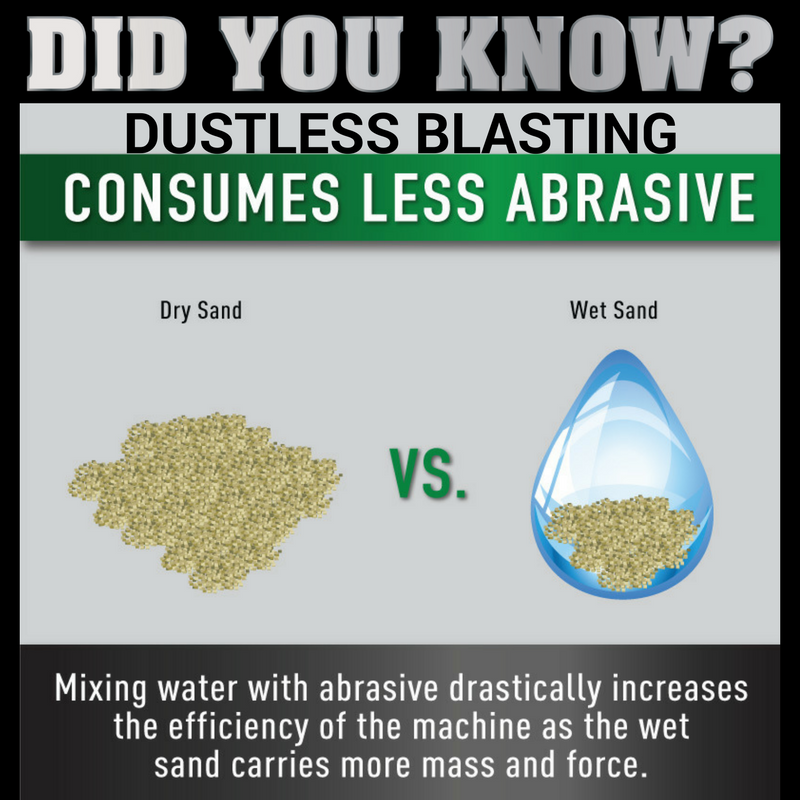 Suppressing the dust generated during sandblasting is crucial to protecting workers from harmful exposure. Dustless Blasting does this by using water to dampen the blast media and capture the dust before it has a chance to become airborne.
The water used in Dustless Blasting also cools the surface being blasted, which helps to prevent heat-related injuries.
3. USE PERSONAL PROTECTIVE EQUIPMENT (PPE)
Wet abrasive blasting does a fantastic job of reducing dust, but any blasting operation will produce some dust. The protection of the blast operator is enhanced by using Personal Protective Equipment (PPE) at the end of the day.
Using a device that covers the nose and mouth is vital to protecting the wearer from inhaling harmful airborne particles. When blasting in a confined area, we recommend the RPB® Nova 3®
It is approved by NIOSH and CE
Provides eye protection and hearing protection
Has a wide viewing area to enhance safety
Serves as a hard hat
IN CONCLUSION
With Dustless Blasting, always remember:
Dustless Blasting is a low-impact method of blasting that uses water to disrupt the dust plume, making it environmentally friendly and requiring no large containment. This makes it perfect for blasting things that are too big to go into a blast cabinet or can't be transported. Because they do not generate hazardous waste or require specialized disposal, you may use one of our mobile units safely.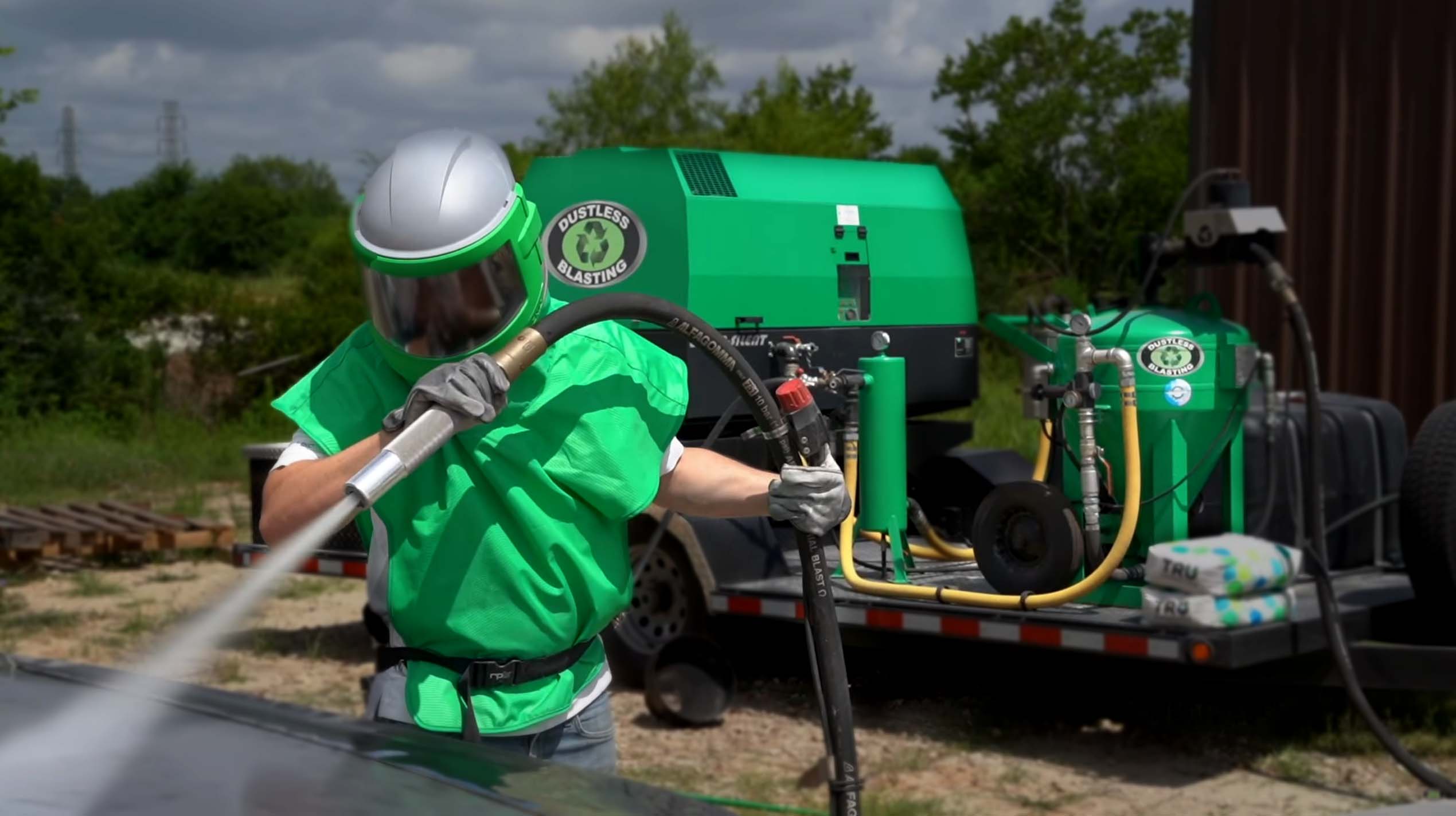 If you're looking for the right abrasive blasting media that is effective, versatile, and will get any tough job done, reach out to us!
Dustless Blasting makes OSHA compliance simple.
Dustless Blasting is an excellent method to keep employees safe and in compliance with OSHA regulations. Read the full guidelines on crystalline silica and abrasive blasting here!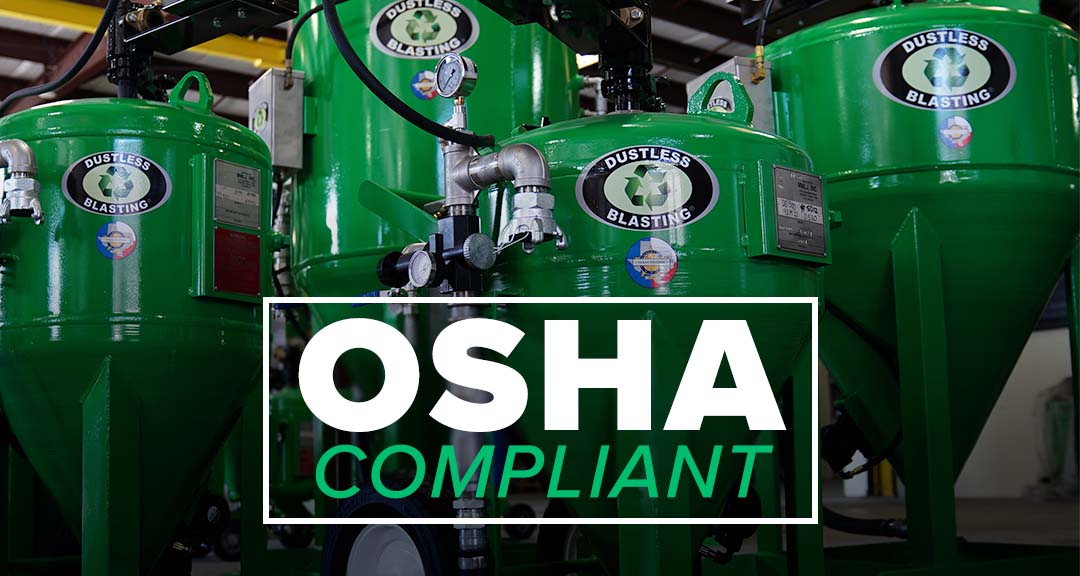 Staying OSHA compliant combined with the Dustless Blasting advantage will make you and your business unstoppable in 2022 and beyond!