Wood Restoration with Dustless Blasting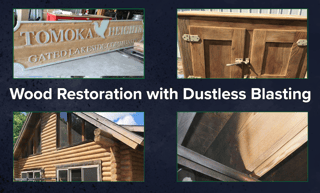 A Dustless Blasting mobile setup or standalone sandblast pot is perfect for restoring cars, boats, and concrete, but what about delicate wood? Our machines are powerful on tough grime and stains. The versatility of wet, dry, and soda blasting in one pot means you can optimize your blast method to efficiently and safely strip almost any surface. Some popular uses for the dustless blaster on wood surfaces include wood etching, smoke and soot removal, and log home restoration. In this blog, we'll take an in-depth look at these top wood applications and other stains, finishes, and coatings you may encounter when sandblasting wood.
Selecting an Abrasive
Before selecting an abrasive for your wood restoration project, you'll want to research the type of wood or existing wood tone you're blasting. A softer wood surface will require more caution when blasting to get a completely restored look. A few examples of hard woods include oak, poplar, maple, and walnut. Softer woods include fir, spruce, pine, cypress, cedar, and redwood.
It's better to start with a softer abrasive for your test blast and work up to more rigid abrasive materials if needed. Walnut shells or corn cob is a great starting point as they're gentle on the soft surface of the wood and won't etch. Baking soda is also a great choice as it's tough on dirt, paint, and rust while gentle on the wood substrate. Fine sand and crushed glass are used if you need more blast power.
Some abrasives, such as corn cob, can be collected, sifted, and recycled back into the blast pot to save costs on materials.
Check out this blog on sandblasting media for a more in-depth look at abrasive types.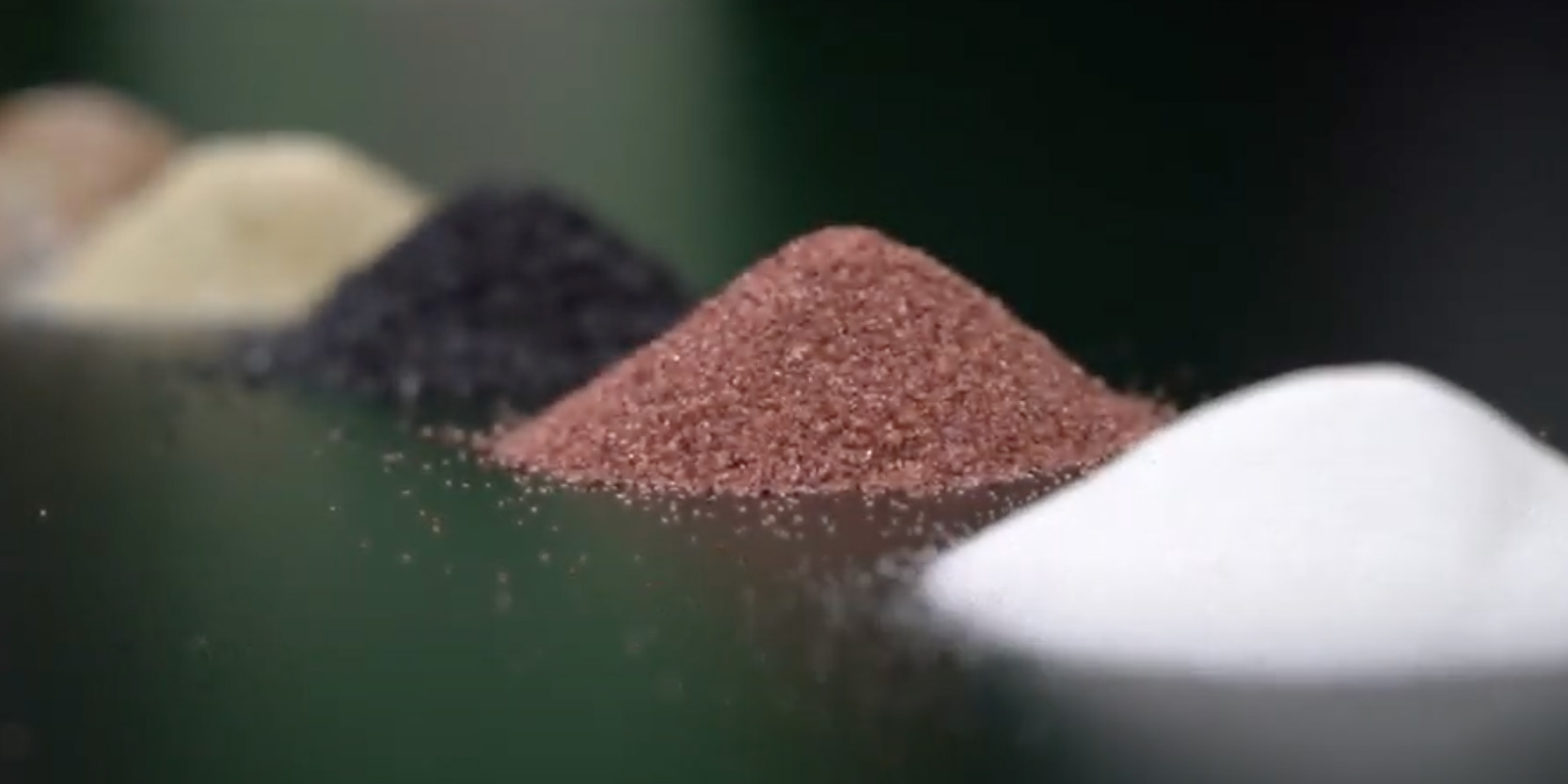 Wood Coatings
The stain or existing finish on your wood may affect the removal rate. It's always a good idea to perform a test blast on a small surface section to prevent unnecessary fine scratches or damage. Some standard wood finishes you may come across when blasting are stain, polyurethane, polish, or shellac.
Some coatings, such as a thick shellac, may require more blast power or a rougher abrasive to strip the surface. Use caution when stripping these surfaces, as the wood may be soft under the thicker coating.
Before blasting, talk to the client to see what kind of wood finishes they're considering for the project, e.g., stripping entirely down to the bare wood.
Applications
Now that we've established a baseline of knowledge for stripping wood surfaces let's look at some of the different applications you may come across with your Dustless Blaster.
Log Home Stripping
Restoring log home exteriors with traditional sanding and grinding methods can be time-consuming. Without the dustless blaster, it may take a team of workers 1-2 weeks to complete a sanding and stripping job. With the efficiency of sandblasting, the same job takes just 2-3 days to finish a 5,000 soft log cabin with a single operator. Most blasters get into log home restoration by contracting with a painting and staining company to prepare the surface before they perform the complete refinishing job.
If you're interested in quickly and safely stripping log home exteriors, Dustless Blasting business owner Randall C. offers professional insight into the benefits and cautions of using a sandblaster to restore a log home to its original beauty in the Pointer with the Pros video below.
Blasting wood is more complex than loading your machine with corn cob and firing away. Before starting a wood blast job, it's essential to research the type of wood you're dealing with, the best blast media for the specific wood, and the behavior of different stains. Though our machine can wet, dry, and soda blast in one, Randall recommends dry blasting the log home to prevent the wood from swelling with water and having to extend the project timeline to allow for drying.
Wear the proper personal protective equipment when dry-blasting your surface.
This can include
Hearing protection

Eye and face protection

Helmet

Leather gloves that protect the entire forearm and aprons (or coveralls)

Safety shoes or boots
Doing a test blast before diving into a job is always a good idea to ensure your media, blast pressure, and standoff distance are optimal for protecting the delicate wood surface while staying efficient. Some stains and coatings may take higher pressure to strip before getting to the soft wood underneath. Be vigilant when reaching the wood substrate to know when to back off the blast. A go-to media to start with is corn cob for its ability to remove the existing finish or original wood finish and help preserve the wood substrate under the exterior coat.
Another point to remember is figuring out how you'll blast all of the nooks and crannies of the home. Log homes can have unusual angles, and hitting all the stains or blemishes in those hard-to-reach spaces is important.
Furniture or Antique Restoration
A rewarding part of owning a Dustless Blasting machine is the opportunity to restore wood antiques to their match former character. Protecting an antique's authenticity can be challenging, as the substrate may be very worn or extra delicate from age, sun fade, or sun damage. Dry blasting with a softer abrasive and light pressure to start the project is a good idea to protect and restore the item to its former beauty, original finish, or original color.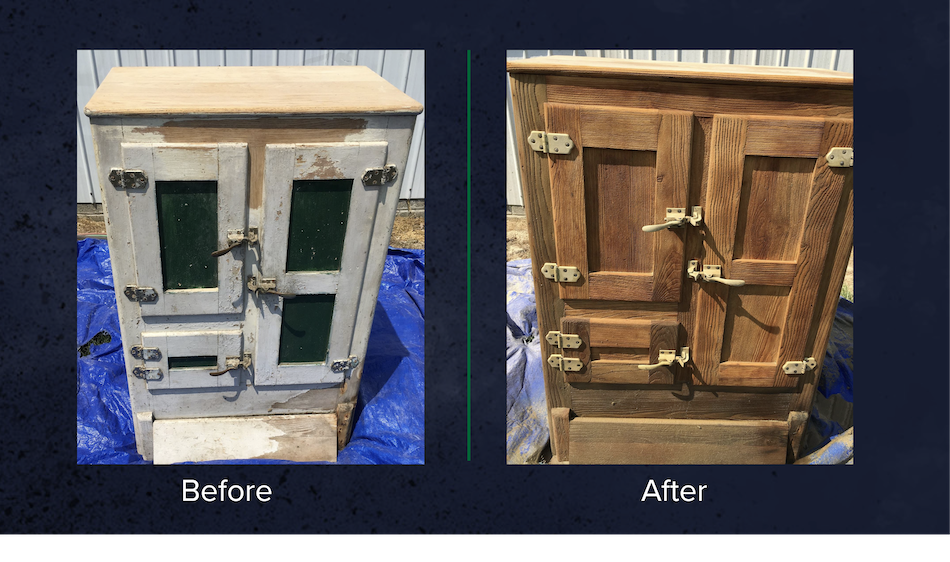 Wood Etching
An atypical use of the dustless blaster is etching. Whether concrete or wood, your dustless blaster can open the avenue to more creative jobs to supplement your income.
You'll have to create a stencil to lay over the wood and be able to blast the batter into the surface, as seen in the picture below. You'll also want to ensure the stencil can firmly adhere to the blasted surface with the wood grain in a vertical position to ensure the etching comes out clean and legible. It's a good idea to perform a test blast on a similar material before engraving the object.
Blast pressure, media, and nozzle will vary depending on the material and surface area being etched. A typical media used for this application is fine glass with 40-50psi. Check with your customers to see how deep they want the etch profile. Standard etch depth is 1/8" to 1/4".
Once you've engraved the wood, as a final step, you can use a soft cloth to add a pop of color with various epoxies, paints, or stain as to finish off the job.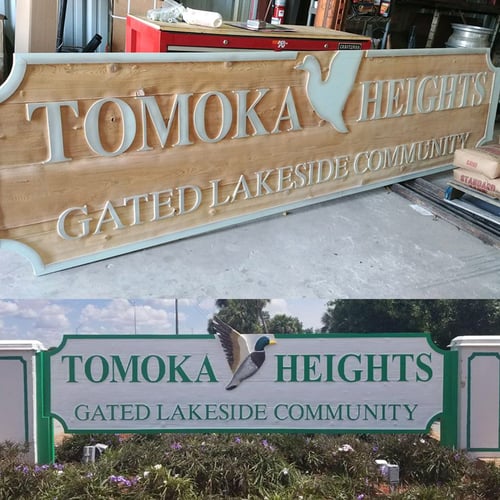 Smoke and Soot Removal
When a fire breaks out, the damage can be devastating. With the help of a Dustless Blasting machine, you can bring peace of mind and restoration to clients in need.
Because your dustless blaster can wet, dry, and soda blast in one, you can use baking soda to blast away soot and smoke damage from the ceilings to the floors while deodorizing the area in one step. The controlled blasting technique also allows for precisely removing charred materials, soot, and residue from various surfaces without causing additional harm. The dustless blaster's ability to adjust pressure and abrasive media types enables tailored treatment, helps preserve the integrity of delicate surfaces while achieving thorough cleaning.
Industry-Leading Versatility
Whether blasting an old rocking chair in the antique industry, restoring log homes to their original color, or soda-blasting soot and smoke from a fire, the dustless blaster can tackle almost any project while protecting the surface below.
Check out the other popular applications of your Dustless Blasting machine, and unlock the full potential of a sandblaster that can wet, dry, and soda blast in one.