A Detailed Look at the Premium Online Presence [2023]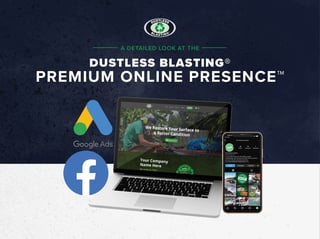 If you're contemplating utilizing the Dustless Blasting® Premium Online Presence™ marketing package to promote your blasting business, you're on the right track to attract customers and make a grand entrance into the market! But before you dive in, it's natural to have a few queries that need addressing. Now, let's take an in-depth look at the Premium Online Presence™.

It's essential for businesses to establish a strong online presence in today's digital landscape. With a staggering 97% of consumers turning to the internet to find local services, it's clear that being on the web is crucial for attracting customers. At Dustless Blasting®, we understand the importance of standing out from the competition and making a lasting impression. That's why we offer you a customized website that goes above and beyond to showcase your blasting business.
WHAT ALL can I customize ON MY WEBSITE?
You have the option to choose from two different website themes that best suit your preferences. We personalize your website by adding your business name, contact information, and even your logo if you have one. But the customization options don't stop there. You have the freedom to customize every aspect of your website, from the navigation menu to the text and background colors. The possibilities for personalization are endless, allowing you to create a website that truly reflects your brand's identity in a consistent and memorable way. Take a look at this example to get an idea of how your website could look.
WHAT ELSE DO I NEED TO KNOW ABOUT MY WEBSITE?
We register your custom domain for you and manage the creation of your website through our web hosting manager for a total of 3 years. This tool allows us to host your website on our servers, so you don't have to! Near the end of the three years, you have the option to renew for an additional 3 years for $400. This total covers renewal and hosting costs. Alternatively, we can send your files or transfer your domain to you if you'd prefer to host it yourself on your registrar and host platform.
What does "custom business domain" mean?
This simply means you get to pick your URL, provided it's available. Once selected, you can let us know and we'll register it for you on domain registrar. For example, if your company is called Doug's Dust-Free Blasting of Portland, you might choose dougsblasting.com.
What is web hosting aND WHERE DOES THE EMAIL FIT IN?
Web hosting is kind of like paying rent to be on the Internet. Three years of web hosting is included in your package. When that time is up, don't worry, you won't have to pay $8,995 again! It only costs $400 to renew your hosting for another three years.
Your website also comes with up to 5 business email addresses that utilize your custom business domain to let your web visitors know that your business is professional and official. (e.g. doug@dougsblasting.com, info@dougsblasting.com, and invoices@bobsblasting.com.) The mail type that is included with your website is called webmail. It is connected to your website through the host manager and we'll provide you with the link to access your mail. We also provide you with the means to connect it your mobile device so you check and send emails on the go!
YOUR SITE IS SAFE AND SECURED
All websites come equipped with SSL which is a standard security technology that establishes an encrypted link between our server and your website. The SSL certificate allows visitors to see that your website is safe and secure to use so they don't have to worry about the safety of your site and you won't have to worry about the potential risk of your website's search ranking to drop. It will appear as lock icon in the top left corner of the URL search bar at the top of your web browser.
MOBILE-OPTIMIZED FOR BETTER PERFORMANCE
Your website is mobile-optimized to give visitors a seamless browsing experience. What does this mean? This means that your website can be easily viewed across any device with responsive formatting to that device. You'll also receive unlimited bandwidth, so your site's speed isn't capped. We also incorporate caching to help improve website performance which in turn can improve your website's SEO.
WE CAN UPLOAD YOUR PHOTOS TO YOUR GALLERY
Showing examples of your work makes a great impression on potential customers. Once your online presence setup is completed, we'll send you a link where you can upload your before and after photos from your computer or mobile device. We'll be notified and then make any necessary edits or adjustments for optimization so we can add them to your website gallery or social media. You can upload up to 20 photos at once.
Can I have backend access to my website?
We're always happy to make simple changes for you at any time in the future — like your business name, contact information, or location if those change over time. If you want to make more complex changes, we'll give you access to the back end of your site. Our websites are built in Wordpress, so it's best to be familiar with that platform. There is one caveat once you have backend access to your website: if you break anything, you are the one responsible for fixing it.

Harness the power of social media to connect with potential customers in your local community. We'll create your Facebook Business page and with your help setup an Instagram Professional Business account for your business. Having a social media presence can help increase your visibility and enhance your brand image online.
What are automated Social Media Posts?
We'll create 52 weekly scheduled automated social media posts for you across Facebook and Instagram to kickstart your social media presence and create a more active page to engage visitors. Here is an example of the kind of posts you can expect.
Can I post MY OWN CONTENT too?
Absolutely! You'll have full access to your social media profiles, giving you the freedom to create engaging posts and interact with your audience through direct messages and comments. We highly recommend sharing captivating before and after pictures of your work, showcasing videos or reels of your blasting expertise, and promoting any special deals or promotions you have going on. The possibilities are endless, and it's a fantastic way to showcase your skills and connect with potential customers.
How do I make before and after pictures?
If you have some amazing pictures of your work, simply send them our way and we'll take care of creating stunning before and after images for you to share on your social media platforms. However, if you prefer to showcase your own creativity, there are also free apps like "Layout From Instagram" (Apple | Android available that allow you to easily create before and after photos of your work. The choice is yours!

Advertising is a crucial part of getting customers, and we understand the importance of making it as easy as possible for you. With our Premium Online Presence™ package, we take care of all your advertising needs so you can focus on what you do best—providing excellent blasting services. Our goal is to help you reach a wider audience and attract potential customers in your local community.
WHAT ARE GOOGLE ADS AND HOW DO THEY WORK?
A Google Ad is designed to resemble a regular search result, but it appears at the top position. However, it's important to note that its appearance is not guaranteed to be immediate or constant or result in a call. It is up to the searcher to take action. By providing Google Ads with information about your business, we can create compelling ads that target individuals in your service area locations who are actively searching for the services you offer. Through the use of keywords and location targeting and other factors, we can optimize your ads to reach the most relevant audience. Google Ads employs an algorithm that assesses the provided information and continuously analyzes and optimizes your ads to create an automated bid strategy and display them to web users who are most likely to click on them. Learn more about how Google Ads work.
In this example, let's pretend I need to hire a lawn mowing service, so I type in in "lawn mowing near me."


See how Google already knew I was in Houston, without having to type it in? We'll create ads that similarly target people in your area who need blasting services.
What other kind of ads do I get?
We will also create engaging video ads specifically tailored for Facebook and Instagram. These ads are called paid social ads and are designed to reach people in your local area, raise awareness about your blasting services and make it easier for them to get in touch with you.
Will I get charged for these ads?
You don't have to worry about any additional charges for the first three months of advertising. It is already included in the cost of the Premium Online Presence package.
Can I continue advertising after the initial period?
Certainly! We provide a range of advertising renewal packages that are customized to fit your advertising budget. This allows you to consistently and efficiently promote your blasting business even after the initial period. You can view your ad renewal options here.

Who can use Dustless Blasting® Marketing Services™?
Whether you have recently purchased a brand new mobile Dustless Blasting® unit or own a used one, our marketing packages are available for everyone. If you own a used machine, we will send you a form to verify equipment ownership using the serial number and additional information.
Can I finance a Dustless Blasting® Marketing Package™?
If you're embarking on your journey as a blasting business owner and want to take advantage of marketing services right from the start, we've got you covered. We offer the option to finance your marketing package along with your mobile equipment. Simply reach out to your sales representative, and they will assist you in adding it to your invoice for a seamless and convenient experience.
How long does IT TAKE TO BE COMPLETED?
Once you purchase our online presence package, we will work diligently to complete it within two weeks. This timeframe begins as soon as we receive your form submission. We understand the importance of efficiency, so we aim to review your information within 24-48 hours. To ensure accuracy, we will give you a call to discuss your details before we start building your online presence. Once your package is finished, we will notify you promptly.
DOES IT INCLUDE PRINT MARKETING MATERIALS?
Unfortunately, the digital marketing packages do not include print marketing materials. Printed marketing materials and promotional items can be purchased separately on our online store here.
Am I required to use Dustless Blasting® Marketing Services™?
No, it is not mandatory. However, take a moment to consider this: your time is precious, especially when you are launching your business. You don't have to worry about learning web development because we have already taken care of all that for you. With our extensive experience in the surface preparation industry, we know the most effective methods to reach the individuals who need your services the most. Allow us to set you up for success in your new business venture!