A Detailed Look at the Premium Online Presence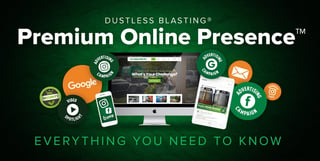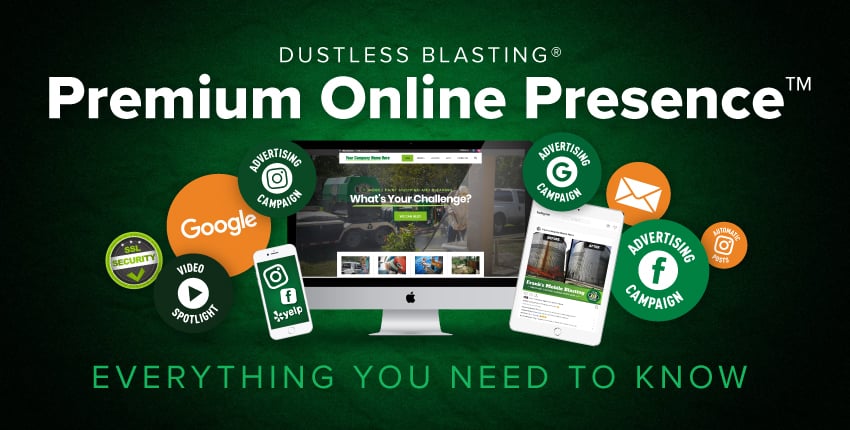 So, you're considering using the Dustless Blasting® Premium Online Presence™ to help market your blasting business. It's a great way to attract customers and start your business with a bang! But first, you might have some questions.
Let's take a detailed look at the Premium Online Presence™.

The vast majority of consumers — 97% to be exact — go online to find a local service. If you want them to choose your company, you need to be on the web. That's why we offer you a customized website that's full of information, pictures, and videos.
How much can I customize?
We add your business name, contact information, and even your logo if you have one. Here is an example of how your website will look.
What does "custom business domain" mean?
This simply means you get to pick your URL, provided it's available. For example, if your company is called Bob's Blasting of Ohio, you might choose bobsblasting.com.
With that, you can create up to 5 email addresses. You might have bob@bobsblasting.com, sharon@bobsblasting.com, and quotes@bobsblasting.com.
What is web hosting?
Web hosting is kind of like paying rent to be on the Internet. Three years of web hosting is included in your package. When that time is up, don't worry, you won't have to pay $8,995 again! It only costs $400 to renew your hosting for another three years.
How do I add my own pictures?
Showing examples of your work makes a great impression on potential customers. Just visit this page from your computer or mobile device, and you can upload as many pictures as you want.
Can I have backend access to my website?
We're always happy to make simple changes for you at any time in the future — like your business name or location. If you want to make more complex changes, we'll give you access to the back end of your site. Our websites are built in Wordpress, so it's best to be familiar with that platform. There is one caveat once you have backend access to your website: if you break anything, you are the one responsible for fixing it.
What is SSL Security?
When your site is secured with SSL, a lock icon will appear in the toolbar and your site's ranking in Google will be improved.

Social media is a great way to be found by potential customers in your community, and we will set up multiple profiles to get your name out there.
What are automated Social Media Posts?
Not only will we set up social media accounts for you, but we'll post for you too! Here is an example of the kind of posts you'll get. Once a week for a whole year, you'll see a post like this appear on your Facebook and Instagram.
Can I post too?
Of course you will have access to your social media profiles as well, so you can share as much as you want. We recommend posting things like before and after pictures of your work, videos of you blasting, or any specials you might be running.
How do I make before and after pictures?
Simply send us your pictures, and we can create before and after images to share on your social media as well.
If you prefer to do it yourself, there are also free apps available to create before and afters, such as "Layout From Instagram." Apple | Android

Advertising is a crucial part of getting customers, and we try to make that as easy as possible.
What is a Google My Business Profile?
Have you ever searched for a business, and seen this special section on the sidebar?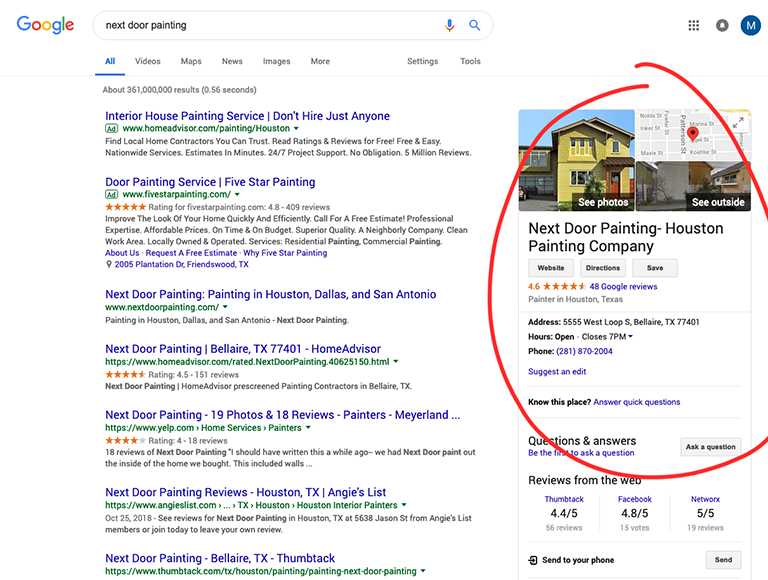 In this example, I was searching for a local painting company. Their location, hours, ratings, and phone number all come up without even having to visit their website. That's a Google My Business profile, and we'll set one up for your company too.
What is the difference between that and a Google Ad?
A Google Ad looks like a regular search result, but it shows up at the very top.
In this example, let's pretend I need to hire a lawn mowing service, so I type in in "lawn mowing near me."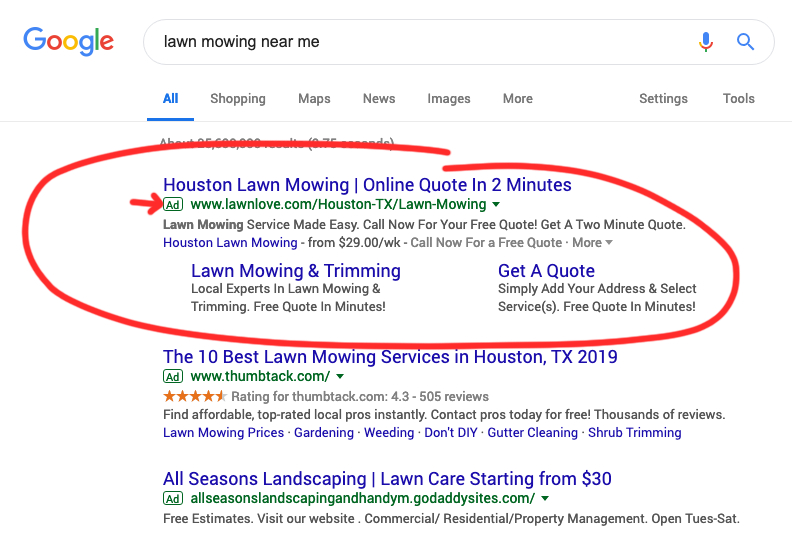 See how Google already knew I was in Houston, without having to type it in? We'll create ads that similarly target people in your area who need blasting services.
What other kind of ads do I get?
We'll also run targeted video ads on Facebook and Instagram, to make nearby people aware of your services and help them contact you.
Will I get charged for these ads?
No. Your initial 3-month advertising period is already built into the cost of the Premium Online Presence.
Can I continue advertising after the initial period?
Of course! We have several advertising renewal packages available on this page.
What does it mean to be a Preferred Contractor?
With the Premium Online Presence™, you become a Preferred Contractor. When someone calls us asking for blasting service in their area, we refer them to the closest Preferred Contractor — that could be you!

Who can use Dustless Blasting® Marketing Services™?
Anyone who owns a new or used mobile Dustless Blasting unit can purchase a marketing package. Equipment ownership will be verified with a serial number.
Can I finance a Dustless Blasting® Marketing Package™?
In some cases, you can finance the marketing package along with your mobile equipment if you purchase them at the same time.
How long does it take?
The online presence packages will be completed within 2 weeks of purchase. 
The printed materials will arrive within 15 business days,
Am I required to use Dustless Blasting® Marketing Services™?
No, it's not required. However, consider this: Your time is valuable, especially when launching your business. You won't get paid $300/hour to design a brochure in Microsoft Office, but you CAN make that kind of money blasting. Isn't your time better spent landing that first job?
You don't have to develop a marketing strategy, design business cards, or learn to code a website when we've already done all that for you.
We've been in the surface preparation business a long time, so we know the best ways to actively reach the people who need your services most. Let us set you up for success in your new business endeavor!