How to grow your customer base: tips from successful dustless blasters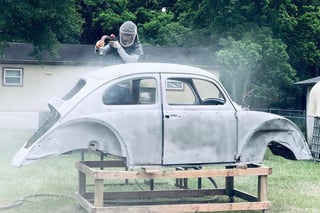 Whether you are just starting out or have been around a while, the question is usually the same, How do I get (new) customers? While the attention span of just about everyone is a nanosecond, it seems like it would be impossible to spend time generating new business and still have time for jobs already lined up. Not to worry, I have a few key tips to help you meet your business goal and get people talking about Your Company and Dustless Blasting.
These tips are great reminders of how you can help others spread the word about your business. You are not alone when you think that gaining new customers is a challenge. More than 50% of businesses would agree with you, but the #1 trusted source of gaining new business is still referrals. Saving time and money are great things that people can say about what you do but be sure they have something quick and easy to remember you by. Now you are ready to conquer 2018, get out there and get people talking about your company and Dustless Blasting.
Identify Your target business
So, you provide surface preparation services and you've selected a nearby business that could benefit... now what? When approaching a company, try to target the people with decision-making power.

Make a Good First Impression
In order to create a good first impression, it's important to maintain a professional appearance.
If you have an appointment, show up on time.

Pull up in a truck branded with your company's vehicle magnets.

Have your talking points and "elevator pitch" prepared.

Bring a pen and notepad to get contact information and take notes.
Create a Connection
Ask your potential customer about their surface cleaning and preparation challenges. Bring a rack card that correlates to their industry and use it to illustrate your pitch. If they're still not convinced, offer to do a demo blast for them. Seeing is believing!
If the customer wants a price, use your professional quote forms, and be sure to leave some business cards behind when you're done.
If you can't drop by in person, here's a great idea from one of our business owners:

Upsell Your Services
Take the opportunity to point out additional services that you can provide.
For example, a property manager contacts you for graffiti removal on an apartment building. When you show up to quote the project, you notice that all of the exterior staircases are rusting and peeling. Point out that you can blast and paint these staircases in addition to removing his graffiti, and maybe even offer a discount for doing two jobs at once.
Not only have you increased your profit on this one job, but you have made an important connection. They may own dozens of other properties, and all need regular maintenance that you can provide.
Follow Up After the Quote
After you're done speaking to a potential customer, stay at the top of their mind. Give them a call back in a few days to see where they are at with the project.
Consider using a customer database, or at least a spreadsheet, to keep track of your customers and opportunities. If you are already using accounting software, it may have this capability already.
Provide Superior Service
If you land the job, make sure you show up on time, treat your customer with professionalism, and above all, do a great job when blasting their project.
The Dustless Blasting® Academy is a great place to learn expert techniques on using your machine. And it's completely free!
If the customer is happy, encourage them to leave you a positive review. Remember, with the Premium Online Presence™, we'll set up a Google Business Profile and a Yelp page for you, both of which are great places for customers to leave online reviews.
Studies show that positive word-of-mouth is even more effective than paid ads, resulting in potentially five times more sales. Make sure you're treating your current customer base as well as you can and are pricing accordingly, because word travels fast.
Follow Up After the Job
Weeks or months after the project is complete, revisit the customer to see if they need anything else blasted. Maybe even set up a long term contract or maintenance program — it's good for both of you.

everybody starts somewhere
Prior to owning a Dustless Blasting business, Patrick Grimes worked as a general contractor with no previous sandblasting experience. In just four years of his new venture, he's purchased three mobile machines from us to keep up with the demand for his services.
"In the beginning we didn't know much, so we just went on the internet, watched a lot of your guys' videos, and registered with Google.
We had a website built, we did the flyers, cold calling, mailing letters to property managers and contractors -- little by little, it started
taking off."
-Patrick G., Dustless Blasting Business Owner