Stripping a Ferrari with Dustless Blasting!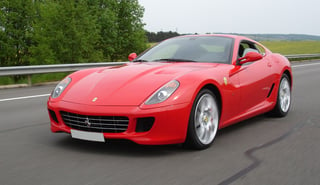 Thousands of vehicles have been stripped and restored with the Dustless Blaster! Cars, trucks, tractor trailers, and even fiberglass corvettes have gone from drab to fab with the eco-friendly Dustless Blasting process.
However, this Ferrari blasted by Official Master Strippers in Naples, Florida might be a first!
WARNING: Official Master Strippers are professionals who are familiar with their Dustless Blaster, and have spent years developing their blasting knowledge and technique. If you're new to Dustless Blasting, don't try to blast a Ferrari or anything extremely expensive without ample practice on regular vehicles first.
Official Master Strippers was hired to remove multiple layers of paint and primer from this Ferrari, which the owner uses primarily for racing. This job is the ultimate testament to Dustless Blasting's versatility, because the car's body is composed of fiberglass, carbon fiber, and aluminum! All delicate substrates that would likely be destroyed by traditional sand blasting. By lowering the blast pressure to 70 PSI and using a large standoff distance, they were able to remove the junk from all 3 substrates with no trouble!
The Dustless Blaster is fundamentally different from sand blasting, and those differences make it ideal for stripping all sorts of vehicles!
• Compatible with a wide range of abrasives!
• Blast pressure can be adjusted for more delicate substrates
• Lowers surface temperature while blasting
• Flash rust is prevented by our Dustless Blasting Rust Inhibitor