Mold Removal and Remediation with Dustless Blasting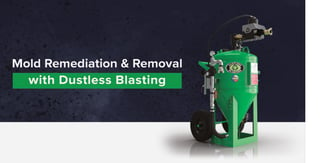 Mold is a nightmare for any property owner. An infestation can cause serious health issues, allergic reactions, asthma attacks, and costly property damage, so it's important to act fast when treating moldy areas. Traditional mold remediation methods can be messy and time-consuming. With the correct technique, sandblasting or soda blasting is an effective mold removal tool. So, whether you're an existing mold remediation company, or looking to expand your soda-blasting expertise, Dustless Blasting has the perfect tool to help tackle mold issues head-on.
What is Mold Removal or Remediation?
When removing mold, you've probably heard terms such as mold mitigation, abatement, and remediation. Though commonly used interchangeably, there is a difference between terms like mold removal and mold remediation [3].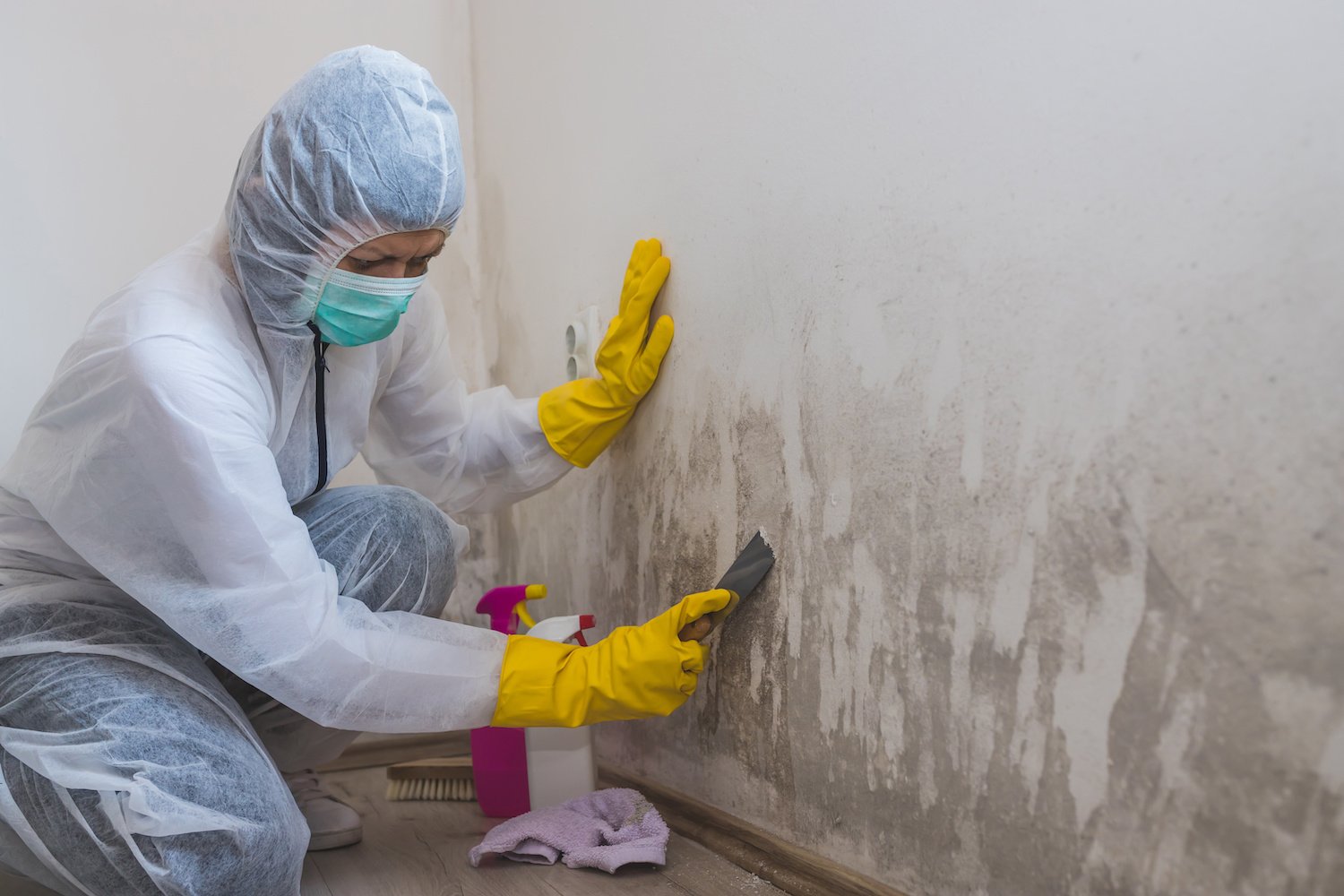 Mold Removal
The term mold removal means exactly what it sounds like; it is the process of removing mold from surfaces. The contaminant could be black mold, white mold, green mold, a blue-green color mold, and more. In many cases, removing mold infestation from a surface or porous materials is not enough to solve the problem. The removal step, while important, is just one factor in the mold remediation process [3] and doesn't always address the root cause.
Mold Remediation
Mold remediation is a term used to describe the process of mold elimination. This can include a combination of mold testing, removal, demolition, sanitizing, containment, and mold cleaning [3]. In some states, mold remediation must be done by a licensed professional. Be sure to do your research before beginning any mold remediation process or offering to clean mold.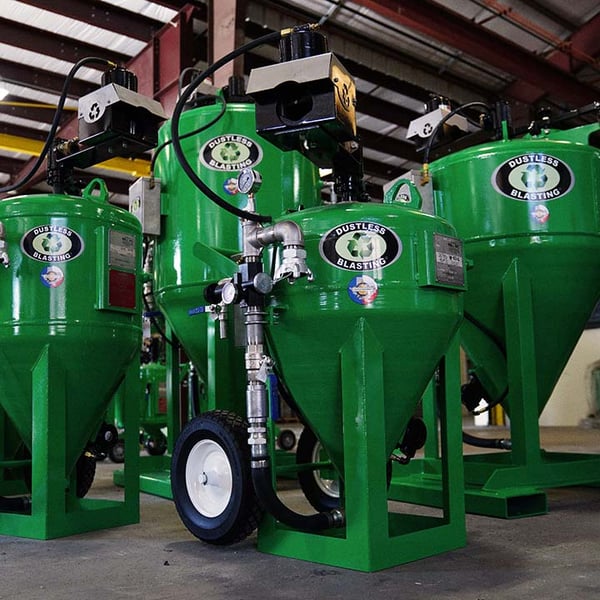 How Can Dustless Blasting Help?
Let's talk through the mold remediation process in-depth and highlight where a dustless blaster would be useful. The remediation procedure may vary based on state regulations, certain molds, or the infested area. The below process is just a general overview.
1.

Inspection
In some states, mold inspection must be done by a certified professional. Inspection can include sampling the mold spores, assessing the area, and documenting the scope of work needed to treat the contaminant. Inspectors may look in a crawl space or other damp areas harboring hidden mold. Basements tend to be a hotspot for mold growth in high humidity or flood-prone areas, and inspectors will want to leave no potential mold problem area unchecked.
Once a thorough inspection is complete, a contract is drawn to detail the next steps in the remediation procedure [2]. The remediation cost or removal cost will vary based on the size of the infested area, and some mold removal services may charge by square foot. The overall cost or total cost might vary from business to business.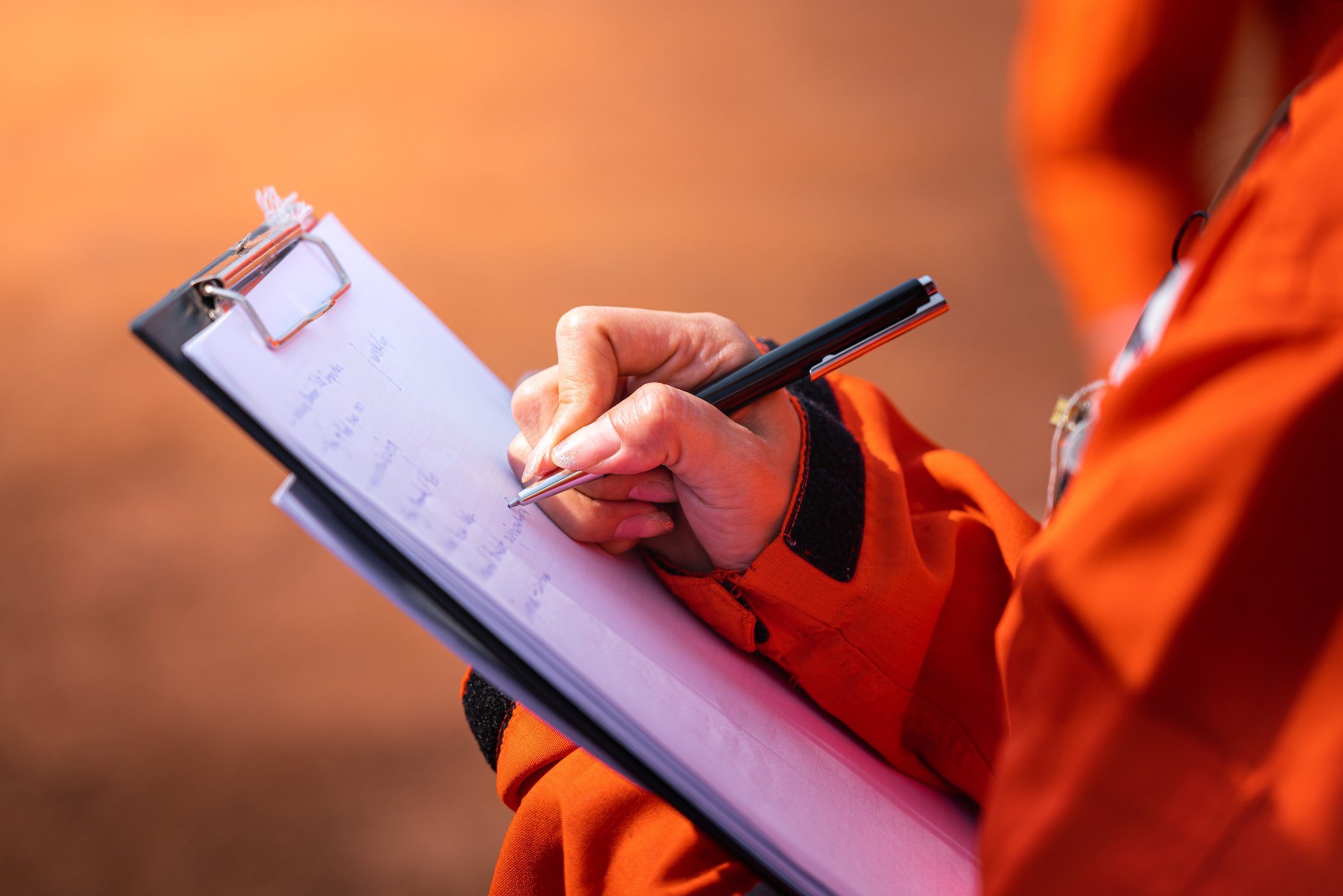 2.

Containment and Preparation
You must address the source of the mold growth before you can begin the removal process. This could range from a bathroom pipe leak, failing HVAC system, or excessive condensation in your air ducts. Once the problem is fixed, the area must dry completely before moving on. After the repair and drying process, affected rooms will be contained with barriers such as plastic sheeting to keep microscopic spores from spreading to other areas.
3.

Air Filtration
Most professional mold remediation companies will bring in a HEPA vacuum or other air scrubbers to filter out any airborne mold spores and make sure the indoor air quality is up to standards. Proper vacuum and filtration tools are especially important when employing the sandblasting or soda-blasting method of clean up [1].
4.

Mold Disposal or Removal

(Bring Out the Dustless Blaster!)
With the previous steps completed in the mold remediation process, this step is where Dustless Blasting can shine. Though a dustless blaster can wet and dry blast in one machine, you'll want to utilize the dry blasting function for this application. When abrasive blasting mold, common media choices include silica-free sand or baking soda to clean the moldy surfaces. There are multiple media options for blasting away mold, but many blast pot operators choose soda blasting for their main removal procedure.

4.1.

Soda Blasting
There is no better machine for soda blasting on the market than a dustless blaster. Switching to baking soda blasting for removing mold has multiple benefits. Once you try it, you won't want to go back to any other method. Let's take a look at just a few ways soda blasting is a smart way to treat mold.
Safe for the environment. Though bleach and other chemicals may work well to kill mold spores, these products can create a toxic environment for humans and animals alike. Baking soda is a safe, natural material that still delivers surface mold removal power - getting customers back in their homes, faster.
Soft on surfaces. Tough on mold, easy on surfaces. If you're removing mold on walls, wood structures, etc., baking soda will get the job done without causing significant damage to the substrate underneath.
Deodorize and remove in one. Another advantage of a Dustless Blasting machine is the deodorizing benefit of baking soda when soda blasting. Just as baking soda absorbs odor in smoke removal, it helps mitigate any off-odors in mold removal, saving you time down the line [4].
Time-saver. Using a Dustless Blasting machine for mold removal eliminates the time-consuming and tedious job of scrubbing and sanding mold infestations by hand. Since the machine utilizes a hose, the operator is better able to get mold from those hard-to-reach spaces such as attics, crawl spaces, or other elevated building materials [6].
Note: Though abrasive blasting or soda blasting is effective at mold removal from a surface, the process does cause the mold spores to be airborne. Utilizing a HEPA vacuum/filter is essential for proper mold cleanup and removal [2].
5.

Sanitization
After the mold is removed from the surface, items that suffered severe mold damage will be discarded or repaired. All other living space items such as curtains, floors, and walls will be sanitized. This step can include deodorization [3] to remove lingering musty odor. Check out our vapor adapter that easily fits on your blast pot for disinfectant application.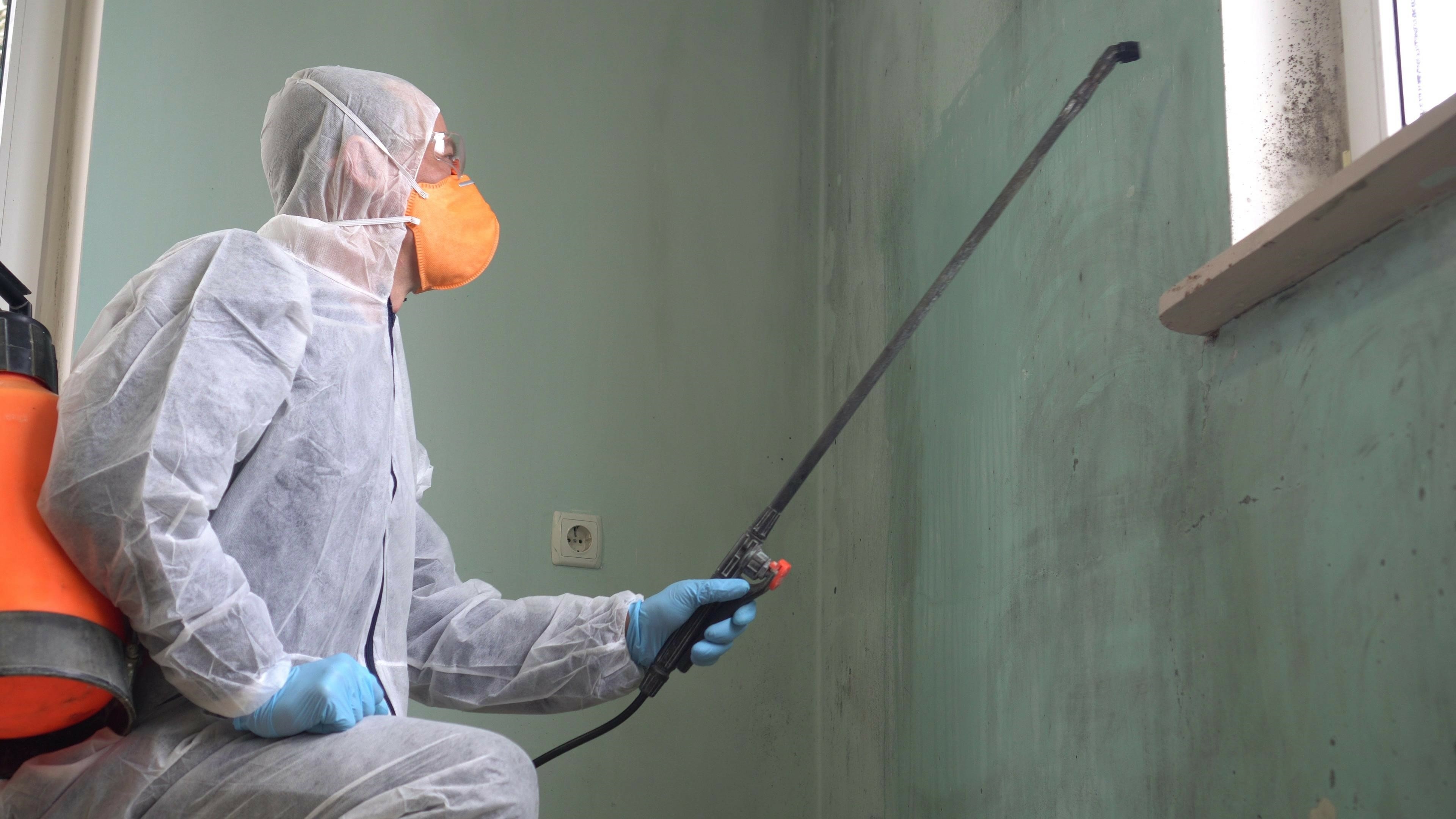 6.

Prevention
To prevent mold growth from reoccurring, there are key steps to consider before the mold remediation services are complete. These final steps can vary from company to company and state to state. A general guideline for mold prevention testing is visual inspection, moisture readings, thermal imaging, and odor test. After these steps, a mold remediation company may send off a small air and/or surface sample to make sure there are no alarming microscopic levels of mold spores remaining [5] and all the mold is treated.
7.

Final Report
In the last step of remediation, a final report is issued to the customer detailing the effectiveness of the remediation work and criteria met for successful removal.
Do Your Research
Mold remediation is not a process to lightly consider. Some states require extensive certification to perform remediation or removal. Be sure to do your research before starting a job with your dustless blaster and adhere to all local guidelines and laws. Removing mold is an important job, and deserves an efficient, high-quality tool to get the project done. Dustless Blasting is the perfect tool for any mold remediation business or individual looking to expand their applications. Check out this page for more information on the perfect mold removal tool.
[1] "6 Things to Expect during the Mold Remediation Process." Elite Mold Services, 1 Apr. 2020, moldinspect.org/6-things-to-expect-during-the-mold-remediation-process/.
[2] Gromicko , Nick, and Ethan Ward. "Abrasive Blasting for Mold Remediation." InterNACHI®, www.nachi.org/abrasiveblasting.htm#:~:text=Abrasive%20blasting%20removes%20mold%20from,be%20removed%20by%20HEPA%20filters. Accessed 10 May 2023.
[3]
Kenny. "Mold Removal vs Mold Remediation: Difference Explained!"
ECOFMR.Com Blog - Information and Articles
, 26 Oct. 2021, www.ecofmr.com/articles/mold-removal-vs-mold-remediation/.
[4]
"Nutech Refinishing, Inc."
Soda Blasting Service & Sodablasting Equipment
, www.nutechrefinishing.com/Will-Sodablasting-Remove-Mold.html#:~:text=Yes!,the%20odor%20during%20the%20process. Accessed 10 May 2023.
[5]
"Orlando Post Mold Remediation Verification."
Elite Mold Services
, 3 May 2023, moldinspect.org/orlando-post-mold-remediation-verification/.
[6]
"Soda Blasting & Mold Removal Contractor in Al, TN, GA, and MS - AFS Repair."
AFS Repair - Mold Soda Blasting
, www.afsrepair.com/services/crawl-space-encapsulation/solutions/mold-soda-blasting/. Accessed 11 May 2023.