f430 Ferrari restoration with Dustless Blasting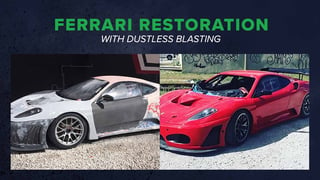 Vehicles of all kinds are regularly stripped and restored with our DUSTLESS BLASTING® equipment. From classic cars and farm vehicles to farm equipment and yachts: any auto restoration project or coating removal job can benefit from the unique advantages of our wet blasting removal method. This F430 Ferrari, stripped and restored by Official Master Strippers of Naples, Florida, is a prime illustration of the incredible capabilities of DUSTLESS BLASTING® equipment.
THE PROJECT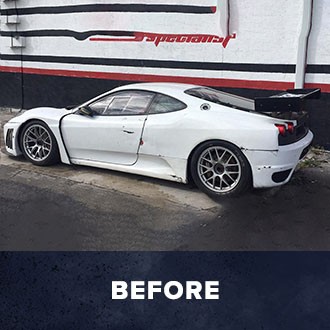 Official Master Strippers was hired to remove multiple layers of paint and primer from this Ferrari, which the owner uses primarily for racing. This was a unique project because the Ferrari body is composed of fiberglass, aluminum, and carbon fiber. These are all delicate materials that require some finesse to prevent any damage or warping.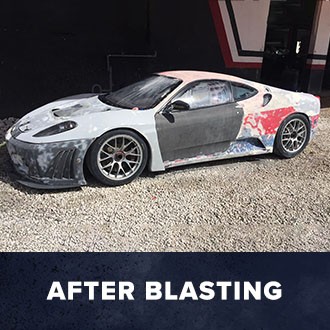 DUSTLESS BLASTING equipment is built to allow operators to easily fine tune blast pressure, media flow, and standoff distance. As a result, they were able to remove the junk paint from all 3 substrates with no trouble at all!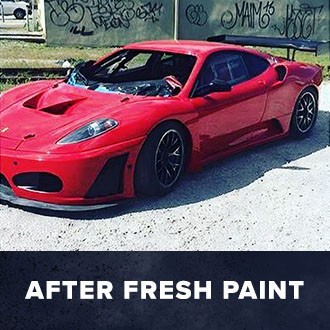 Want to learn more about the details about this job?
Blast Equipment (Blast Pot, Nozzle)
Blasting Settings
Job Length
Operating Costs (Consumables)
Profit
Find additional information and details about this job (and many others) on our case studies page.
CAUTION: These are experienced professionals who are familiar with their Dustless Blasting equipment, and have spent years developing their blasting knowledge and technique. If you're new to Dustless Blasting, don't try to blast a Ferrari or anything extremely expensive without ample car restoration practice first.
see dustless blasting in action
The Best Paint Removal Tool For Automotive Restoration
The Dustless Blaster is different from sand blasting or power washing, and those differences make it ideal for stripping all sorts of cars.