Maximize Profit For Your Business With Dustless Blasting
Dustless sandblasting equipment stands as a game-changer for existing businesses. By minimizing dust production, this innovative technology directly addresses the operational challenges that often lead to downtime and increased costs. The clean and efficient process ensures a faster turnaround on projects, translating to heightened productivity and, consequently, increased profits. With reduced cleanup times and enhanced worker safety, businesses can optimize their resources, allocate manpower more effectively, and take on a higher volume of projects. Investing in this cutting-edge technology is not just an upgrade; it's a strategic move towards maximizing profit and ensuring long-term success in a competitive market.
In this guide, we'll cover everything your company should know about Dustless Blasting equipment and how it can improve your operations.
How Does Dustless Blasting Equipment Work?
All Dustless Blasting systems employ the "Venturi effect" blast method. The Venturi system stores water and blast media in the main blast chamber. From there, compressed air flows through the feed system and creates a vacuum. As a stream of high-pressure air moves through the blast pot, the vacuum from the Venturi effect sucks the abrasive media and water mixture out of the chamber and through the blast hose. Because of the nature of the Venturi system, operators are less likely to experience clogging from sinking, wet media.
Blast Wet or Dry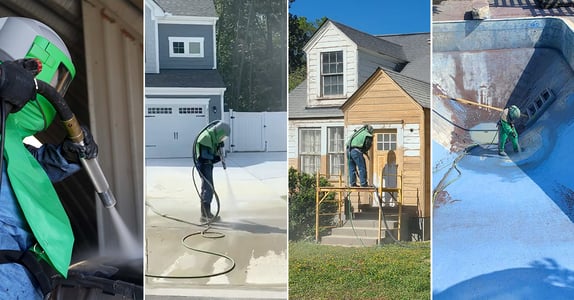 Dustless blasting equipment showcases its versatility by seamlessly transitioning between dry and wet blasting. In dry blasting, abrasive media is propelled with precision, efficiently removing rust, coatings, and contaminants from surfaces - typically producing a plume of dust. On the flip side, the equipment effortlessly transforms into a wet blasting powerhouse when water is introduced into the mix - reducing dust by 97%. This dual capability not only provides operators with flexibility but also ensures that the dustless blasting equipment is adaptable to a wide range of applications, making it a go-to solution for industries seeking efficient, clean, and precise surface preparation methods.
Easy Maintenance
With us, you get top-notch quality at an affordable price. We believe in creating products that are simple to use, easy to maintain, and require less part replacements. No complicated mechanisms, no proprietary valves. Just simple, intelligent design that lasts a lifetime and all replacement parts, additional tools and PPE can be found in our Online Store.
Blasting Media: Unlimited Options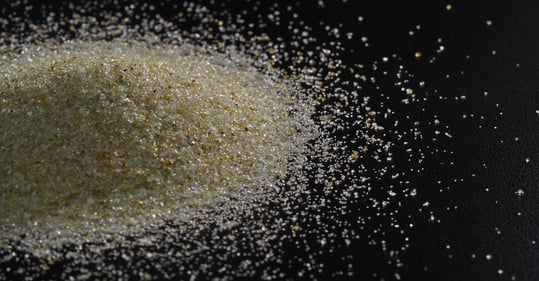 With Dustless Blasting equipment, you have an abundance of options for blasting. The versatility to dry blast, wet blast, and soda blast allows you to explore a vast array of abrasive materials. Here are a few examples of media types at your disposal. However, for a comprehensive guide on sandblast media, we recommend checking out our blog.
Abrasive Materials For Dry Blasting
Generally, there are two categories we can break abrasive media into. There are abrasives specifically for dry-media blasting, and there are abrasives that can be used in both wet and dry blasting. Dry blasting-specific media can't be used in wet blasting applications as the material does not sink in water, a key parameter for successful wet blasting.
Sugar Sand
Corn Cob
Walnut Shells

Sodium bicarbonate
Abrasive Materials for Wet Blasting
Steel Grit

Steel Shot

Garnet

Crushed Glass

Aluminum oxide

Glass Beads

Coal Slag
Applications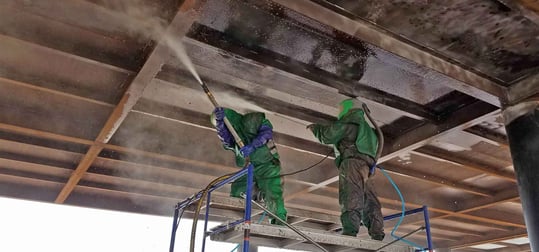 Dustless blasting equipment is a versatile powerhouse, capable of tackling a myriad of applications across diverse industries. The adaptability extends to historical restoration efforts, where the sensitive treatment of surfaces is paramount.
Whether it's preparing surfaces for repainting, eliminating contaminants, or restoring structures to their former glory, dustless blasting equipment emerges as the go-to solution, offering a clean, efficient, and environmentally conscious approach to a wide array of surface preparation challenges.
Below are just a few applications that Dustless Blasting has excelled in, but you can view other industries here.
Marine Maintenance
Offshore and Refinery Maintenance
Concrete Restoration
Powder Coat Removal
Automotive Restoration

Pool Restoration

Fire Remediation

Fleet

Wood

Graffiti Removal

Line Stripe Removal
Worker Safety & Eco Friendly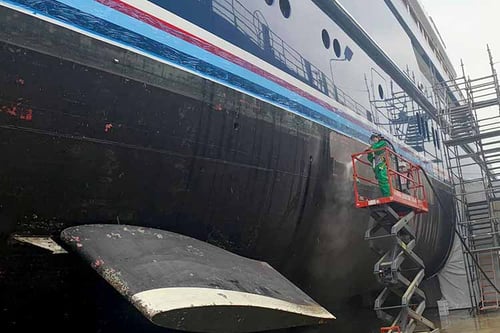 Dustless blasting stands as a beacon of environmental responsibility, embodying a commitment to sustainability and workplace safety.
Eco Friendliness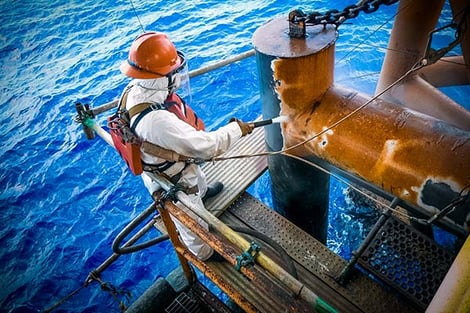 By incorporating water into the abrasive blasting process, this innovative technology significantly reduces airborne dust, mitigating the environmental impact associated with traditional sandblasting methods. These systems enable blasting in areas with strict regulations like dry docks, public spaces, residential areas, and outdoor spaces in close proximity to landscaping. In addition to creating a cleaner and healthier work environment, this innovative technology also enhances productivity by allowing nearby workers to focus on other tasks at the job site while the blasting process takes place.
OSHA Approved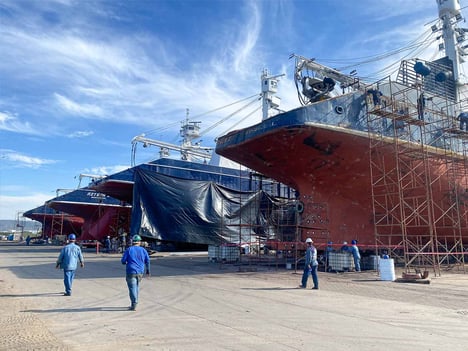 The suppression of dust not only safeguards the well-being of workers by minimizing exposure to harmful particles but also adheres to OSHA guidelines, setting a higher standard for occupational safety. In essence, dustless blasting emerges as the ideal solution for businesses seeking to balance productivity with environmental consciousness and compliance with the highest safety standards recommended by regulatory authorities like OSHA.
Case Studies
Discover the success stories of businesses that have transformed their operations with the adoption of dustless blasting technology. These real-world examples underscore the versatility and transformative impact of dustless blasting equipment, illustrating its effectiveness in meeting the unique needs of each business and positioning them for long-term success in their respective industries.
Shipyard Uses Dustless Blasting for Epoxy removal - Increased productivity and Cut downtime
The owner of a prominent marine repair shipyard on the Mexican Pacific coast has significant productivity concerns due to the dust production from their current dry blasting processes.
At their request, we embarked on a series of experiments in order to quantify exactly the benefits of upgrading their shipyard's dry sandblasting equipment to DUSTLESS BLASTING® equipment.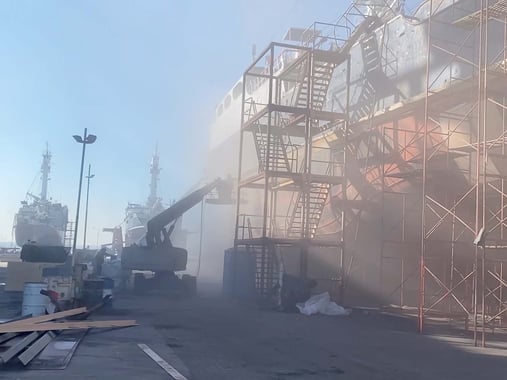 Our Results & Conclusions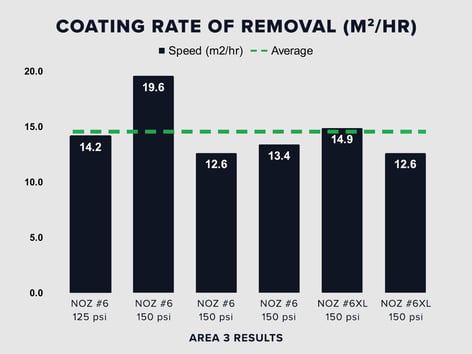 Our main takeaway is that wet blasting with copper slag (their abrasive of choice) is significantly speedier than dry blasting. The tremendous advantage of transitioning their equipment line to dustless blasting cannot be emphasized enough, as it is not only faster, but also suppresses dust, enabling nearby workers to carry on with their tasks uninterrupted.
The shipyard's dry blasting average removal rate: 11 square meters per hour
DUSTLESS BLASTING® average removal rate:

14.5 square meters per hour
In this field test, Dustless Blasting provided a 31.82% increase in coating removal speed compared to dry blasting.

---
Welsh Collision uses Dustless Blasting to remove paint from industrial equipment
Brad from Welsh Collision (Commercial Division) shows us how he uses Dustless Blasting equipment to remove industrial paint from a variety of equipment and heavy machinery - saving time and increasing productivity!
"This machine can get in there where hands and sanders just can't" -Brad W.
Faust Powder Coating Adds Dustless Blaster To Eliminate Outsourcing
Faust Powder Coating uses their 8x8x20 ovens to perform custom powder coating and industrial batch coatings. And now, they've got the capability of performing their blasting in-house, ensuring a speedy turnaround for their customers' parts. All of this translates into a seamless experience and the ability to keep a better schedule with faster production rates.
"Before owning our own Dustless Blasting machine, it was a much slower process. We could only take on smaller jobs that we could blast in our blast cabinets or we would be waiting on schedules to open with other blasting companies. We are now able to do all of our blasting in house, giving us the ability to take customer parts straight to the powder coating process the day of." -Scott Faust, Owner
Add Services To Your Business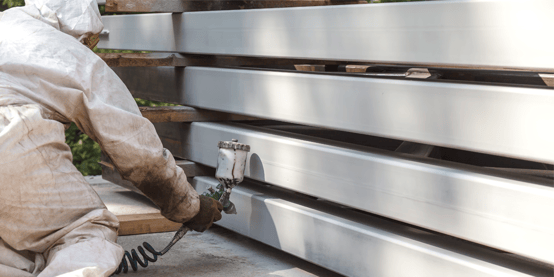 Dustless blasting opens up a realm of possibilities for expanding services within your existing business framework. Imagine being a pressure washing company and seamlessly integrating blasting services to take surface restoration to the next level, offering clients a thorough and efficient solution for removing stubborn stains and coatings. If you're in the pool installation business, dustless blasting becomes your key to diversifying into pool restoration services, effortlessly erasing years of wear and tear from existing client's pools. Similarly, for painters looking to provide comprehensive solutions, incorporating dustless blasting allows for efficient paint stripping, ensuring a clean canvas for every project.
With the versatility of dustless blasting, businesses can easily broaden their service offerings, meet evolving client demands, and position themselves as one-stop solutions in their respective industries.
"I am quickly learning that having a mobile blaster on hand is becoming another business of its own. We find ourselves taking on just blasting jobs which is really nice."

Dustless blasting has truly embraced versatility with its extensive product lineup, catering to a spectrum of needs within the surface preparation landscape. From standalone blast pots designed for specialized applications to portable equipment complete with compressors, air dryers and coolers, the product range is as diverse as the industries it serves. These offerings provide businesses with the flexibility to choose the equipment that aligns seamlessly with their specific requirements.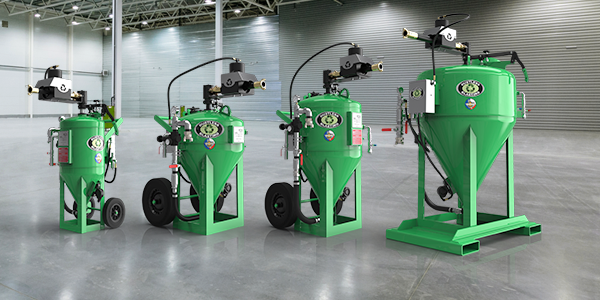 All of our abrasive blasters have the versatility to perform wet blasting and dry blasting effortlessly, utilizing the same operating pressure range of 30-150PSI. While each blast pot has its own unique characteristics, the key distinctions lie in factors such as:
Run time before needing a refill
Nozzle size
CFM requirement
Dimensions and weight
30 Minute Run Time
Holds 100 lb of abrasive per fill
Weight: 263 lbs
Nozzle: SLV #5
Priced at $8,700
30 Minute Run Time
Holds 200 lb of abrasive per fill
Weight: 368 lbs
Nozzle: SLV #5
Priced at $12,500
Mobile Dustless Blasting Units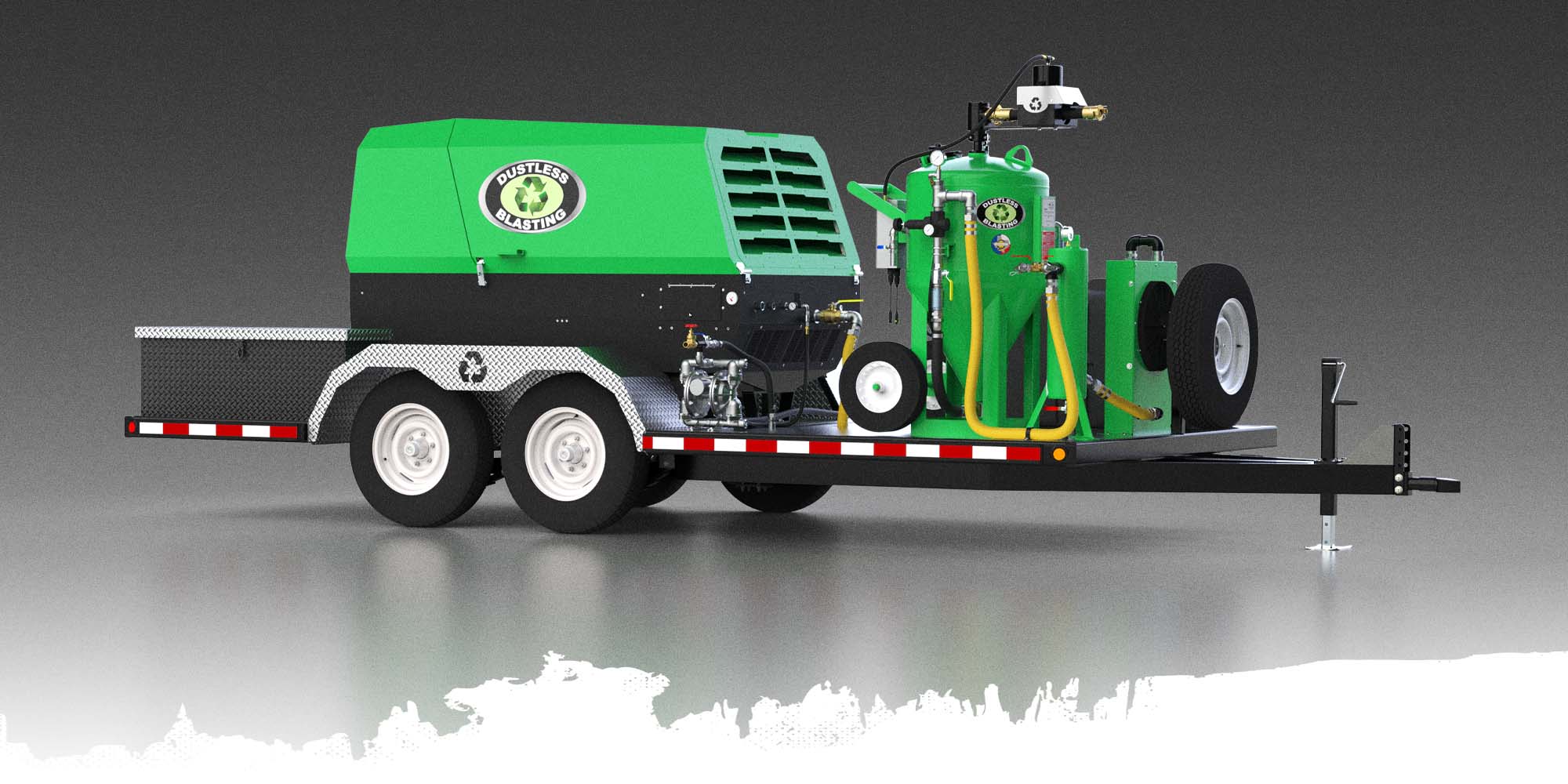 Dustless blasting takes mobility to the next level with its innovative mobile units, presenting an all-in-one blasting solution neatly packaged on a portable trailer deck. These mobile units are equipped with everything needed for on-the-go surface preparation, eliminating the hassle of assembling separate components. The inclusion of a blast pot with a robust compressor provides the necessary power for an impactful blasting experience. To enhance performance and maintain equipment longevity, the mobile units feature an air dryer and cooler. With auxiliary ports for additional tools, these mobile units embody convenience and efficiency, making them the ideal choice for businesses seeking a comprehensive and mobile solution for their surface preparation needs.
Blast Pot

Auxiliary Ports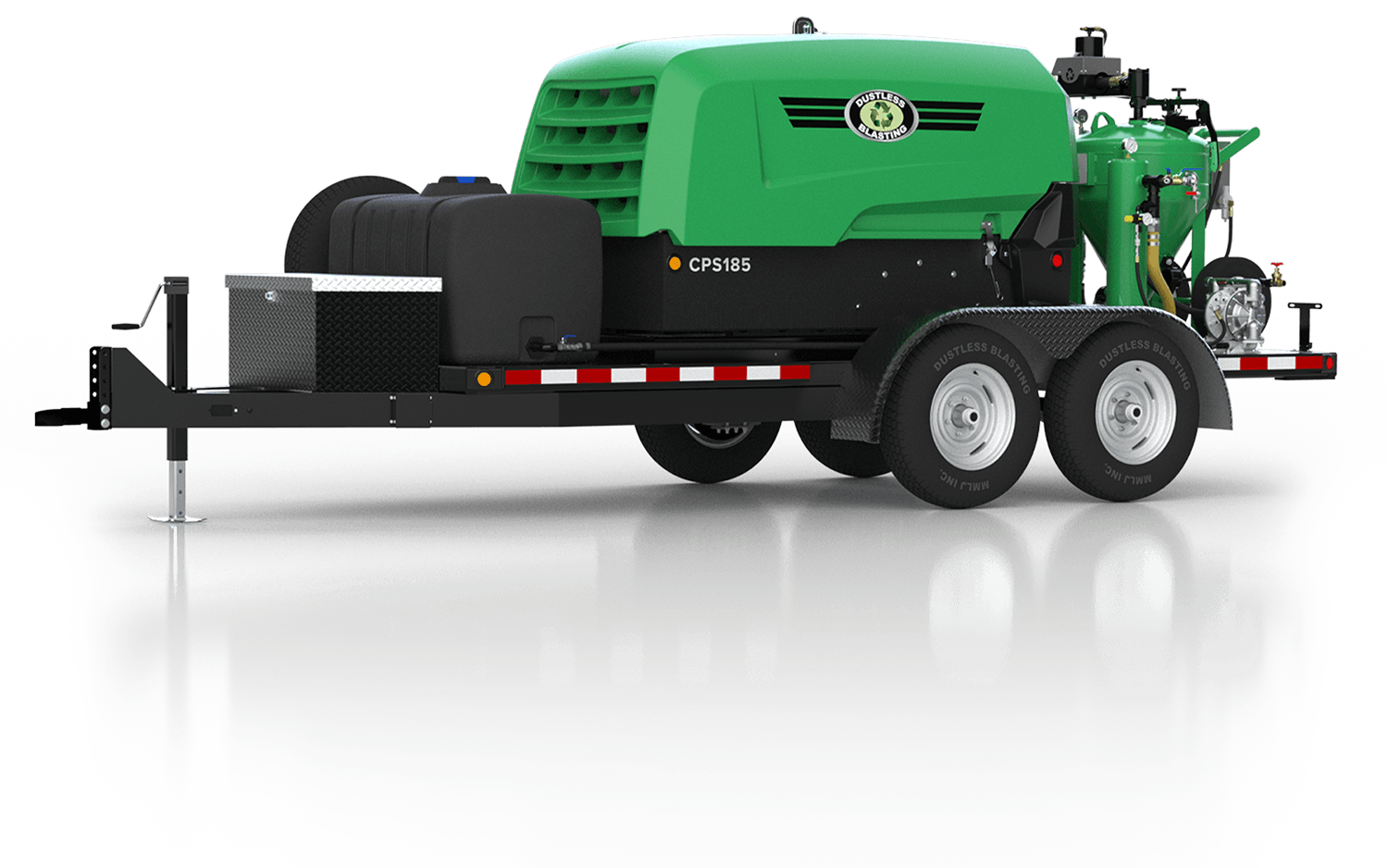 DB500

®

Blast Pot
A Compressor with ample air supply to power the specific blast pot
"S" Trailer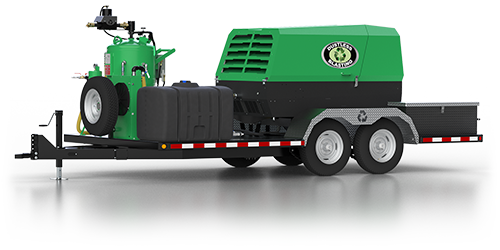 DB800

®

Blast Pot
A Compressor with ample air supply to power the specific blast pot
"XL" Trailer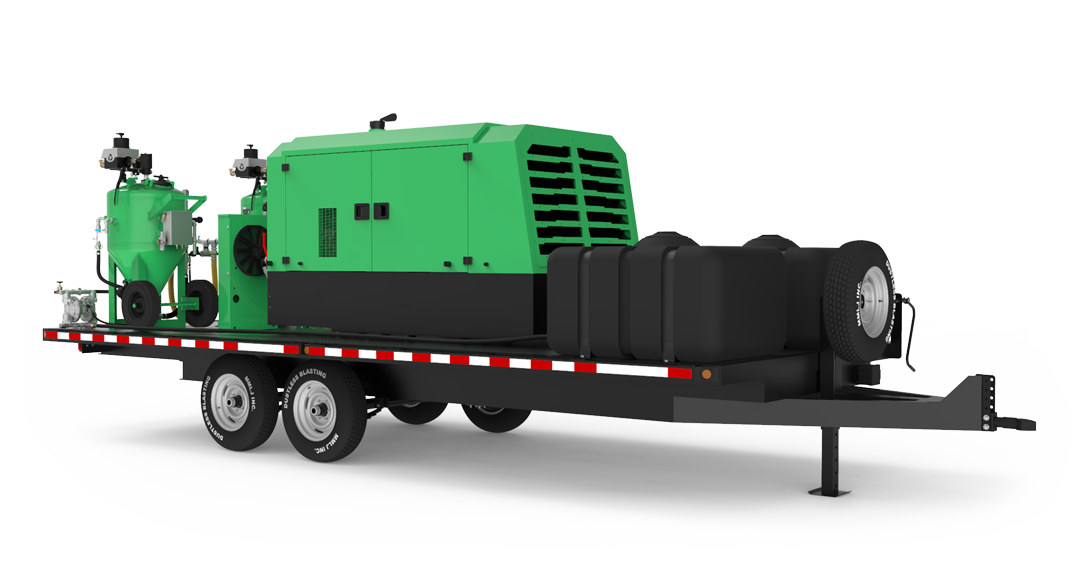 Two DB800

®

Blast Pots
A Compressor with ample air supply to power the specific blast pot
"XXL" Trailer
Take The NExt Step

Are you ready to add Dustless Blasting equipment to your business? We've got a few next steps that can get your on your way.
Chat With An Expert
One of our Dustless Blasting salesmen would be happy to talk through your options and make a recommendation on a machine for you. Click here or give them a call at 281-972-4176
Get A Quote
Get an accurate quote of the machine that interests you in seconds, including any applicable tax and shipping by getting a quote.
Schedule A Demo
Need to see it to believe it? Schedule your free demo today at our facility in Houston, TX.
Shop Blast Pots In Our Online Store
Are you ready to purchase a standalone blast pot? Order one today in our Online Store!