The Advantages of Financing your Dustless Blasting® Equipment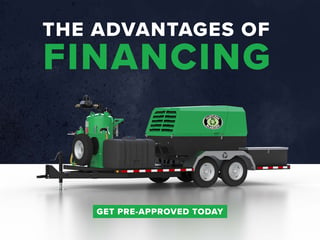 So you have been looking into the Dustless Blasting business opportunity and you're excited to start working for yourself and making money. You have your business plan worked out, maybe a business partner to help you get started, and some great ideas on how to market your services. There's only one thing left standing in your way — obtaining the equipment.
Though we all want tens of thousands of dollars in our back pockets, sadly this isn't the case for most of us! So if you don't have the cash on hand to purchase your equipment outright, financing can be a great option that comes with some distinct advantages, too.
Preserve cash flow

Purchasing your equipment up front can leave a big hole in your budget which takes a while to recover from. You may have to make sacrifices in other areas of your business, which has negative effects. For example, if you'd like to have an assistant, but are unable to afford one, that just makes your job more difficult than it needs to be.
Spreading out your equipment payments allows you to have a predictable expense every month which fits your budget, and allows for plenty of flexibility with your business and lifestyle.
Plus, at the end of the loan term, you'll own your equipment, with no payments, for many years to come. And don't forget about our lifetime warranty on all of our blast pots.
Get started right away
For those looking to start a Dustless Blasting business, it might take way too long to save up the money to purchase the machine outright. Why waste more time at your old job when you could be making way more money as a blasting business owner?
Because the business is so easy and profitable, most of our contractors see success right away, and the machine pays for itself in no time.
"I've already got jobs lined up and I haven't even gotten home yet! I'm looking forward to getting home and getting started."
- Lorne A., New Business Owner
Want to read our marketing secrets to get your business off the ground right away? Read about finding customers here.
Getting approved is easy
A business equipment loan is very similar to an auto loan, where the purchased item itself acts as collateral. Because of this, qualifying for an equipment loan is relatively easy and some applicants can even obtain their equipment with no down payment.
Of course, lenders will still take your credit score and other factors into account. Understanding your credit score is a great place to start when trying to obtain financing. If you don't already know your credit score, you can get your free, federally mandated credit report from AnnualCreditReport.com.

We are happy to offer competitive financing options through our partners. When you're ready, apply for pre-approval here. The application only takes about two minutes and you'll usually hear back from us within 1-2 business days. You'll get your funding right away, and start your business with a bang.

If you have any questions about equipment financing, contact us at 713-869-2227 and ask for the financing department.