Scaling Your Dustless Blasting Business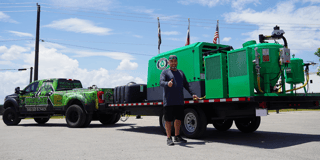 Starting a Dustless Blasting business can be a lucrative venture, thanks to the growing demand for efficient and environmentally friendly surface preparation and restoration services. While purchasing your first dustless blasting machine is an exciting milestone, the true potential lies in the scalability of your business. In this article, we will delve into the inspiring story of a Dustless Blasting business owner who has recently acquired his fourth machine. We'll also explore the benefits of expanding your fleet and how it can lead to increased job opportunities, higher revenue, and a strong foundation for future growth.
---
Scaling Up: Dustless Blasting Business Owner Expands with Four Machines
Pro Blast of South Florida has successfully expanded their operations and recently introduced a fourth Dustless Blasting mobile unit to their growing fleet within just four years of establishment. It all began when Patrick G., the visionary behind the company, made the wise decision to invest in one of our most affordable portable blasting trailers, the DB500® Mobile XL, back in 2019. Since then, their business has been thriving and attracting a steady stream of jobs. Here's his story.
Getting The Business Up and Running With Machine #1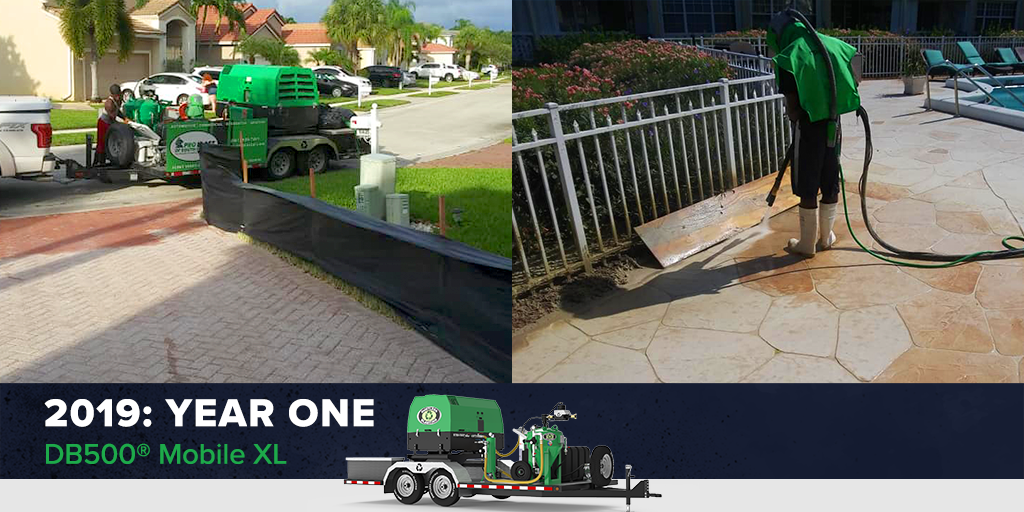 In the beginning, Patrick was a complete novice when it came to surface preparation and abrasive blasting. It wasn't until he made the trip to Houston to pick up his Dustless Blaster that he witnessed the process firsthand. During his first year in business, Patrick eagerly took on any job he could find, whether it was small car jobs, concrete driveways, or small residential work. He dedicated all his time and energy towards learning the machine, the industry and then marketing his services, which involved creating a website, reaching out to local businesses, wrapping his truck with his business information, and running digital ads on Google.
The biggest learning curve for me was not the equipment. Anybody can learn this equipment in hours or days - the machine is easy to use. The biggest learning curve for me was the estimates. What do you want to charge for this job? That just takes time to get used to, but it does eventually get easier the more you do it.
As time went on, Patrick's unwavering commitment began to yield remarkable results. After just a year of being in the business, his phone was constantly buzzing with new inquiries and requests. This overwhelming demand prompted him to make the decision to invest in yet another Dustless Blasting machine, allowing him to meet the needs of his rapidly growing customer base in the area.
A Growing Business That Lead To A Second Machine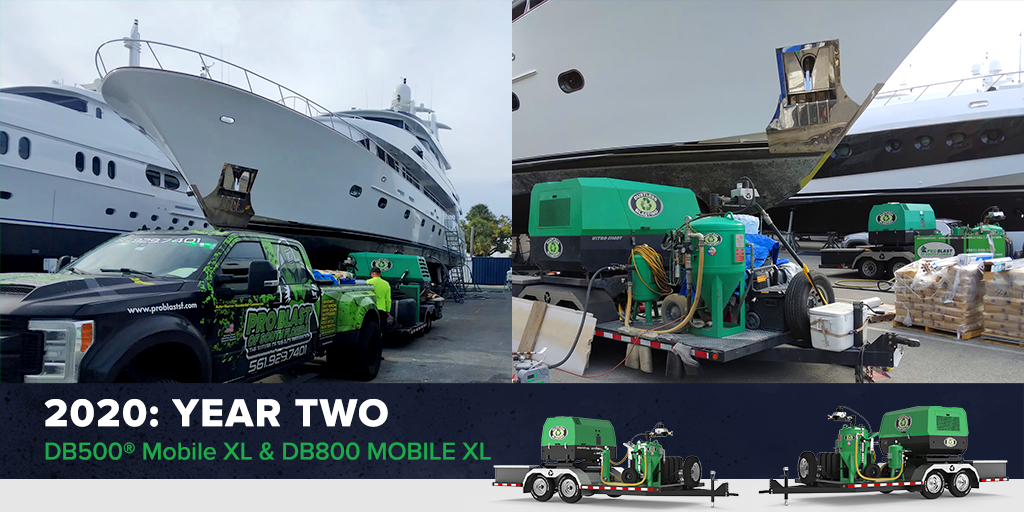 After incorporating the DB800® Mobile XL into his business, Patrick experienced a significant boost in productivity. With the additional machine, he was able to expand his team and run both machines simultaneously, allowing him to take on more projects and increase his revenue. The increased capacity not only expanded his portfolio but also opened up more networking opportunities, leading to a steady influx of new customers. As business continued to flourish, Patrick found himself in the fortunate position of being able to choose which jobs to take on. He even started referring potential clients to other Dustless Blasting business owners in his area, further cementing his reputation as a trusted industry professional.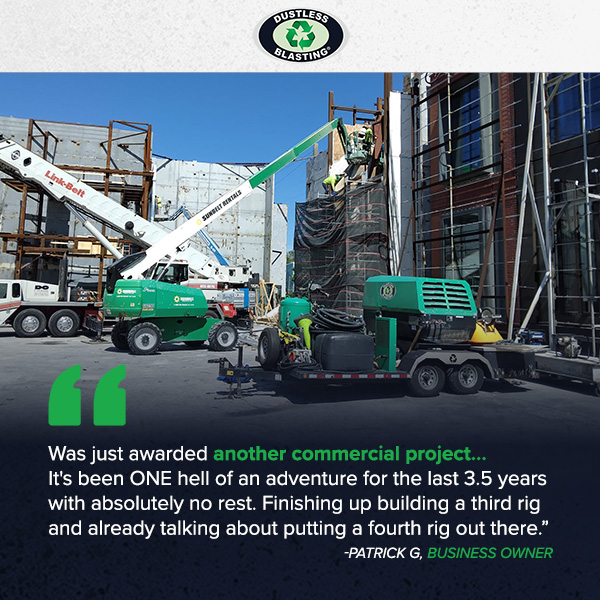 After two years of being in business, Patrick's portfolio grew and he was seen as an expert in the surface preparation industry. He soon decided to pursue larger commercial and industrial projects that would generate even more revenue. With this ambitious goal in mind, Patrick recognized the need for a larger machine that could handle the demands of these bigger jobs.
Expanding Horizons And Boosting Revenue With Machine #3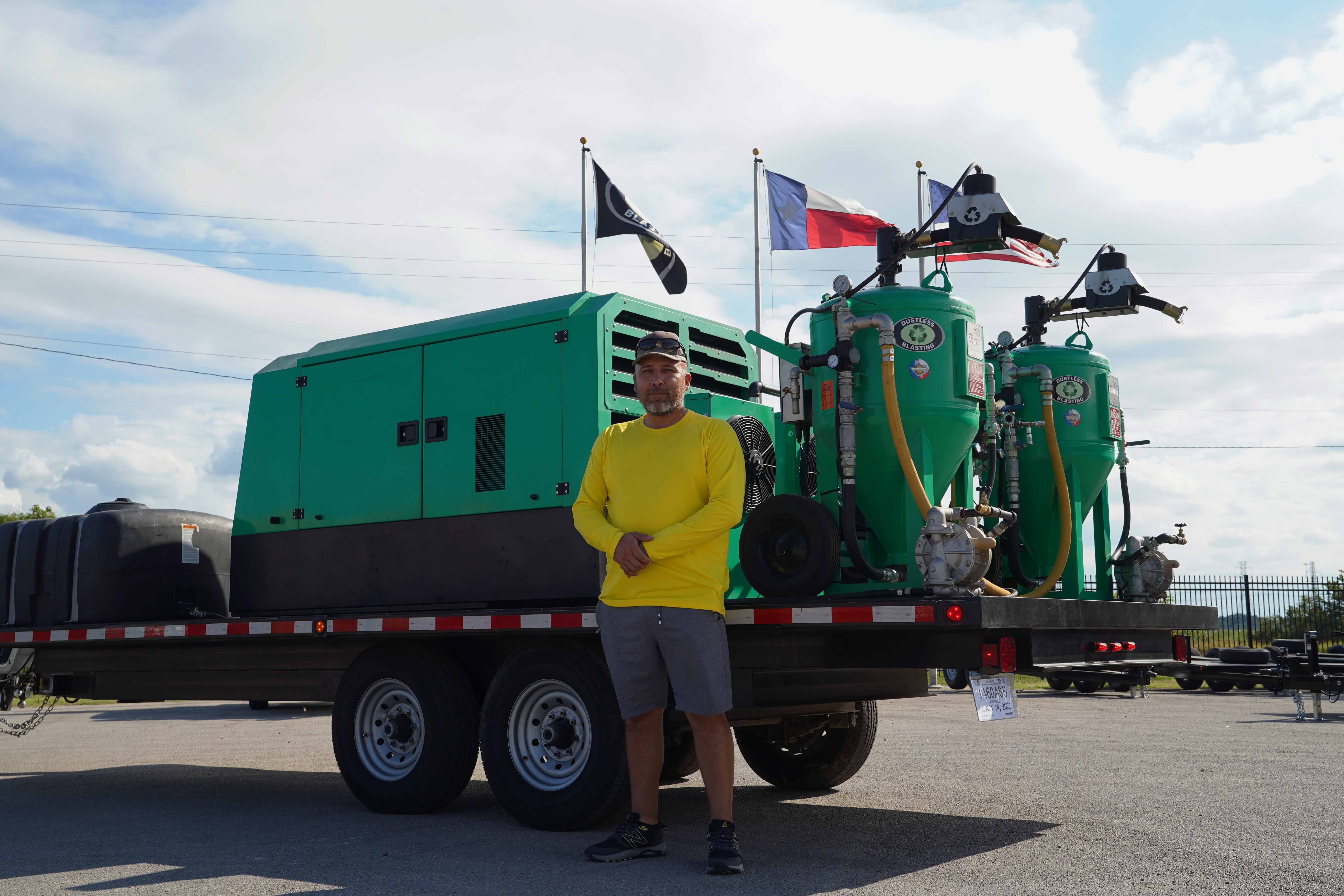 As Patrick made his mark in the industrial sector, he made the strategic decision to invest in the DB800® Dual Mobile XXL unit. This innovative trailer is equipped with two commercial-sized blast pots that can be operated simultaneously, allowing for the collaboration of two skilled blasting operators on a single job. This investment proved to be a game-changer for Patrick as he quickly secured lucrative large-scale projects that brought substantial revenue into his growing business.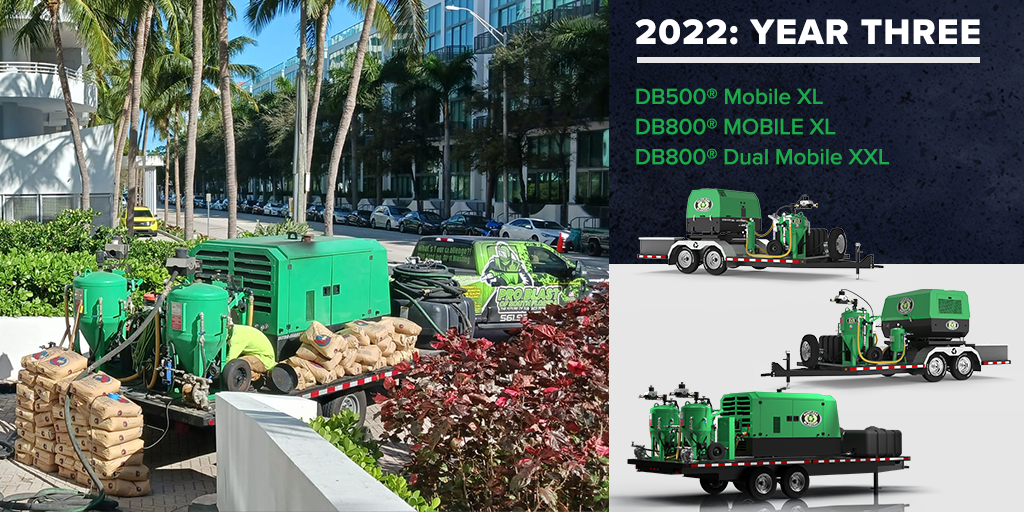 Generating Over $1,000,000 Annually Enables Acquisition of Machine #4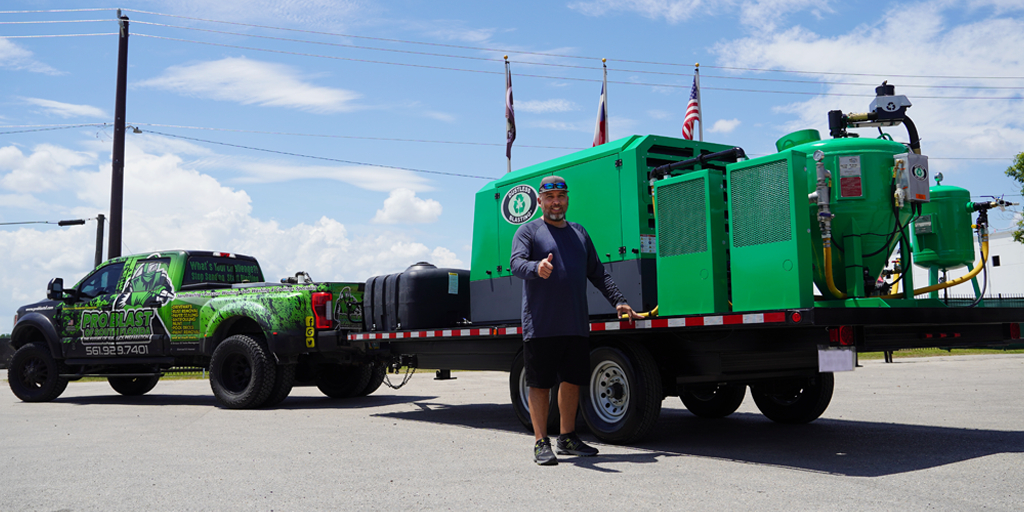 After establishing a strong presence in the surface preparation industry for four years, Patrick has successfully expanded his business into various sectors with the help of his three portable Dustless Blasting units. His hard work and dedication paid off when he surpassed the million-dollar mark in annual revenue. This achievement opened doors for him to bid on lucrative government projects. The success of his first government job was so remarkable that Patrick decided to return to Texas to acquire his fourth and largest machine yet, the DB1500® Mobile XXL.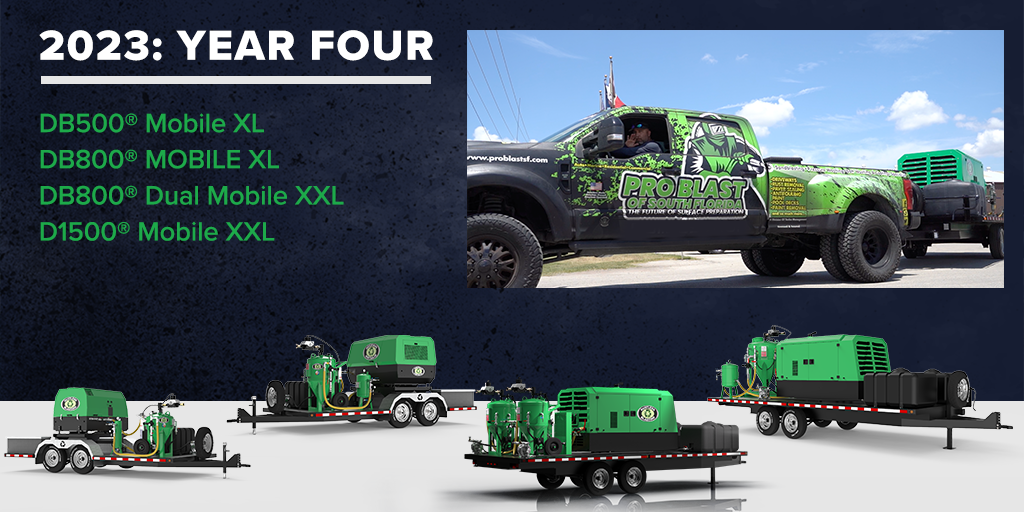 Hear His Story For Yourself
We had the incredible opportunity to sit down with Patrick as he arrived to collect his third Dustless Blasting machine. During our conversation, he shared fascinating insights into the growth and success of his business.
---
Reasons Dustless Blasting Is The Perfect Scalable Business Option
Meeting the Growing Demand
The market for dustless blasting services continues to expand as individuals, businesses, and industries recognize the advantages of this revolutionary technology. By purchasing additional dustless blasting machines, you can tap into a wider range of customers and cater to multiple job sites simultaneously. This enhanced capacity ensures that you can meet the growing demand and stay ahead of the competition.
Increasing Efficiency and Productivity
With more machines at your disposal, you can handle multiple projects concurrently, thereby maximizing productivity. While one machine is in operation, your team can prep another job site or start the post-blasting cleanup process. This optimized workflow enables you to complete projects faster and satisfy customers' timelines, resulting in improved client satisfaction and increased referrals.
Seamless Scaling
One of the significant advantages of scaling a dustless blasting business is the relative ease of adding more machines to your fleet. Once you have mastered the operation and maintenance of your initial machine, the learning curve becomes less steep for subsequent purchases. You can leverage your existing knowledge and experience to train your team efficiently and ensure a seamless transition when integrating new machines into your operations.
Geographic Expansion
Adding more dustless blasting machines not only increases your capacity but also enables you to expand your business geographically. You can target new regions, cities, or even states, taking advantage of untapped markets. By strategically positioning your machines and establishing satellite branches or partnerships, you can extend your reach and build a reputable brand across multiple locations.
---
Think Longterm
The potential of this business is limitless, so don't underestimate yourself! Expanding your dustless blasting business by investing in more machines is a powerful approach to unlock endless possibilities, boost your earnings, and solidify your position in the market. The ability to handle more jobs concurrently, diversify service offerings, and expand geographically provides a solid foundation for long-term growth. Embrace the scalability potential of your dustless blasting business, and watch it thrive as you continue to meet customer demands and exceed expectations.