Getting Customers for your Blasting Business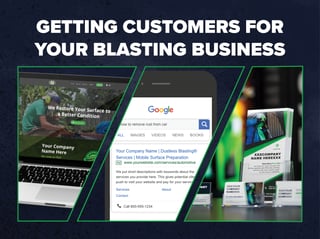 Ready to turn your blasting prowess into a profitable business? With Dustless Blasting equipment, the sky's the limit! We're here to help you break into the market and secure your first job, so you can start earning in no time. In this blog, we'll show you how our expert marketing services can give your business the boost it needs to succeed.
As a mobile blasting business owner, your focus should be on securing more jobs and increasing your profits. Leave the marketing to us! We'll take care of setting up your online presence and connecting you with your target customers. Check out the video below to see how we can help you attract the right customers at the right time.
Curious about what the Premium Online Presence entails? Let us break it down for you!
Here's what you get
A MOBILE-OPTIMIZED Website
Choose your custom domain name (e.g. www.bobsblasting.com) and we'll register it for you.
We populate your website with your contact information, social media links, the areas you service, etc.
Your mobile blasting business doesn't have a physical storefront, but your website can serve as the virtual storefront to make an outstanding first impression. See Example Website Here.
BUSINESS MARKETING TACTICS GUIDE
Our comprehensive guide provides marketing tips and tricks to help you make the most of your business's potential.
ULPOAD Photos TO YOUR WEBSITE
Feel free to share your blasting masterpieces with us anytime! We'll happily showcase them on your website or social media profiles to help attract potential customers and build your credibility.
Displaying your previous work not only adds credibility to your business but also helps potential customers trust you and make informed decisions.
BUSINESS Email ADDRESSES
We'll set you up with up to five professional email addresses using your custom domain name, such as bob@bobsblasting.com, to give your business a polished and credible appearance.
Say goodbye to worrying about storage space! Each of your professional email addresses comes with unlimited storage on our Dedicated server, so you can focus on blasting and growing your business without any storage limitations holding you back.
Social Media PRESENCE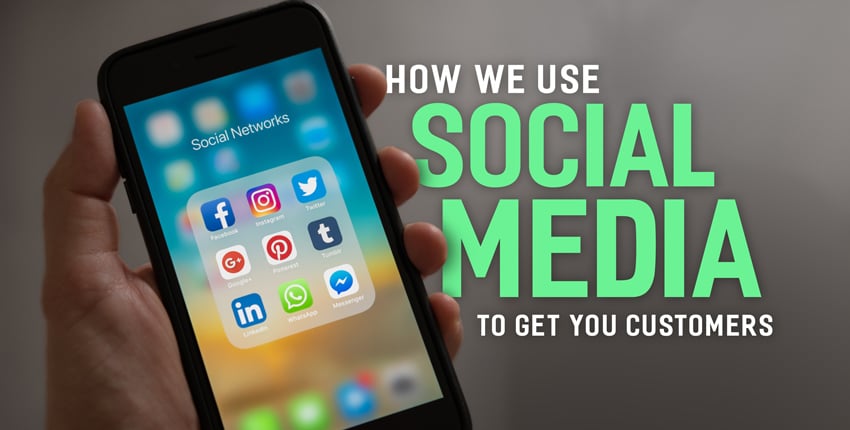 We'll help you establish a strong social media presence by setting up dynamic Instagram and Facebook business profiles for your blasting business.
With the power of social media, you can showcase your blasting projects to potential customers without any special equipment. All you need is your trusty cell phone to snap pictures and easily post them. It's a great way to build credibility and attract new clients to your business.
Not only will you have access to your social media accounts indefinitely, but we'll also take care of posting for you once a week for an entire year. This will help keep your online presence active and engaging. (See Example Posts).
Having an active social media presence is a great way to impress potential customers and build credibility for your blasting business. Read more tips on how to get the most from your social media profiles.
BUILDING YOUR SOCIAL MEDIA PRESENCE
Think about the content your potential customers would like to see — that means things like:
Videos

of you blasting your latest project
Before and after photos

showing off your great work
Any specials or

promotions

you may be offering
Think of your social media profiles as an extension of your portfolio. It's a great opportunity to win over potential customers and build trust.
Imagine you are choosing between two businesses:
One has no website, no social media profiles, and no examples of their work.
The other is active on social media and always posts lots of photos and videos of their current jobs. You scroll through their pictures and realize they've already done lots of similar projects, and it's clear they did great work.
Which one would you pick?
Aim to be like the second business in this example. Remember to take lots of photos before, during, and after the job. If you have a helper, ask him to film you blasting or vice versa. You don't need any fancy equipment for this — your mobile phone will work just fine, and makes it easy to post directly to social media platforms.
"YEAH, MY FACEBOOK PAGE HAS GOT ME A FEW JOBS.

I SHARE THE HECK OUT OF IT

ON MY PERSONAL PAGE, FRIENDS DO THE SAME FOR ME. GETS THE WORD AROUND MY LOCAL AREA. I HAVE ONLY HAD MY MACHINE FOR 6 MONTHS AND HAVE BEEN PRETTY BUSY WITH IT."

— Troy R, Business Owner
STAY CONNECTED WITH MESSAGES
It's important to have a conversation with your potential customers when they reach out to you. In fact, 48% of consumers say that when a company is responsive on social media, it will prompt them to make a purchase (source: Sprout Social).
Be sure to reply to your comments, and answer inquiries through Facebook Messenger and Instagram direct messages.
DIGITAL Advertising
Reach your target customers with our engaging 15 second video ads on Facebook and Instagram. Our expertly crafted ads will showcase your services to attract potential clients.
We run Google ads for you, too. They look like search results, but are boosted to the top of the page. Read more details about Google Ads here.
Google Ads are based on keywords, such as "Dustless Blasting near me" or "best way to strip paint from a car."
A 3-month, $1,100 value advertising campaign included in the cost of the Premium Online Presence.
Advertising Renewal
If you want to renew your ads when they expire, we have three renewal packages available for purchase.
Our advertising renewal options are flexible to fit your needs. Choose from one-time payment packages or subscribe and save with a subscription that can be cancelled or modified anytime. You have the freedom to choose how you renew, whenever you want.
*With the number of variables (location, time, keywords, etc) please keep in mind all metrics are only an estimate.
Time & COST Savings
Starting a business can be overwhelming, and your time and resources should be spent on what matters most. Don't waste your time trying to navigate the complex world of marketing. Let us handle it for you with our expert services, so you can focus on growing your business and maximizing your profits.
Save yourself the time and hassle of website coding, business planning, and keyword research. Our expert marketing services have got you covered, so you can focus on what really matters - growing your business and maximizing your profits. Trust us to take your blasting business to the next level!
OTHER WAYS TO GET CUSTOMERS
PRINT MARKETING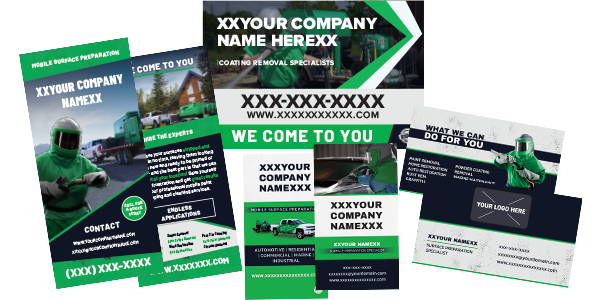 Incorporating print marketing materials into your strategy is a smart and cost-effective way to reach new customers. Not only do they catch the eye with creative designs, but their durability ensures that potential clients can hold onto them for future reference. By utilizing print materials, businesses can establish a long-lasting presence in the minds of potential customers without breaking the bank. Check out our online store for some great options to expand your customer base.
GOOGLE ADS
Google Ads allows you to target specific keywords or phrases to show your ad to potential customers who are actively searching for your services. This means that your business will be displayed to those who are most likely to convert into paying customers. Google Ads look similar to regular search results and are typically positioned at the top of the page, providing maximum visibility. Unlike unsolicited ads, Google Ads are relevant to what people are searching for, making them more likely to engage with your business. Here's a full explanation.
The Dustless Blasting® Premium Online Presence™ already includes a 3-month, $1,100 value advertising campaign that we'll set up and manage for you. Once the 3 months is over, you have the option to renew your ads with a one-time payment or subscribe and save to keep your ads running.
Our team strategically sets up the location for your ads to be displayed, targeting your city and nearby areas. With our advertising expertise, we carefully select the keywords that bring in the most results and continuously optimize your campaign for maximum effectiveness. You can also request industry-specific targeting to ensure your ads reach the audience that matters most to your business.
We understand that launching a business is no easy feat, and your time is too valuable to be spent navigating the complexities of advertising. Leave it to us, and free yourself up to focus on providing exceptional service to your customers. Trust in our expert marketing services to take your blasting business to the next level while you tend to what truly matters.
Want to Get Started?
Anyone who owns a new or used mobile Dustless Blasting machine can purchase the Premium Online Presence. If you purchased used equipment, please fill out the verification form to get started on your marketing today. Contact us at 713-869-2227 or info@dustlessblasting.com to get your marketing package started, and boost your business's potential!
*Equipment ownership will be verified with a serial number.

---
Editor's Note: *This post was originally published on March 8, 2018, and has been updated to stay up-to-date and relevant and reflect any changes to the information hereby provided.

*Dustless Blasting® is a registered trademark of MMLJ and may not be used in your business name. Our business owners must abide by the Guidelines for Using MMLJ Trademarks and Copyrights.