What are the advantages of printed marketing materials?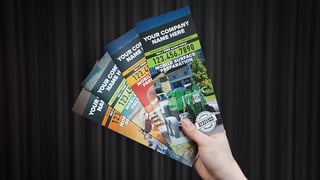 Get the most out of your printed marketing materials.
Keep them handy.
Keep business cards and brochures in close reach at all times. You'll always have information about your services readily available for potential customers, as well as your contact information so they can get in touch with you again.
"I always have brochures in my jacket pocket and business cards in my wallet, with spares in the glove box. Any hint of potential business gets some paper."
— Jeff P, Business Owner
Leave them in strategic places.
Think about the places that your potential customers might frequent. For example, people shopping for auto paint often need their cars blasted first.
"I went in and talked to my local auto paint supply store, and they let me put my brochures and business cards on the counter. I've gotten several jobs from it."
— Mark H, Business Owner
Add a personal touch.
"We send brochures that we bought from MMLJ to each business that corresponds to the brochure, with a business card and personal letter."
— Patrick G, Business Owner
Maintain a professional image.
Your printed materials are a reflection of your company. You want them to look professional, so people take you seriously and trust you with their job.
The best place to get high quality marketing materials is the Dustless Blasting® Online Store. Our brochures are filled with compelling wording and images that make it easier to sell your services.
Sure, some people might try to design brochures by themselves. However, consider this: Your time is valuable, especially when launching your business. You won't get paid $300/hour to design a brochure in Microsoft Office, but you CAN make that kind of money blasting. Isn't your time better spent landing that first job?W