The Ultimate Printed Marketing Materials Guide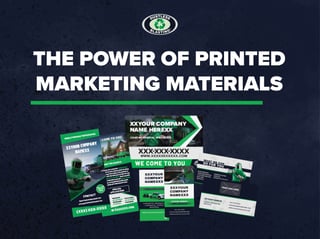 Discover the impact of print marketing materials and how they can boost your new business. In today's digital world, many people wonder if print marketing materials are still relevant. The truth is, they are! Print marketing materials play a vital role in reaching target customers and building your brand. They serve as a tangible and professional representation of your brand and are a perfect way to make a lasting impression on your target audience.
In this article, we delve into the many ways you can captivate potential customers and forge long-lasting client loyalty with creative design options and impactful messaging. Don't miss out on the marketing potential of print materials - read on to find out how they can help you build a thriving business!

How To Choose The Best print Marketing Materials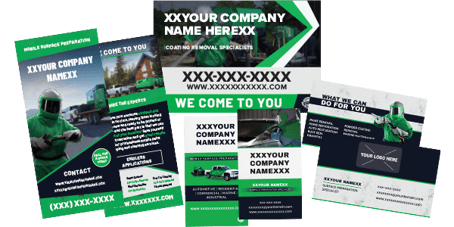 The right print materials can help your business stand out from the competition, attract new customers, build customer loyalty, and boost your bottom line. Let's take a look at different factors you should consider before ordering print marketing materials.
Your Audience

It's essential to have a good understanding of who your target customers are and what kind of message they respond to.

Take the time to research their demographics, interests, and pain points. What matters to them? What motivates them to make a purchase or use a service? Once you have this information, you can tailor your messaging and design to appeal directly to their needs and desires. By doing so, you'll increase the effectiveness of your print marketing materials and build a stronger connection with your audience.

Your Services or Products

Understanding your products or services is crucial when creating print marketing materials to inform your customers about them. Take the time to analyze your offerings and identify the services that your customers are looking for. Highlight these services in your print materials to make them stand out and attract potential customers. By doing so, you can effectively communicate the benefits of your products or services and increase your chances of converting leads into loyal customers.

Your Brand and Messaging

By taking the time to consider all of these factors, you can create effective marketing materials that not only grab attention but also leave a lasting impression. A well-designed and targeted print material can communicate your message and value proposition in a matter of seconds, making it a powerful tool to promote your business.

Promotional Products
Print marketing materials include, but are not limited to:
Business cards: Great for handing out to prospect clients and leaving at relevant shops they frequent.

Flyers: Perfect for hanging indoors and outdoors to grab potential clients' attention.

Double-sided brochures or Rack cards: The perfect tool for highlighting your products or services.
Banners: Come in various sizes and great for hanging up on building or walls.
Vehicle Magnets/Vehicle Wraps: If you're traveling a lot, other people on the road will be able to see your business as you pass them by
Quote forms: Essential for giving quotes for jobs

Posters: These can be used to hang inside buildings to reach a broader audience

T-Shirts: Great apparel product you can offer to your clients that they can be wear anywhere and allows you to spread the word about your business
Pens: A simple yet effective marketing material that a lot of people use on a daily basis, they can leave this on their desk and be reminded of your business when using it

Office supplies and stationary: Just like pens, these items can be kept at an office desk or at home and can be seen daily

Loyalty or referral cards: This is an effective marketing tactic that can potentially get you return customers and new customers by offering special referral programs or promotions

Custom water bottles: Another essential and popular product that your customers can use regularly and be seen by others

Hats: Like t-shirts, hats are another product that your client's can wear and be seen by others that can potentially strike up a conversation, leading them to share their exceptional experience with your products or services
Each of these can be used in different ways to reach your target audience and have a maximum impact on them and their decision factor to buy your product or use your services. You can choose to focus on a general or broad sense of promotion or focus on specific industries.
Custom Marketing Materials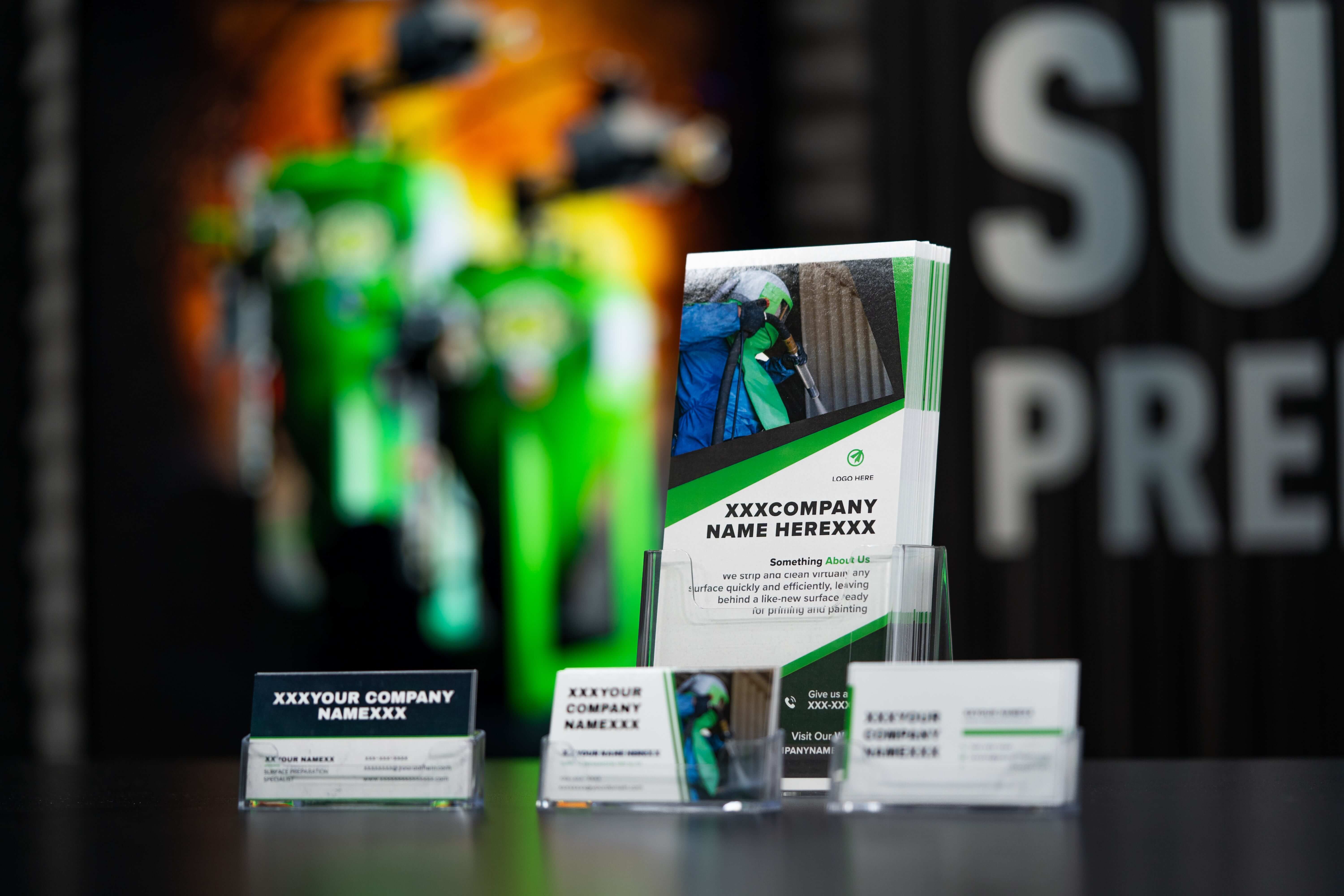 Custom marketing materials are a critical marketing tool that new business owners should consider as they step into the world of advertising their company. Printed materials present a physical touchpoint for your customer, and serve as a tangible representation of your brand. Printed materials can be a key strategy to building your brand recognition, and loyalty, and bringing awareness to your product or service among a wider audience at events like trade shows, conferences, or after finishing a job. Think outside of the box and create a strategy that will stick and have a meaningful approach when marketing your business. You can have promotions to entice clients to return in addition to providing exceptional service.
So, let's get started creating visually appealing and impactful print materials to market your business! Our Online Store carries all the necessary print marketing tools with the right messaging to help your new business reach clients through print messaging and bring success to your company. You can find the right product for your business–and even buy in bulk. The best part is that you can customize your print materials to match your company's branding to stand out from other brands and create a unique identity for your business. The process is simple, allowing you to use your logo and create an image for your company. With the right message and marketing, you can make sure your clients will remember your business for years to come and come back to your company for your products or services!
Get the most out of your printed marketing materials
Keep them handy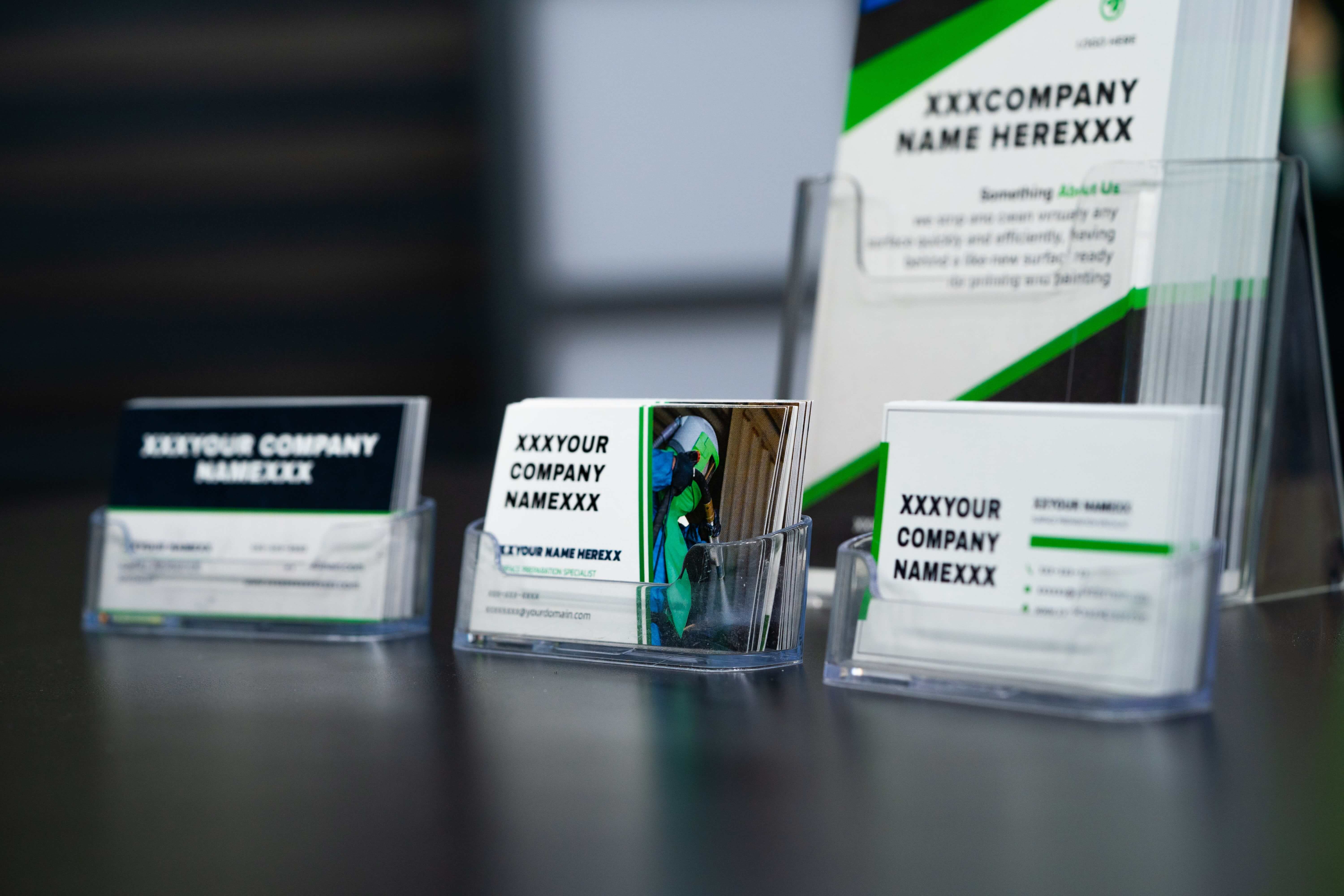 Keep business cards and brochures in close reach at all times. You'll always have information about your services readily available for potential customers, as well as your contact information so they can get in touch with you again.

TIps from dustless blasting business owners

For mobile blasting businesses, having marketing materials on hand at all times is essential for efficient promotions. Always be prepared with a business card ready, as you never know who could be your next potential client. Your services are in demand, so it's crucial to stay at the top of your game and be ready to make connections at any given moment.

"I always have brochures in my jacket pocket and business cards in my wallet, with spares in the glove box. Any hint of potential business gets some paper."
— Jeff P, Business Owner
Leave them in strategic places
Consider the places where your target audience is likely to be found. For instance, if you offer car blasting services, leaving your business cards at an auto supply store frequented by people shopping for auto paint can be a great way to reach potential customers.

"I went in and talked to my local auto paint supply store, and they let me put my brochures and business cards on the counter. I've gotten several jobs from it."
— Mark H, Business Owner
Add a personal touch
Personalized marketing materials provide a powerful way to distinguish your brand from the rest, while simultaneously giving it an identity that aligns with your customers' preferences. A professionally designed business card or rack card will help your potential clients recall your brand and make it easier for them to choose your services.

"We send brochures that we bought from MMLJ to each business that corresponds to the brochure, with a business card and personal letter."
— Patrick G, Business Owner
Looking for more ways to promote your business and create a successful marketing strategy? Be sure to explore our blog for valuable insights and marketing tips!
Related: Tips for Promoting Your Business
Editor's Note: *This post was originally published on November 25, 2020, and has been updated to stay up-to-date and relevant and reflect any changes to the information hereby provided.
*Dustless Blasting® is a registered trademark of MMLJ and may not be used in your business name. Our business owners must abide by the Guidelines for Using MMLJ Trademarks and Copyrights.