3 Tips for Promoting Your Dustless Blasting Business on Facebook!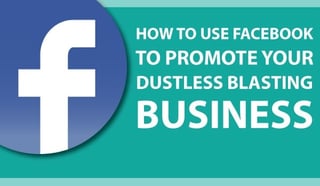 Facebook has over a billion active users! If it were a country, it would be the second largest in the world. There are many good ways to promote your Dustless Blasting business, and Facebook is one that should not be overlooked.
We aren't going to show you how to master every aspect of Facebook in this one blog post. Instead, we will show you how to avoid the misunderstandings and pitfalls we've seen other Dustless Blaster's struggle with. Feel free to watch the video below if you're not into reading.

Create a BUSINESS Page
Don't confuse your personal Facebook page with a business page. They may look the same, but they don't function the same. While there's nothing wrong with posting jobs you've done or other business related things on your personal page, it's less likely that people other than your friends will see the great work you're doing. Starting a proper Facebook Business page is the essential first step.
You can get started here, simply read and follow the prompts.

A Picture is Worth a Thousand Words
A few years ago, if you hired a cabinet maker for example, he would bring in a photo book filled with pictures of all the jobs he had done over the years to show you. Well these days, Facebook has replaced that photo book. It's the easiest way to show off your work to the world. In fact with any smart phone and the Facebook Pages app, you can capture pictures and videos and share them immediately, without ever dealing with a camera or computer. Photos also get more attention and engagement than simple text posts.
When you post photos of your job, make sure to explain what's happening in the pictures, and don't be afraid to toot your own horn at the same time. Talk about the quality of your work, how much time, hassle, or money you're saving your customer, etc.

Video is King
Video is by far the most engaging type of content on Facebook. In fact, a video will show up in twice as many people's "news feeds" compared to a photo. Getting videos of your projects doesn't have to be difficult. You can record video on any smart phone, and upload it straight to Facebook using the Pages app. To make your videos look better, be sure to shoot videos horizonally, not vertically. Vertically shot videos will have blank wasted space on either side, and won't be properly formatted for TV or computer viewing. Also, only upload videos to Facebook when you're connected to WiFi. This will upload your video in a higher resolution, without using a ton of your cellular data.
These basics should give you a good foundation to build on. Once you get used to Facebook's features, try to dive in deeper and learn how to use other techniques and Facebook ads to drive more prospective business.