How to Name your Mobile Blasting Business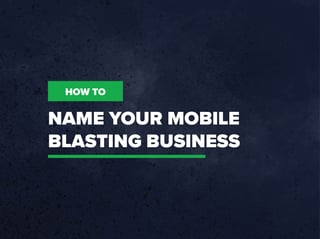 Your business name is important for many reasons. It's how your customers will identify you, it's how they'll find you online, and it's a reflection of your brand identity. If you're just starting out, you might be tempted to use a generic name like "Dustless Blasting" or "Mobile Blasting Services." If you want to stand out from the crowd, you should pick a name that's based on your company's personality.
Here are five tips for choosing a blasting business name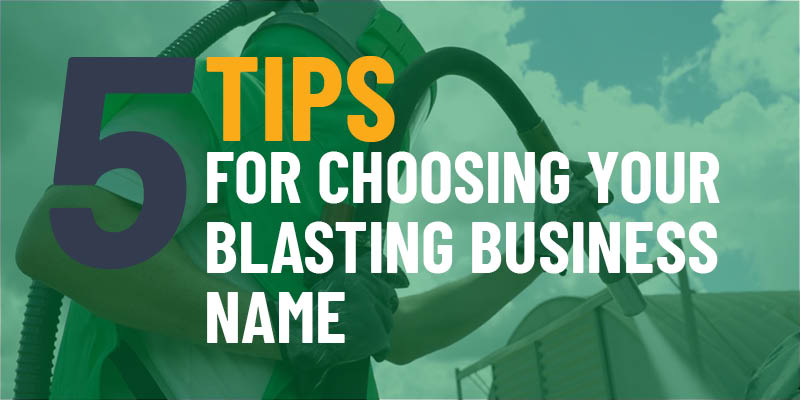 Think about what makes your business unique. What sets you apart from other blasting businesses?


Choose a name that reflects your brand identity. Are you serious and professional? Fun and friendly? Creative and innovative?


Avoid using generic words like "blasting" or "services." Instead, focus on keywords that describe what you do. For example, if you specialize in blasting cars, you could use a keyword like "autobody."


Make sure your name is easy to spell and pronounce. You don't want customers to get frustrated when they're trying to find you online or recommend you to their friends.


Check to see if the domain name is available. If it's not, you might want to consider a different business name or come up with a few additional options.
Be Creative
Don't be afraid to play with other elements that contribute to your company's identity like your geographical location. Consider all of the qualities of the business. If you want to emphasize the eco-friendliness of your company and its equipment, consider branding it with a name that reflects exactly that! It will demonstrate that you care about the environment!
For example, if you're two brothers starting a mobile dustless blasting company, you might call it "Super Blast Bros." or "Two Brothers Blasting Co.," or a name based on your family history. These are just a few of the possibilities; be as inventive with your blasting business' name as possible!
GET INSPIRED
Need some inspiration? Here are a few more examples of blasting business names to get you started:
Paint Piercers
Bayou City Blast Crew
AutoBlasters

Grime Stoppers

Reel Clean Solutions
Pittsburgh Prep Pros
R&R Expert Blasters
The Rust Busters

Square One Surface Preparation
Your Brand Is Important
As you can see, there are several ways to name your dustless blasting business. The most important thing is to choose a name that reflects your brand personality and sets you apart from the competition. With a little creativity, you can come up with a strong name that will make your customers take notice.
After you've decided on a blasting company name, it's critical to build a strong brand identity around it. Everything from your logo and website design to your marketing materials and social media presence will be affected by your brand identity. You'll be able to develop a strong, recognized brand that attracts new clients and increases your business.
THE DONT's
Unfortunately, using the term "Dustless Blasting" in your business name is NOT allowed since the term is a registered trademark of MMLJ, Inc.
Read the entire Guidelines for Using MMLJ Trademarks and Copyrights to see more examples.
When it comes to naming your business, you should avoid using generic terms or names for plenty of reasons. Firstly, it will be mentioned in your tagline, so you don't want to be redundant. It will also be harder for potential customers to find you online by searching "Mobile Dustless Blasting" since the name is already being used. This may cause confusion and frustration when someone wants to search for your company, but can't find it in the sea of countless other established businesses.
THE DO's
Create a name that will differentiate you from us and the competitors to put a spotlight on your brand! Remember, the goal is to elevate your brand, not ours. The potential customers will be looking for you, so come up with a name that will resonate with them and makes them want to choose your company for the job!
Brainstorm, make a list, or share with family and friends to get their opinions! Another point of view can help and make a major difference. Explore all the possibilities and once you come up with the perfect name, roll with it! Be creative and connect elements of who you are and what you want your business to be in the name. If you're tough on removing paint and rust or can get the job done quickly you can highlight that by using key terms like strong or swift in your name!
Let others know what your blasting business is all about. Choose a name that fits the brand and isn't widely used or conflicts with existing businesses. Your name and your brand are essential to your business' success. This will be potential clients' first impression of you, so be unique and stand out with a name that is truly you!
Additional Resources
If you're looking for more information on how to start a blasting business, check out "[CHECKLIST] Are You Ready to Start Your Dustless Blasting Business?" to help you get started. This blog post will help guide you on your journey to building a strong dustless blasting business. It's everything you need to get started in the world of dustless blasting!
Want to learn more about our blasting equipment? Download our free catalog! We offer a variety of equipment to get any job done. Browse our selection of equipment along with detailed information to determine which equipment is right for your new business.
Thank you for reading! We hope this post has inspired you to start thinking about naming your blasting business. If you have any questions or need help creating the perfect name for your blasting business, please don't hesitate to reach out. We're always happy to help!