Home Renovation With Dustless Blasting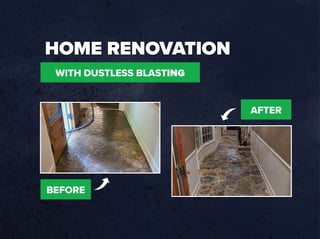 Do you have a passion for renovating homes? While you might already know the necessary tools to get started on your next big project, there's one you might not have realized could be effective in improving your restoration process.
Dustless blasting is an abrasive blasting machine that cleans or strips surfaces of old paint, rust, or stains. One of the main advantages of dustless blasting is that you can wet blast or dry blast, giving you the ability to choose which process is best for every project. There is minimal dust created during the wet blasting process which means you'll be able to blast in residential areas!
It's perfect for use on both indoor and outdoor projects, and on a variety of surfaces. It's also strong enough to remove coatings but gentle enough to use on antiques or delicate surfaces like wood.
---
Here are 5 home renovation projects that were successfully completed by dustless blasting:
Wooden Garage Doors
Maybe you have an old wooden garage that has become weathered or dirty and you want to refinish it. This is one instance where dustless blasting may be beneficial. It can be used to remove the unwanted paint while preparing the wood for a new stain or fresh coat. Using this method can save you time compared to sanding or grinding away for hours. It also removes the coating without damaging the delicate wood surface.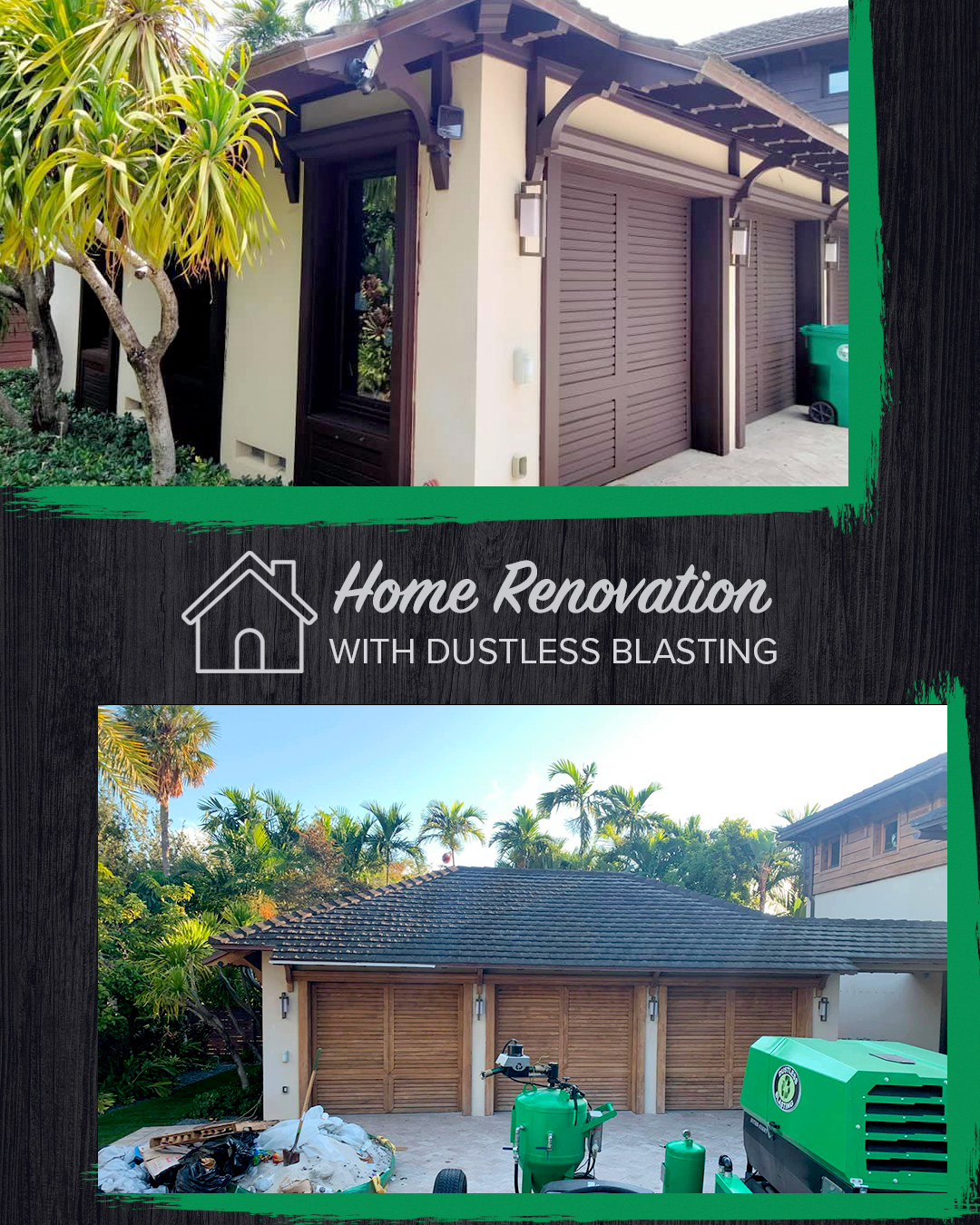 ---
Wood Siding
Your first choice might be to lean on pressure washing to get this job done, but I'll warn you why that wouldn't be the best-case scenario. While it's possible, it's not recommended due to the additional damage the high pressure can cause on the surface of the wood. With dustless blasting, you're guaranteed a safe, fast, and easy cleaning and paint stripping experience. Our eco-friendly abrasives and methodology are safe for the environment and safe for your surfaces, giving you peace of mind for effective results.
---
Wood Ceiling Beams
If you're looking to add some character to your home by exposing the original wood ceiling, dustless blasting can help with that as well. Rather than getting on a ladder and using various over-the-counter multi-surface cleaning supplies and materials, you can simply use the blast pot and hose to access those hard-to-reach areas and crevices. You can also tailor the pressure and flow to suit any job. Use it to remove any old paint, varnish, or dirt so the natural beauty of the wood can shine through.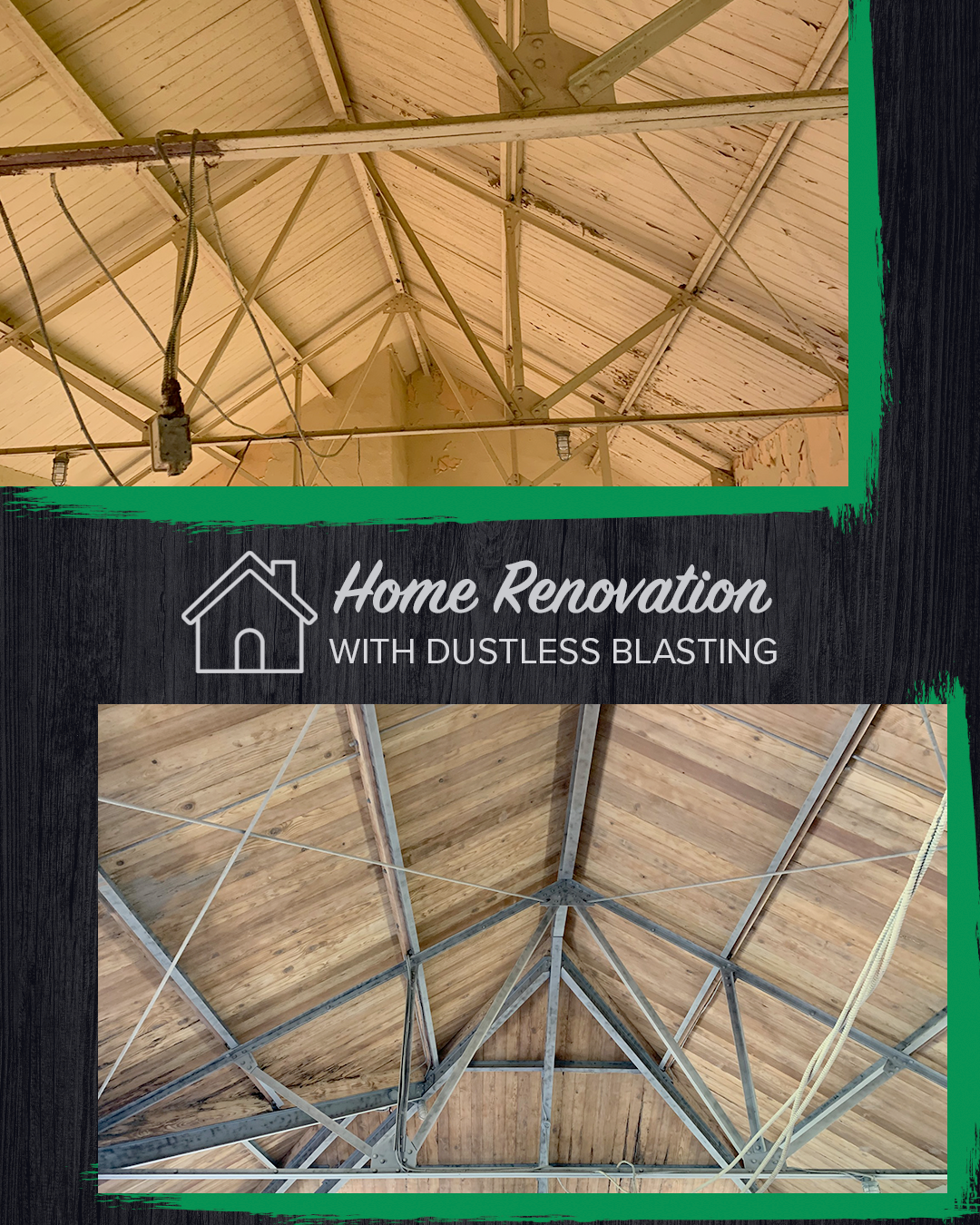 ---
Sealer and Stain Removal
Want to remove old sealer or stain from your concrete surface? The thought of doing it by hand can be grueling and the act of it can be time-consuming. Don't waste your time and money with risky results, when you can rely on the effectiveness of dustless blasting.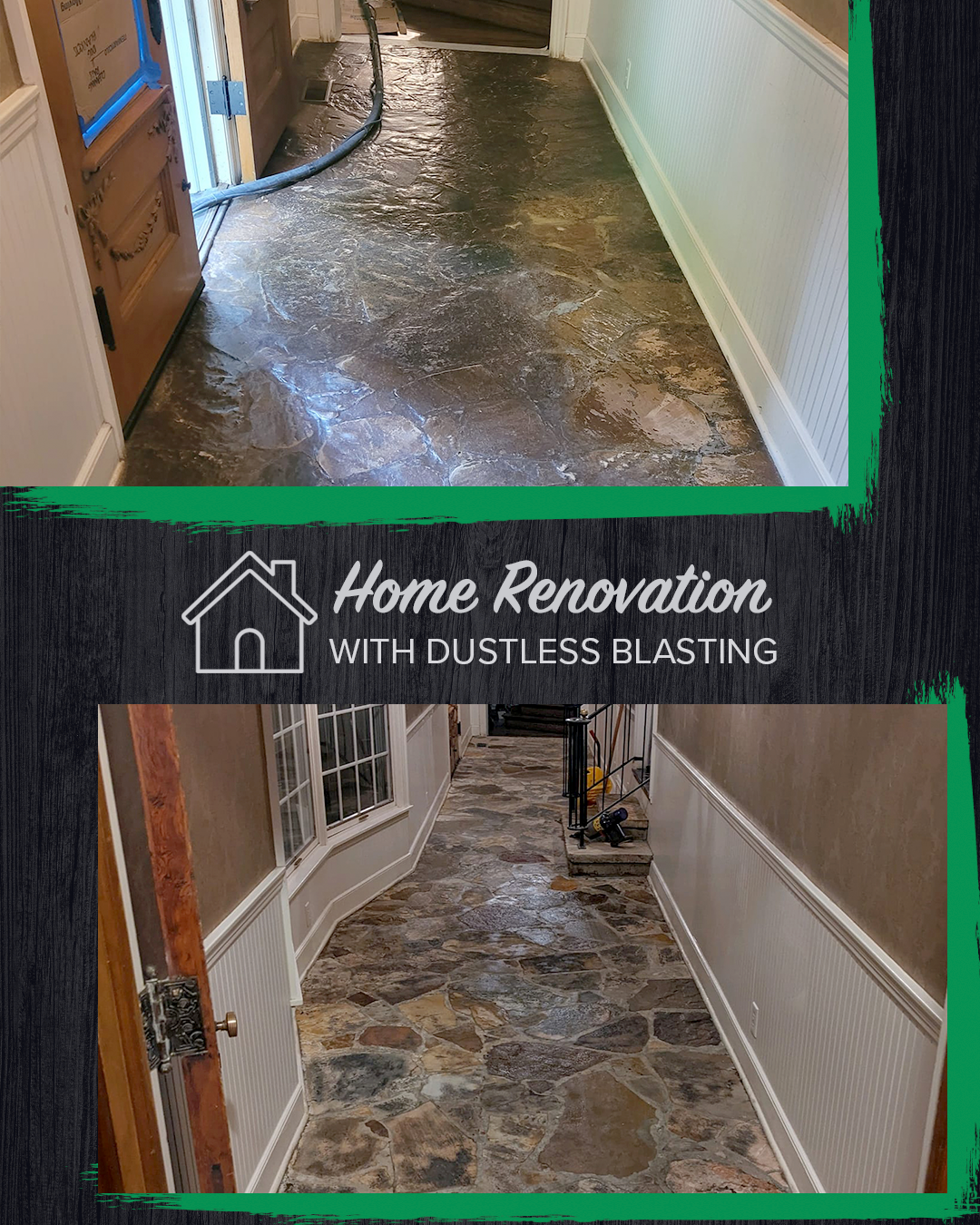 Here's another case study where Dustless Blasting was used to remove sealer from concrete: Case Study: Re-Stain and Re-Seal Concrete | Dustless Blasting®
---
Wood and Brick Homes
Wood homes age with time, and weathering plays a role in the deterioration. Are you seeking to restore the appearance of your wood house when it was first built? The first step is to figure out which cleaning methods will not harm your wood surface. Dustless blasting may be used on the outside of a wood house without causing any damage or mold development, as pressure washing would. Remove old paint, grime, or dirt to give the exterior of your home a fresh, clean slate. Not only is it the best solution for wood homes, but it's also perfect to use on brick, stucco, and stone. Be safe, savvy, and ready to take on your next home renovation project with Dustless Blasting!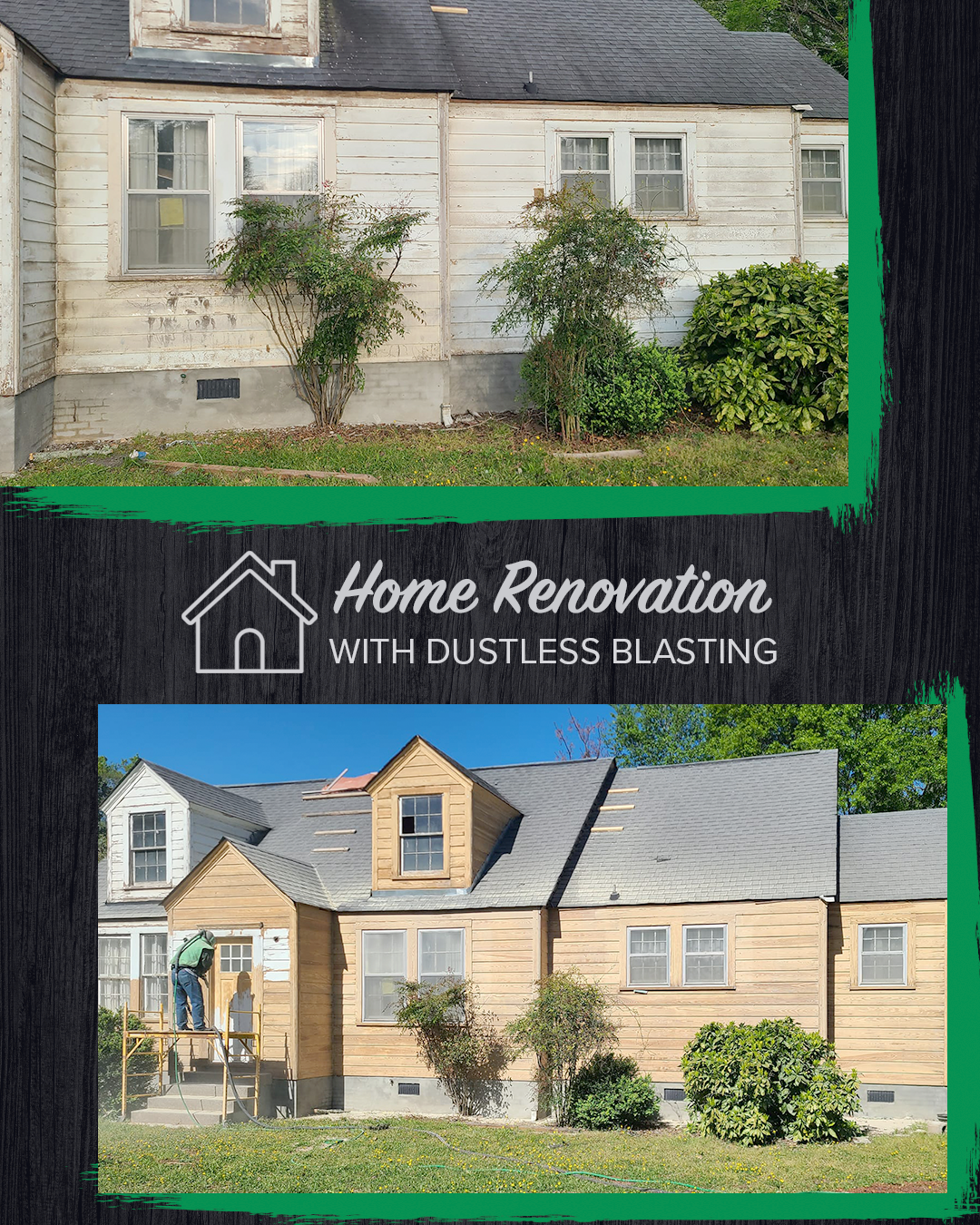 So whether you're interested in DIY projects or simply want to make some home improvements, dustless blasting is a great option to consider. It's versatile, effective, and best of all, it's relatively easy to do yourself. So why not give it a try? You might be surprised at just how much you can accomplish with this powerful tool.
For more information, check out our dedicated Wood Cleaning & Etching page that goes more in-depth on how dustless blasting can be utilized for wood cleaning and restoration.
You can find blast pots, hoses, nozzles, abrasives and any other blasting must-haves in our online store:
Did this inspire you to kickstart your home renovation journey or have a project already in the works? Learn more by downloading our free catalog: