Fastest Antifouling Paint Removal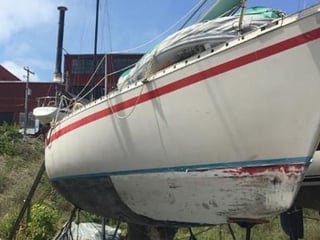 This 35 foot fiberglass sail boat in Wisconsin was badly in need of a fresh coat of antifouling paint. Stripping antifouling paint from fiberglass is tricky, because the gel coat beneath is much more fragile than steel or aluminum.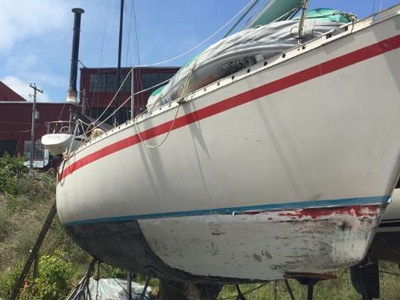 The owner of this boat decided to strip it himself. This may have been to save money, or perhaps he's just a do-it-yourself type of guy. Whatever the case, the novelty of this do it yourself project wore off after 3 weeks of backbreaking labor.
During those three weeks he did manage to remove all of the antifouling paint from the front section of the boat, as shown in the picture above. However, he wasn't exactly looking forward to spending another 3 weeks or more on the back section. That's where Mobile Dustless Blasting LLC comes in.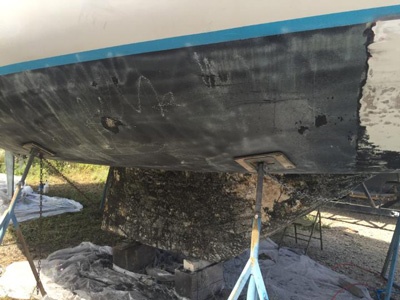 Mobile Dustless Blasting, LLC started blasting with their DB500 and environmentally friendly recycled bottle glass. This system is perfect for use in marinas which have stringent environmental restrictions. Since the water in the Dustless Blaster suppresses airborne dust, it drastically reduces air contamination. Since the abrasive and paint that gets stripped falls straight to the ground, proper disposal becomes easy.
In just 6 hours they were able to remove more than the owner had in 3 weeks with chemicals, grinding, sanding and scraping!
Mobile Dustless Blasting LLC said it normally would have gone much faster, but the stripping chemicals the owner applied actually made it harder to strip the paint than usual. If you need surface prep or paint stripping in Wisconsin, check out Mobile Dustless Blasting LLC.