Dustless Blasting vs Pressure Washing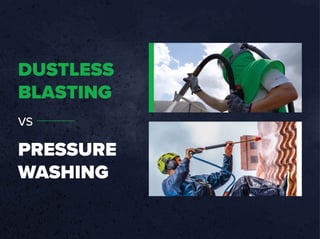 So what's the difference between Dustless Blasting and pressure washing? Before we get into it, here is the basic rule to keep in mind:
Pressure washing = Tool for surface level cleaning
Dustless Blasting = Tool for removing tough coatings and surface preparation
Now let's go over some of the key differences between the two cleaning methods.
Pressure Washer vs Dustless Blasting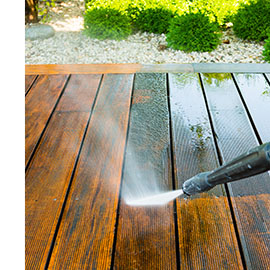 Pressure Washing
In short, pressure washing equipment uses a stream of high pressure water to remove loose debris from hard surfaces like decks and driveways. Power washing, a term often used interchangeably with pressure washing, takes this method one step further by adding a water heating element which helps to better break down accumulated grime.

dustless blasting
Dustless Blasting is a unique piece of equipment that employs a mixture of water and eco-friendly abrasive to clean and remove surface contaminants and coatings, providing a clean surface with no clinging dust. The unique mixture of water and abrasive produces more mass and force in the blasting process, allowing you to use less media than traditional sandblasting and less water than standard pressure washing.
Which method is better?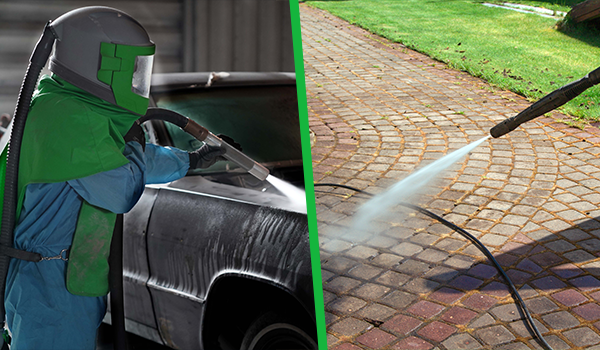 The truth is that a power washer and a Dustless Blaster are both good tools, they just serve different purposes. Dustless Blasting is more effective and efficient when it comes to paint stripping and cleaning. It can handle a larger number of jobs across multiple applications.
Power washing is an economical choice for small cleaning jobs. Many of our business owners have added a power washing tool to their arsenal of stripping and cleaning services, because it can be used to rinse away spent blast media from the ground.
Surface Cleaning vs Surface Preparation
With Dustless Blasting, the addition of abrasive allows you to profile the substrate. This surface roughness, often microscopic in scale, is extremely important to ensuring that new coatings adhere properly. An anchor profile is desired on metal surfaces that are to be repainted, like a car. However, there are some jobs where you'll want to avoid profiling the surface.

Pressure washing works very well for surface level cleaning. It can remove light staining, but won't effectively remove coatings such as paint, rust, or Bondo.
These two machines were built for different applications in mind. One - light surface cleaning and stain removal. The other - the removal of stubborn paint, sealer, and other tough coatings.
Water Pressure & Consumption
A standard power washer operates between 1500–3000 PSI, whereas the Dustless Blaster operates between 30–150 PSI. That's because with Dustless Blasting, the abrasive does most of the work.
Low operating pressure means that the Dustless Blaster uses less water than a power washer. It only consumes about 20 gallons of water per hour, compared to 120-480 gallons per hour with an average power washer. This means you don't have to worry about being connected to a constant water source.
Containment and Cleanup
In theory, cleanup when pressure washing is simple and easy. Let the water evaporate and collect any dislodged dirt or debris, if even necessary.
In practice, however - in many areas of the US and Canada, you can catch fines if you're not properly disposing of your runoff waste water. It's especially important to know your local laws and regulations if you're incorporating a cleaning solvent in your power washing services.
While we use eco-friendly abrasive in the Dustless Blasting process, the process of cleaning up after blasting can be lengthy and messy. Experienced sand blasters are used to this, so the necessary containment and cleanup steps to make the process easier are more widely understood and discoverable online, like on our free Academy.

Which is the better business opportunity?
Overall, we think that the two tools complement each other. Still, there's one more thing we need to talk about: money making potential.
Revenue Potential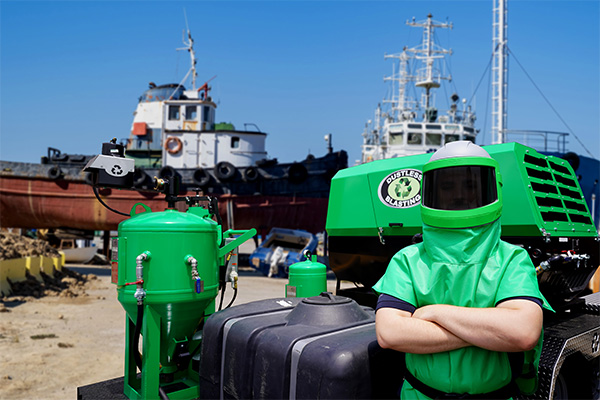 In our experience, tough jobs pay the most - and tough jobs are where Dustless Blasting excels. If you need to remove tough, thick coatings over a large area, Dustless Blasting business owners can make it happen fast, safely, and hassle-free. Clients are willing to pay for that speed and convenience of Dustless Blasting when compared to sanding, grinding, and scraping away tough coatings -- time is money, after all.
Based on our data, Dustless Blasting business owners are earning an average of $300USD per hour of blasting. With pressure washing prices averaging between $60-100USD per hour, you'd have to take on at least triple the amount of work to match the income of a Dustless Blasting business.
Here's what some of our contractors have to say about pressure washing:
"If nothing else, it's good to have for clean up. Also gives customers extra options."
— Joe L., Business Owner
"Two completely different things. One is cleaning, the other is stripping."
— Be R., Business Owner
"We have relationships with [power washing companies] and recommend each other for projects. Do you really want to spend a day making $50 per hour power washing or $200 per hour Media Blasting?"
— Colin J., Business Owner
"I have a pressure washer on my truck but I also made contact with some local pressure washing companies. They refer me business and I refer them. Don't look at pressure washers as competition, look at them as part of your network."
— Mike S., Business Owner
In Conclusion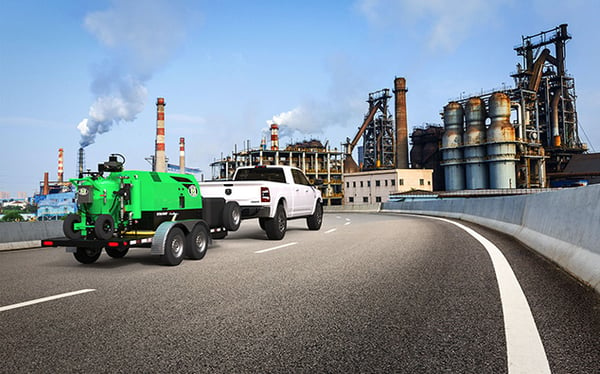 The truth is that a power washer and a Dustless Blaster are both good tools, they just serve different purposes.
Just now hearing about Dustless Blasting? Learn more by visiting our Start A Business page!
If you're an existing Dustless Blasting business, adding pressure washing to your list of services can be a great way diversify your income streams and increase your earning potential. Learn more about going beyond blasting with this related blog.
If you're an existing pressure washing professional, consider those higher paying jobs you'd no longer have to turn down if your business added Dustless Blasting to your list of services. We sell standalone blast pots, accessories and spare parts in our Online Store. If you're looking for a complete mobile abrasive blasting systems that come with everything you need, contact one of our blasting experts to place your order.