Customer support with amazing perks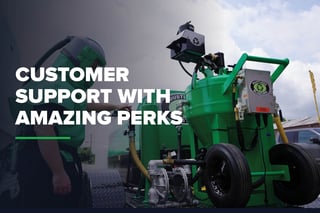 As a leading provider of cutting-edge surface preparation solutions, we go above and beyond in supporting our valued customers on their journey to success. From tech support and an online academy to a private Facebook group, and marketing services, we are proud to empower entrepreneurs and businesses in various industries. In this blog, we will explore how our comprehensive support services pave the way for blasting business owner's accomplishments.
Tech Support - Prompt Assistance at Your Fingertips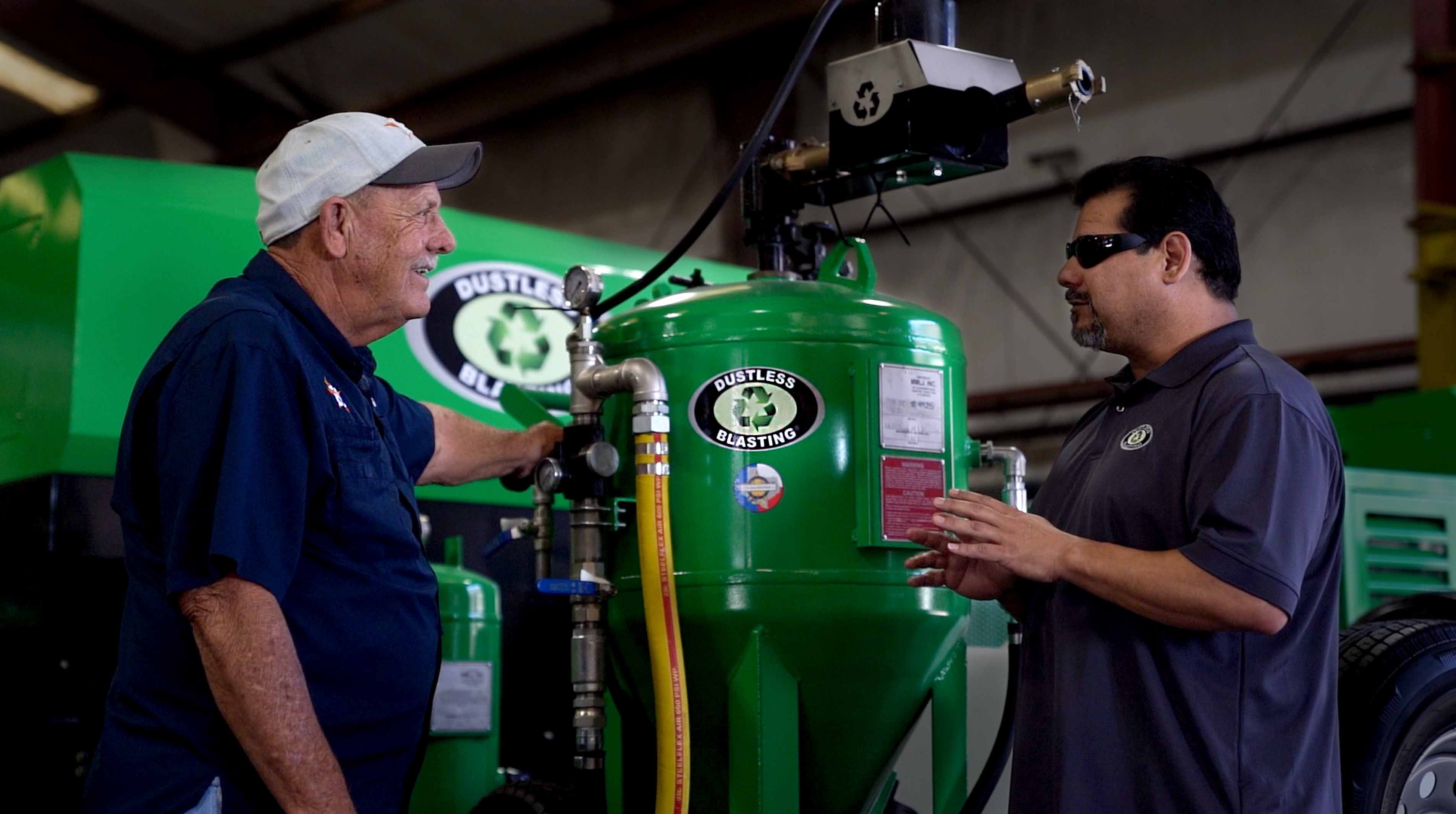 Dustless Blasting recognizes the importance of seamless operation and timely resolutions. That's why they offer reliable tech support to customers facing any challenges with their equipment. Whether it's a troubleshooting query or an in-depth technical concern, their dedicated team of experts is just a phone call or email away. This unwavering commitment to customer satisfaction ensures that businesses can keep their operations running smoothly without unnecessary downtime.
---
DB Academy - Expert Knowledge at Your Convenience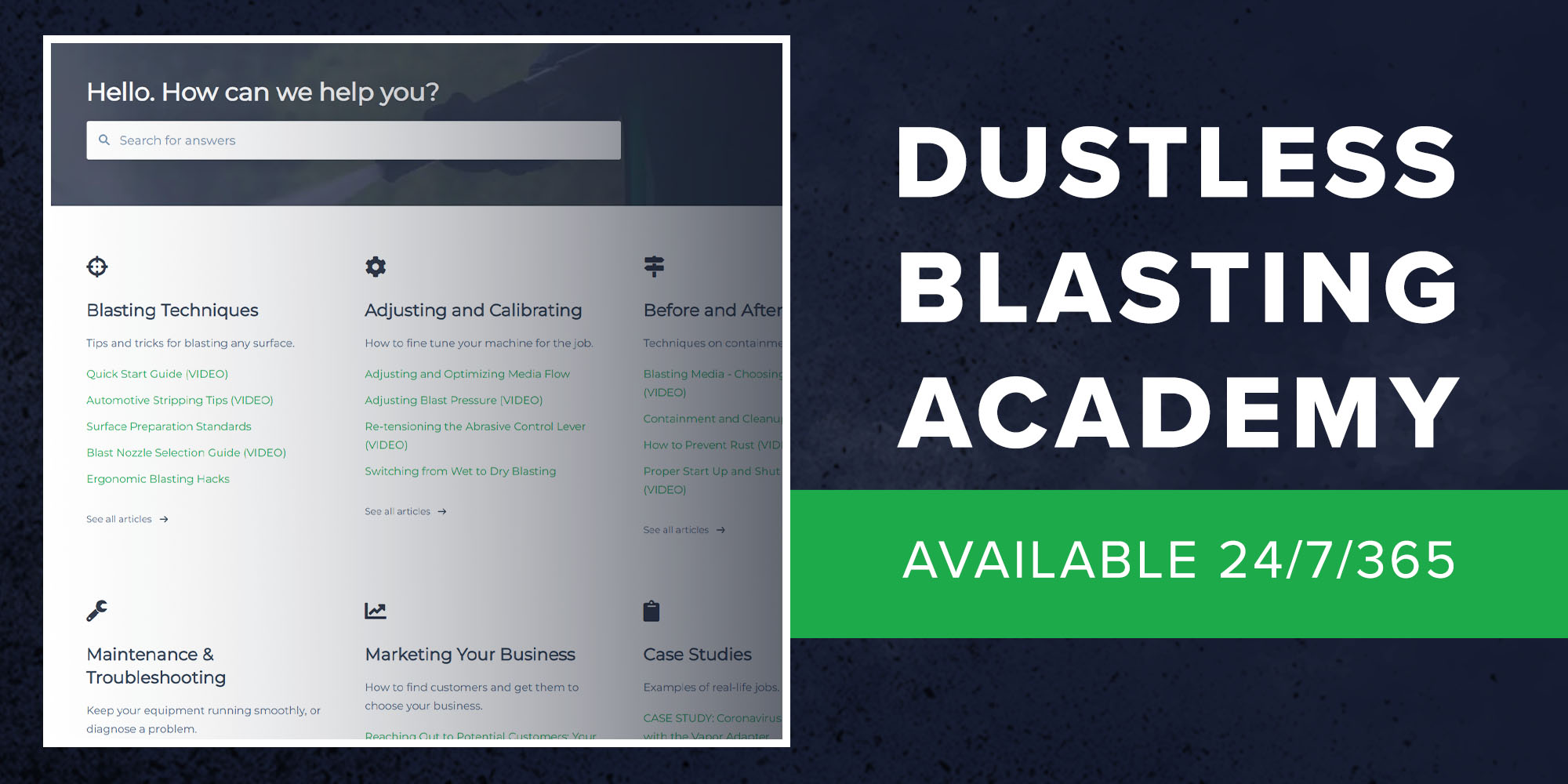 Knowledge is power, and Dustless Blasting firmly believes in empowering its customers with the right expertise. Through their online academy, customers can access hundreds of educational resources, including instructional videos, guides, and articles. These comprehensive materials cover various topics related to surface preparation, blasting techniques, equipment maintenance, safety guidelines, best practices for operating a business and more. By providing this valuable knowledge base, Dustless Blasting equips its customers with the tools they need to achieve outstanding results.
---
Online Store - Easy Access to Premium Equipment and Supplies

Efficiency is key when running a business, and Dustless Blasting makes it simple for customers to acquire top-quality equipment and supplies. Our user-friendly online store offers a wide range of products, from blasting machines and abrasive media to safety gear and replacement parts. This one-stop-shop not only saves time but also ensures that customers can rely on genuine Dustless Blasting products for optimum performance and longevity.
In addition, our online store features a rewards program that allows customers to take advantage of coupon redemptions, exclusive discounts, and savings on handpicked items.
---
Marketing Services - Elevating Your Brand Presence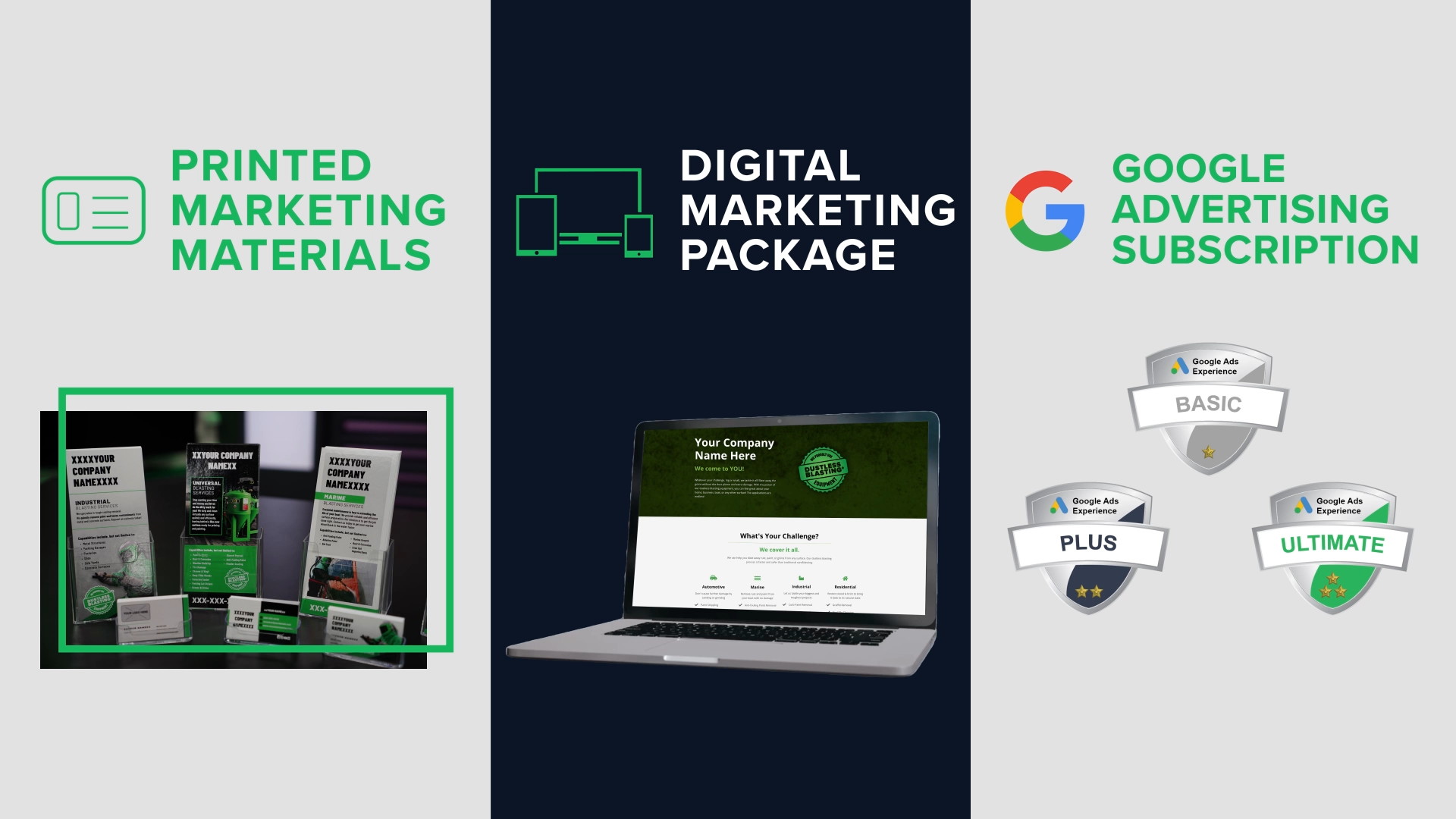 Dustless Blasting understands that success goes beyond exceptional equipment and efficient processes. To thrive in today's competitive landscape, businesses need effective marketing strategies. That's why Dustless Blasting provides marketing services to help customers elevate their brand presence and reach their target audiences. From branding assistance and social media guidance to customizable marketing materials, Dustless Blasting helps businesses stand out and attract more clients. Here are a few of the marketing services we offer:
---
Private Facebook Group - A Thriving Community of Support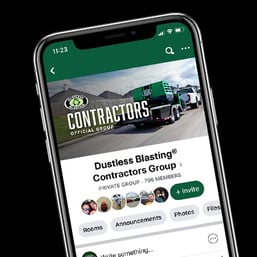 Recognizing the power of community, we have built a private Facebook group exclusively for Dustless Blasting business owners. This vibrant community serves as a platform for discussions, idea-sharing, problem-solving, and networking. Entrepreneurs and professionals from various industries come together, offering advice and insights based on their experiences. The support and camaraderie found within this group create an invaluable resource that fosters growth and success.
---
Conclusion
Dustless Blasting stands out not only for its groundbreaking surface preparation solutions but also for its unwavering commitment to customer success. Through our comprehensive support services, we empower entrepreneurs and businesses across industries to achieve their goals. Embracing innovation, knowledge-sharing, and community-building, we strive to create an environment where customers can flourish and reach new heights of success.