3 essential marketing tools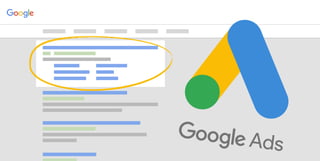 You're set to become the head of your very own business, be your own boss, and get some hard work done out on the job sites. There's more to being a business owner than being there to get the work done though. It's important to advertise your business so you have these job sites to work at.
Marketing in itself can be a lot to tackle, and we know you have a lot on your plate right now. That's why we are here to help you get started.
THE 3 MARKETING ESSENTIALS
There are two essential marketing worlds you need to have a presence in - the physical world and the digital one.
Our marketing materials are the perfect way to take on the physical world of advertising and jumpstart your new business. You get the materials you need to advertise to potential customers and show them a professional looking product that will make a lasting impression. With a recognizable logo, memorable brand name, and a firm handshake, you can make sure the people you come across every day remember who you are and where to find you.

Some of the most important materials for print marketing are:
Banners
Business Cards
Rack Cards
Vehicle Magnets
Yard Signs
We can help you make a strong first impression by offering high quality materials, completed with custom designs made specifically for abrasive blasters.

Potential customers are looking online for services like yours. It's incredibly important to have a homepage to direct potential traffic toward. Whether it be a custom website, a Facebook page, or any other webpage with your information on it, you need to have something in place for people to find you, see if you can help them, and easily contact you when they learn that you can.

That's why we are proud to offer our Online Presence Package. Just like our print materials, the Online Presence Package comes custom made with all your information and is designed specifically for people in the coating removal and abrasive blasting industry.

GOOGLE ADS
You probably found this blog article through Google's search engine. If not this article, then you most likely found Dustless Blasting that way. Every day there are thousands and thousands of people searching for 'How to remove rust from a car' or 'fastest way to remove coating from log cabin' or any number of similar searches. The fastest way to grow your business is to have your name appear when people in your area search for questions and terms like that. Which is exactly what our Google Ads Experience Package's are designed to do.

There are a few misconceptions about Google Ads, the most common being that you just need to spend money to rank highly for searches in your area. Google needs to learn that your site is a trusted one and this process takes time, but it is well worth it. The longer you advertise yourself through Google and the more people that come through your site, the more likely it becomes that Google will push your site to the top.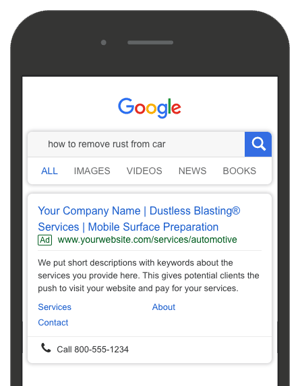 It is important to note that these Google packages will not ensure that your search ad reaches the top spot on the Google search. The top spot is dependent on a combination of the bidding system and the website landing page experience that Google determines. What these packages do ensure is that your website does appear somewhere on the front page of Google for thousands and thousands of people searching for related questions each month.