Print Marketing - Why It's Important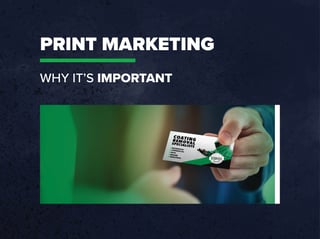 Print marketing may have lost a little bit of its shine in recent years with the emphasis that has been placed on digital advertising and social media campaigning.
That does not mean that print marketing is useless - in fact it is quite the opposite. Being able to see something in real life, whether it's a business card you've been handed or a magnet on a car you pass, allows for your product and your brand to be remembered more vividly. It also provides a more personal connection for the consumer.

There are a few things you can do to ensure that you get the most out of your print materials.
Always Have them ready

You never know when a potential business deal might pop up. Keeping your business cards or rack cards on you will keep you from missing out on a big moment. Business cards are a very efficient method of getting your business name out there. It not only gives the potential customer all of your necessary contact information, it also gives them a great first impression of your business and makes them much more likely to remember you.
"I always have brochures in my jacket pocket and business cards in my wallet, with spares in the glove box. Any hint of potential business gets some paper."
— Jeff P, Business Owner
place them strategically
For items like brochures or rack cards, it is all about location. Leaving them in a location where your target audience is most likely to show up. Places like a car body shop or a paint store. If someone is looking to get a new coat on their car or on their house, they may still be looking for a way to remove that paint. Even if they've already had the paint removed for the project they're on now, they may be seeking a more effective method of surface preparation.
"I went in and talked to my local auto paint supply store, and they let me put my brochures and business cards on the counter. I've gotten several jobs from it."
— Mark H, Business Owner
Make them feel personal
Business cards are naturally a personal form of advertising your brand. Whether they are passed from one person to another by hand or sent through the mail, business cards indicate a professional connection. You are saying 'I want you to have this'. This can be applied to other forms of printed materials as well. Sending a rack card, a custom pen, or any material with your brand on it through the mail will give off that same indication of a professional connection.
"We send brochures that we bought from MMLJ to each business that corresponds to the brochure, with a business card and personal letter."
— Patrick G, Business Owner
Maintain a professional image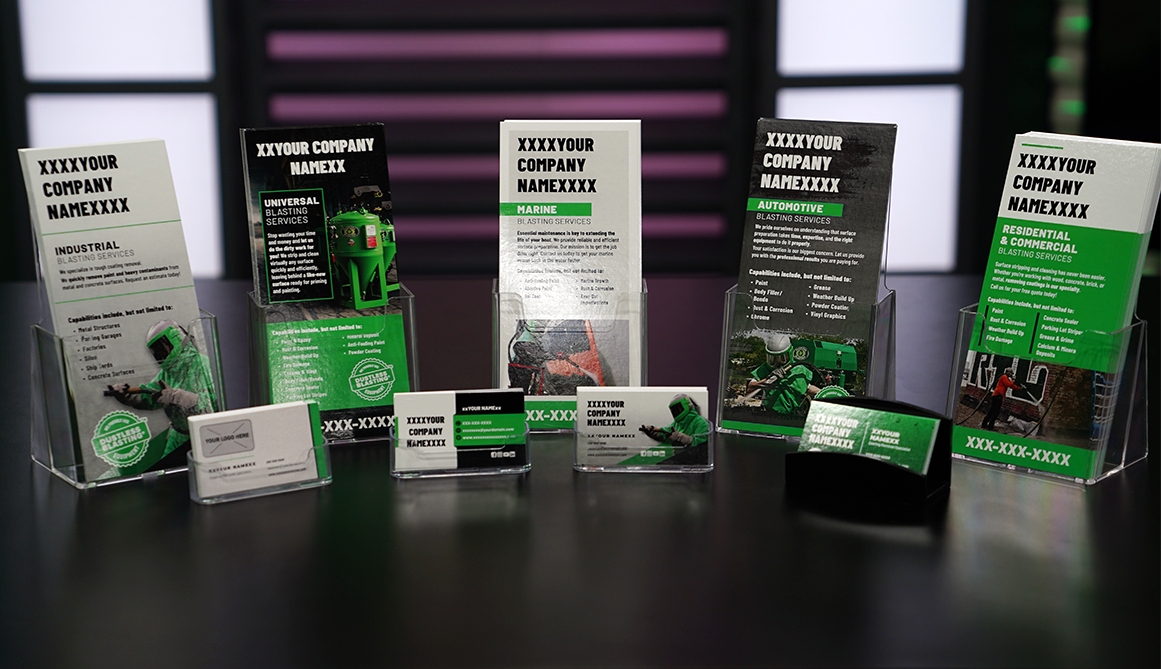 Giving off a clean and professional vibe from your print materials is the ultimate goal. Your materials are a direct reflection of your company. They are your first impression in many cases, and we all know how important first impressions are.
If you want to get high-quality print materials that are designed specifically for the abrasive blasting industry, then look no further than Dustless Blasting's online store, which features a long list of printed marketing materials. These materials will be custom-made to include your business name or logo and your contact information, with compelling wording and images that will make your brand pop. So shop now and get your name out there!