What is the Dustless Blasting Academy?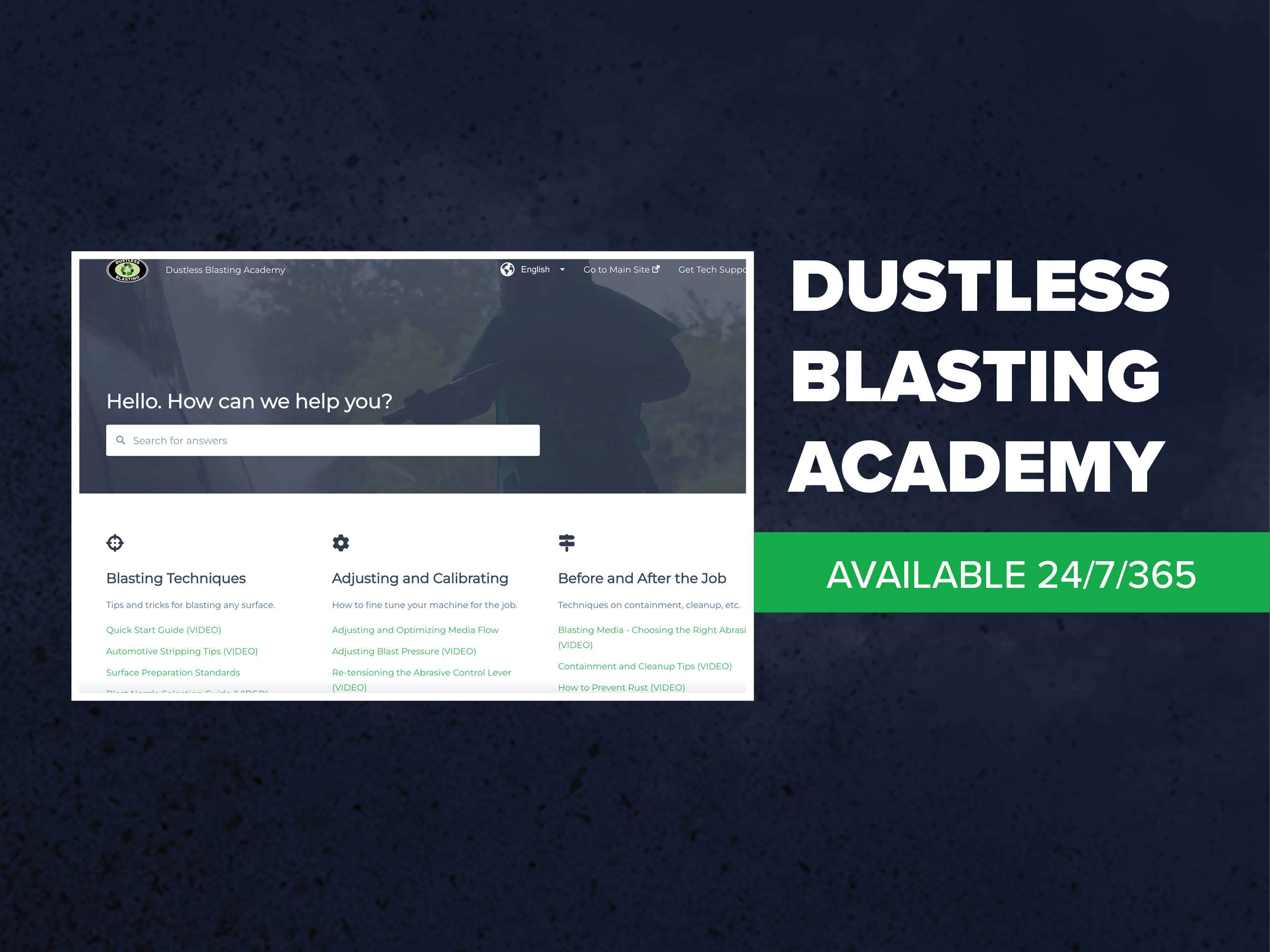 The Dustless Blasting Online Academy is committed to providing comprehensive support to our customers even after they make a purchase. We recognize that customer success goes beyond the initial transaction and aims to assist individuals in maximizing the benefits of their Dustless Blasting business and equipment. Here are some ways in which the Dustless Blasting Online Academy supports its customers after they make a purchase:
Training Materials: Upon purchase, customers gain access to a wealth of training materials available on the Dustless Blasting Online Academy platform. These materials include video tutorials, step-by-step guides, and instructional content that cover various aspects of dustless blasting. This resource allows customers to continually improve their skills and stay updated with the latest techniques.

Technical Support: The academy offers dedicated technical support to customers who have questions or encounter challenges while using their dustless blasting equipment. Customers can reach out to the support team through email, phone, or live chat for prompt assistance. The experienced support staff can provide troubleshooting guidance, address concerns, and offer solutions to ensure smooth operation.

Updates and Enhancements: As new techniques, technologies, and best practices emerge in the field of surface preparation, the Dustless Blasting Online Academy continually updates its training materials to reflect these advancements. Customers receive notifications and access to these updates, ensuring that they remain at the forefront of the industry. This ongoing support ensures that customers can adapt to evolving challenges and optimize their blasting processes.
🔥

Popular Academy Articles
Pricing Jobs
GUIDE: How to Price Jobs
Learn how to price your services and make money with Dustless Blasting.
Surface Area Calculators (for pricing jobs)
When pricing jobs, you will often need to know how much surface area you are blasting. Use the calculators here as helpful resources...
blasting techniques
Surface Preparation Standards (VIDEO)
There are different levels of surface preparation, and not every job will require the same one.
Blast Nozzle Selection Guide (VIDEO)
Consider these factors when choosing an abrasive blast nozzle for your job.
before the job
Choosing the Right Abrasive (VIDEO)
Learn about the pros and cons of different blasting media types and which projects you should use them for -- including sand blasting, vapor blasting, soda blasting, and dustless blasting.
Choosing Blast Pressure and Blast Distance (VIDEO)
Learn what blast pressure or distance you should use for different projects.

after the job
Containment and Cleanup Tips (VIDEO)
Here are some suggestions to make clean up easy.
Proper Start Up and Shut Down Procedures (VIDEO)
Learn about the proper start up and shut down procedures to keep your Dustless Blaster performing its best.
---
The Dustless Blasting Academy is free and available to everyone 24/7/365, and is an incredibly useful tool for equipment owners or anyone who wants to learn more about our products and the industry.

Find it here: support.dustlessblasting.com