What is the Dustless Blasting Academy?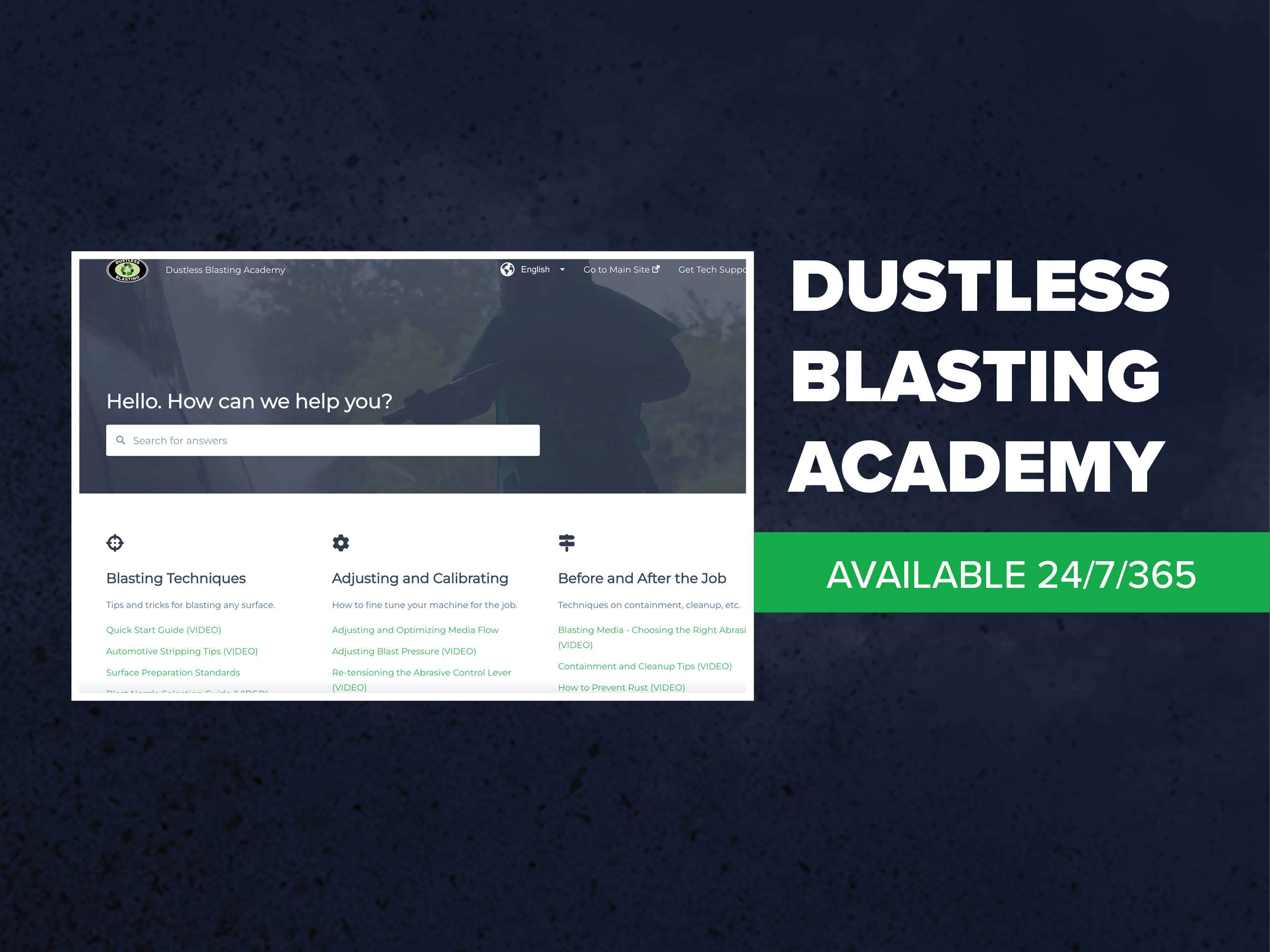 The Academy is our free knowledge database built to help Dustless Blasting equipment owners and operators use and maintain their machine properly. It includes up-to-date videos and articles that feature expert advice from our engineers, blasting experts, and contractors.
The Dustless Blasting Academy is free and available to everyone 24/7/365, and is an incredibly useful tool for equipment owners or anyone who wants to learn more about our products and the industry.

Find it here: support.dustlessblasting.com
🔥

Popular Academy Articles
Pricing Jobs
GUIDE: How to Price Jobs
Learn how to price your services and make money with Dustless Blasting.
Surface Area Calculators (for pricing jobs)
When pricing jobs, you will often need to know how much surface area you are blasting. Use the calculators here as helpful resources...
blasting techniques
Surface Preparation Standards (VIDEO)
There are different levels of surface preparation, and not every job will require the same one.
Blast Nozzle Selection Guide (VIDEO)
Consider these factors when choosing an abrasive blast nozzle for your job.
before the job
Choosing the Right Abrasive (VIDEO)
Learn about the pros and cons of different blasting media types and which projects you should use them for -- including sand blasting, vapor blasting, soda blasting, and dustless blasting.
Choosing Blast Pressure and Blast Distance (VIDEO)
Learn what blast pressure or distance you should use for different projects.

after the job
Containment and Cleanup Tips (VIDEO)
Here are some suggestions to make clean up easy.
Proper Start Up and Shut Down Procedures (VIDEO)
Learn about the proper start up and shut down procedures to keep your Dustless Blaster performing its best.