Granite Etching and Resurfacing with Dustless Blasting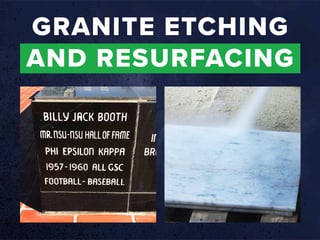 Granite is a popular material for countertops, flooring, headstones and other surfaces due to its durability, beauty, and unique patterns. However, over time, new granite surfaces can become worn, stained, or damaged, leading to a dull appearance.
Fortunately, Dustless Blasting equipment can be utilized to resurface granite, restoring it to its original beauty and improving its lifespan. Dustless Blasting can also be used to etch custom designs into granite, creating unique decorative patterns or engraving words into the stone.
In this blog, we'll explore how Dustless Blasting can be used for etching, resurfacing, and restoration work and why you should consider it for your next project.
Dustless Blasting Equipment for Granite Etching

Etching is a popular service that involves engraving or carving custom designs into the surface of granite. Dustless Blasting equipment can precisely and intricately etch granite using a stencil. With a fine media, this method surpasses traditional tools such as chisels and rotary tools in terms of precision and detail.
The Best Abrasive Media For Etching Granite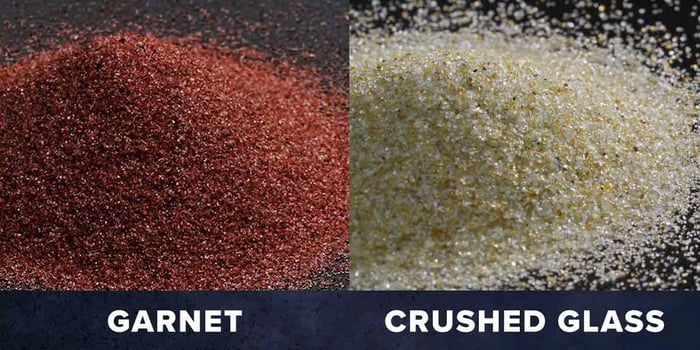 We recommend using a fine garnet media or 40/70 crushed glass with your Dustless Blasting machine to etch into hard stone like granite. While aluminum oxide can also be a good choice due to its high reusability, it's really only worth the high cost if you're reclaiming it and then filtering out the secondary waste which, for a mobile service provider, we believe to be more effort than it's worth.
Dustless Blasting Equipment for Granite Resurfacing
Resurfacing is a great way to restore the natural beauty and vibrancy of granite. Dustless Blasting equipment, when used with the right abrasive media, can effectively remove years of wear and tear from granite surfaces. Here are some examples:
flooring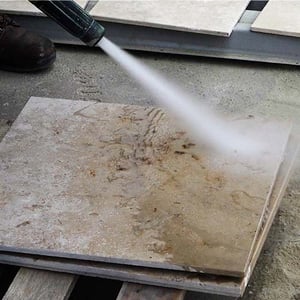 When it comes to resurfacing granite flooring, Dustless Blasting is a game-changer. It can be used to revitalize worn-out granite surfaces, making them look as good as new. But that's not all; Dustless Blasting can also be used to improve the safety of granite flooring. For instance, if you have an entryway that's too slippery and therefore dangerous to walk on, Dustless Blasting with an angular abrasive like garnet can be used to texturize the surface, making it safer. This is particularly helpful for high-traffic areas that are prone to accidents. With Dustless Blasting, you can have peace of mind knowing that your granite flooring is not only beautiful but also safe to walk on.
HEADSTONES
Granite headstones are often subjected to years of exposure to the elements, resulting in a buildup of dirt and grime that can obscure the original beauty of the stone. Fortunately, Dustless Blasting equipment can be used to restore these monuments to their former glory. By using a fine, rounder media like 70/100 glass bead with the Dustless Blasting machine, the surface of the granite can be cleaned and polished, removing years of wear and tear without affecting any existing inscription . Dustless Blasting is a game-changer for those looking to clean, renew, and restore granite headstones back to their original beauty.
NATURAL STONE
Dustless Blasting is not only a fantastic method for etching and resurfacing granite; it can also be used to clean stains and sediment off natural granite rock faces or boulders. Property owners who need large surface areas or numerous individual boulders cleaned, such as quarry owners, can benefit from Dustless Blasting's ability to handle big jobs with ease.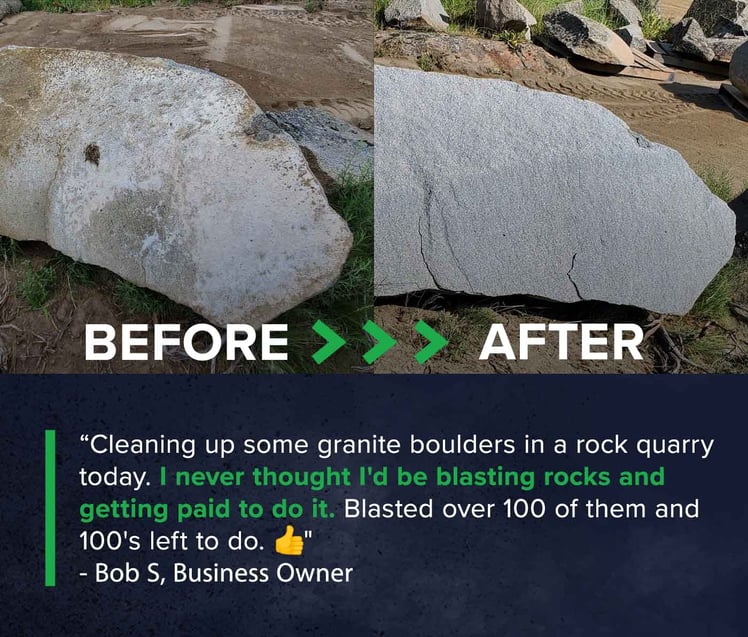 Benefits of Dustless Blasting for Granite Restoration
Businesses that specialize in restoration and repair, countertop fabrication, kitchen and bath remodeling, and property management can improve their refinishing and fabrication processes by incorporating Dustless Blasting. Here's why:
LESS DUST AND DEBRIS
First, our Dustless Blasting machines are well-known for their unique wet sandblasting method that uses a mixture of water and abrasive media to strip surfaces of contaminants. Due to the water encapsulating the media and debris, this method results in far less airborne dust than other methods like hand sanding or dry sandblasting, reducing the risk of property damage as well as any harm to nearby people, pets, or plants.
CONTROLLED AND DAMAGE-FREE RESURFACING

Secondly, by controlling media choice, blast pressure, and standoff distance, Dustless Blasting can preserve the integrity of the granite surface by only removing a thin layer of granite, exposing a fresh, clean substrate to then be polished and sealed.
TIME EFFICIENT

Dustless Blasting is excellent at resurfacing large areas quickly, thus reducing time and labor spent hand-sanding, dry sandblasting, grinding, or scraping.
See the Dustless Blaster in Action
Watch as Mark and Carrie, the owners of a stone repair and refinishing company, are wowed by the resurfacing and texturing capabilities of our Dustless Blasting equipment.

Our Dustless Blasting equipment was able to texturize all of the granite samples they brought, including the "black absolute", one of the hardest granites in the world. We also gave one of the samples a wood like feeling and texture, by blasting with the natural "grain" of the granite. Using a thin metal template which was cut on a CNC machine, we also etched the Dustless Blasting logo into one of the black absolute granite samples.
Now, Mark and Carrie can offer these additional etching and texturing services, which means additional revenue streams for their existing business!
SEEING IS BELIEVING
Witness the astonishing power and effortless usability of our system with your own eyes. Schedule a Demo Today.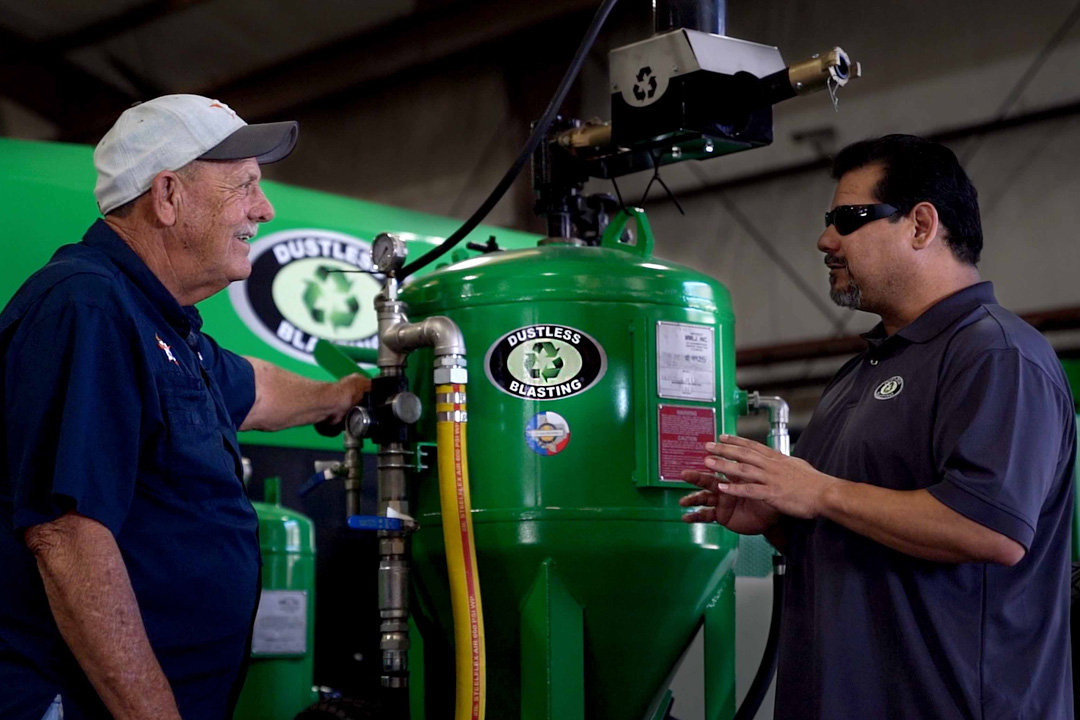 TRUST YOUR GRANITE PROJECT TO DUSTLESS BLASTING
In conclusion, if you have a granite or stone project that needs sealant removal, texturizing, or etching, Dustless Blasting is one of the best tools available - offering efficient and damage-free resurfacing.
Businesses can utilize Dustless Blasting equipment to expand their capabilities and improve the quality of their services and individuals can benefit from a surface preparation solution that gets the job done without delay.
Now that you know all about the advantages of Dustless Blasting when it comes to prep work for granite surfaces, contact a local Dustless Blasting service provider near you or download our free catalog for pricing information.