Masonry Cleaning, Graffiti Removal & Building Restoration in One Step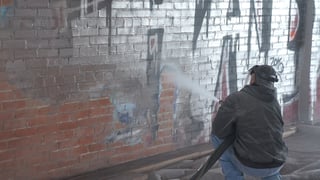 When it comes to building restoration, graffiti removal, and masonry cleaning, Dustless Blasting is the holy grail. This tool makes it possible to remove paint and grime from even old, soft, antique masonry, without damage. This would be impossible for traditional blasting methods, as dry blasting can etch brick, leaving it rough and pitted.
Many of our Dustless Blasting contractors are making big money with building restoration. Click the image to the left to see how much money can be made on residential paint removal.
Check out the building restoration project in the video below. The building is very old, but now it will be turned into luxury loft apartments.
Inside the building there were dozens of wooden support beams covered in graffiti, which the Dustless Blaster was able to remove with ease. In fact, old wood can look brand new with the Dustless Blaster! This building was completely restored, inside and out, with the DB500 Mobile. Thanks to Platinum Blast LLC in Rosenberg, TX for letting us film this excellent project. Dustless Blasting is the ultimate concrete, masonry, and building restoration tool.
Remove graffiti, grime, calcium stains, mildew, gum and more.
Blast on concrete, masonry, block walls, stone, pools, wood and other surfaces.
Drastic reduction in airborne dust makes it possible for others to work nearby.
Dustless Blasting's extreme versatility allows for a range of abrasives and blast pressure, plus you can also blast dry when necessary.
Want to start a profitable business removing graffiti, paint, stain, and more? Talk to one of our Startup Business Advisors: