Dustless Blasting Offshore Rigs and Platforms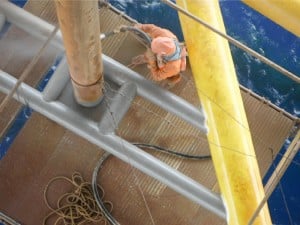 Dustless Blasting is perfect for many industries, including offshore oil rigs! The non-sparking and dust free nature of the Dustless Blasting process is just one of the things that makes it perfect for this application, and many others.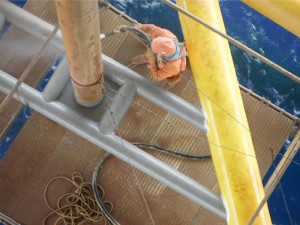 Dustless Blasting removes the toughest coatings faster than sand blasting, but without the dust plume. The system works by mixing abrasive and water together inside the blast tank. The water not only adds mass and energy to the blast, but also traps the abrasive and coating being removed, preventing them from becoming airborne. This reduces the need for containment, while making it easier to comply with MARPOL Annex V.
The Dustless Blasting system solves many of the problems presented by offshore repainting. It uses less media than outdated dry blasting systems, reducing the amount of spent abrasive that will have to be disposed of. The lack of a dust plume allows others to work in the same area unaffected, meaning less downtime and more productivity. Equipment near the blast area doesn't get clogged with dust, and the non-sparking nature of Dustless Blasting makes it safe to use in most situations.
Unlike UHP, this process creates a new anchor profile, and when used with a rust inhibitor chlorides are removed, leaving a perfect primer ready surface. Dustless Blasting can take any metal, no matter how thickly coated or rusted, back to an SP-5 White Metal finish. The system is also extremely versatile, allowing you to blast without any proprietary abrasives. Sand, garnet, coal slag or any other clean, consistent blast media that sinks in water can be used, all without dust.