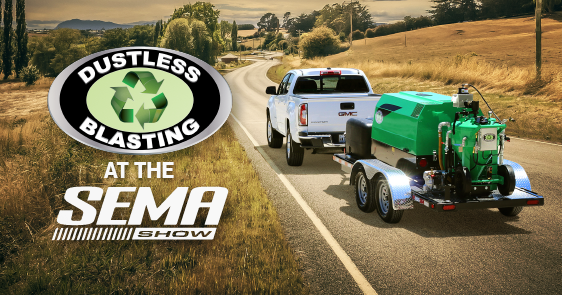 It's that time of year and we are once again ready to take SEMA by storm. SEMA is all about cars and we are excited to be one of the 2400 companies representing what's HOT in the industry. There will be over 1500 cars on display, showing off their extreme paint jobs and custom aftermarkets and over in Booth #24693, we will demonstrate why Dustless Blasting is a crucial element in the Restoration Marketplace.
If you keep in mind the blog from a few weeks ago, "What's the Value in Surface Preparation?", we discussed how 80% of coating failures are due to poor surface preparation. In the Restoration MarketPlace at SEMA, beautifully restored vehicles will be on display. Getting them all back to showroom ready is the reason surface preparation is going to be a vital component to the majority of those businesses. Dustless Blasting will stand out among the 56 exhibitors this year for being able to get rid of paint, rust, bondo and body filler in a 1-step process while cleaning and profiling metal and leaving a paint ready surface. That will make every aftermarket painter very happy!
This year we look forward to an appearance by Dennis Gage and showing off the complete redesign on the DB500 Mobile XL. If you are going to be a part of the largest premier automotive specialty products trade event in the world, come by and see what's hot in Booth #24693 Central Hall, Restoration Marketplace.