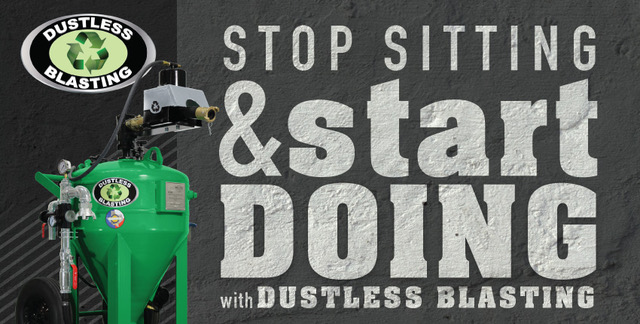 This time of year the weather gets colder and the days get shorter and that can lead to a lack of motivation to get things done. People just seem to lose their mojo to work and that's not really an option when you own your own business. Today we have a few tips to help warm up your business and finish the year strong! Lets Stop Sitting and Start Doing with Dustless Blasting!
If you are just getting started or need a little boost, find some guidance among your peers.
Make contact with other contractors that can give you affirmation about what you are doing and answer those questions when you just aren't too sure about something. Get comfortable with the group and reap the motivation that comes from knowing you have the support of people happy to help.
If you are looking to drum up new business, develop new relationships.
Get out in the community - look around and see the needs in local companies that could benefit from your services. Capitalize on repair and maintenance opportunities. I recently read an ad specifically for a "fleet repair maintenance dustless blaster" this company specifically mentioned using our machines to blast their semi's and forklifts, tractor parts and pallet jacks on Indeed.com. Let people know you are there and make them aware of your service solution by advertising, cold calling, putting your business card in local shops and by visiting your chamber of commerce to let them know what services you can provide.
If you want everyone to know about your service, create content don't just talk about it.
We live in a visual society and social media is out there and it is free to use! Start tweeting, using Facebook and Instagram among others to show off your work. Take before and after pictures of your projects and let those images do some of the talking. Your portfolio will be the truth behind the product. Show everyone out there that you are capable of delivering a superior solution in a shorter amount of time than they ever expected.
Lastly, if you want to spread the word about your business, DO IT ALL!
There is no job to big or to small. One blasted sidewalk could lead to a building or hotel. One blasted rim could lead to a fleet vehicle. One blasted boat propeller could lead to a 54' yacht. Do work! Have patience and perspective and whatever you do don't stop.
There are 24 hours in a day, so stop sitting and start doing with Dustless Blasting!