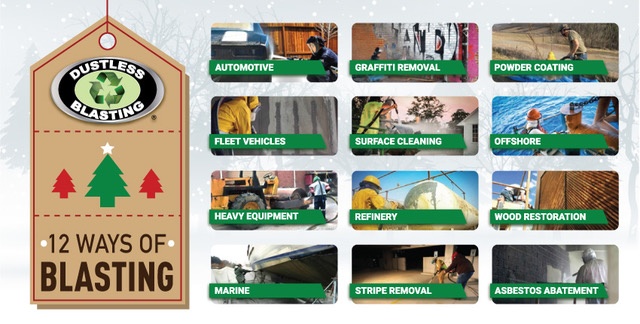 Dustless Blasting has put the power into a machine making surface preparation a faster and more efficient process. No matter what industry you are in, there is potentially a need for something to be stripped or cleaned. Take a look at the 12 Ways of Blasting and decide which is your niche?
Automotive - Dustless Blasting is the perfect tool to eliminate Body Filler, Warping, Rust and DUST!
Graffiti Removal - Our process easily and completely removes graffiti, while leaving the underlying surface undamaged and back to its original state.
Powder Coating - Our process is faster than sandblasting, uses no harsh chemicals and is easy to use!
Fleet Vehicles - Our process is a quick and easy way to update displays and remove decals or paint while getting around rivets and other hard to reach places.
Surface Cleaning - Our process is much more effective than power washing and is the perfect tool for cleaning and restoring any type of masonry, stone, brick, concrete and more!
Offshore - Our process doesn't produce a spark making it the perfect tool for offshore. There is no down time for the rig and you still have a safe environment for workers.
Heavy Equipment - Our process uses a powerful mixture of water and abrasive and a highly focused nozzle to remove the toughest of industrial coatings.
Refinery - Our process allows you to perform refinery maintenance quickly and efficiently without shutting down plant operations.
Wood Restoration - Our process allows you to reach the intricate and fine details of the project while maintaining the integrity the wood.
Marine - Our process works on any substrate, leaving the ideal profile for your vessel. Best of all, you can say goodbye to sanding and harsh chemicals!
Stripe Removal - Our process completely removes paint, oil stains, tar, and thermoplastic from pavement, leaving no trace behind.
Asbestos Abatement - Our process of using water suppresses and confines asbestos so you will fully comply with all government regulations.
One machine design, 6 machine sizes and 12 industry applications make up endless opportunities for uses. With so many things in this world that are painted and dirty, you only need to decide which is your niche.