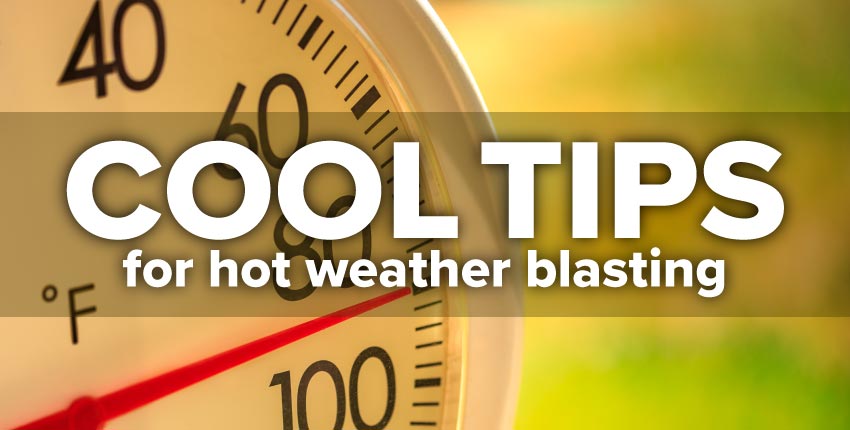 The official first day of summer was last week, but the hot temperatures are already upon us! Some of our lucky contractors might still be experiencing nice weather, but here in Houston, we are regularly getting 90°F+ days. Because of this, we were inspired to put together our best tips for staying cool while blasting in the summer.
Keeping yourself cool:
Blast helmet with climate control
The best way to stay cool while blasting is with our Comfort Systems.
RPB® Nova 3® Blast Helmet
A climate control module which supplies air 20°F above or below ambient temperature
An apron
All the hoses and breathing air filter*
The climate control is like wearing your own personal air conditioner, and our contractors say it makes a big difference in comfort!
Blast helmets provide many other benefits, such as reducing noise and protecting your face. They also have peel-off outer lenses, so you can remove a dirty lens quickly without having to take the whole helmet off. You can even pop in some earbuds and listen to music or take calls while you work!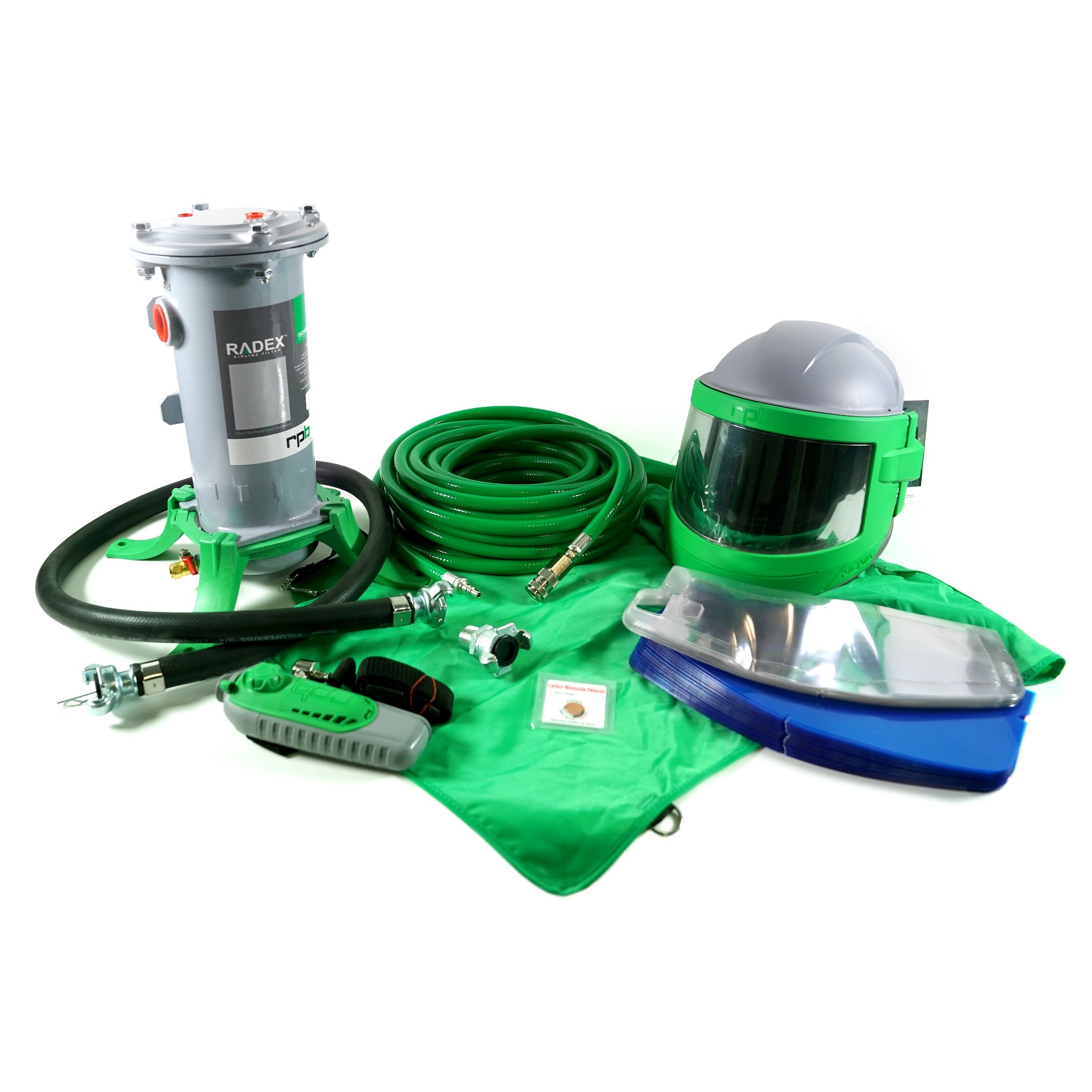 *Note: When using a blast helmet with supplied air, it's important to never run breathing air straight from the compressor. It needs to first pass through a filter, otherwise you could breathe in carbon monoxide.
Cooling Vest
The Isotherm® Cooling Vest can provide hours of relief from hot temperatures.
Remains at a constant 55°F for hours.
Does not feel wet against the skin.
Cooling packs can be recharged thousands of times. Simply submerge them in ice water or cold water for 20 minutes.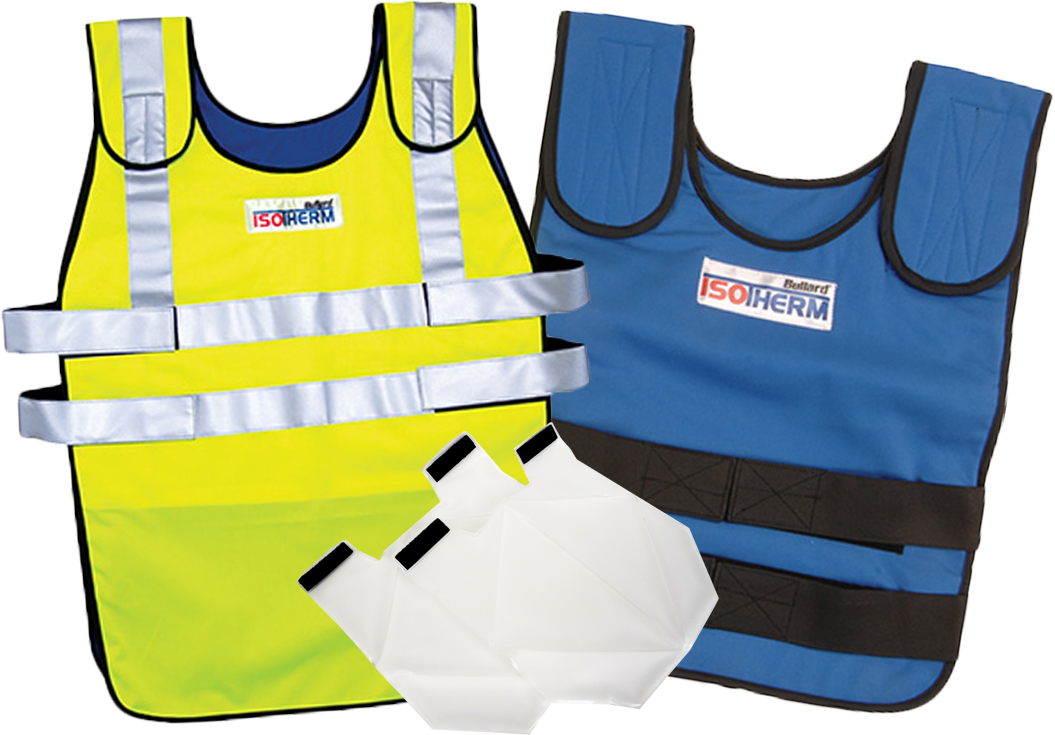 Keeping your machine running cool:
The process of compressing air generates a lot of heat. Our compressors actually produce air that's 100°F above the ambient air temperature! That's why we put a condensing fan on our mobile units — it cools the air back down before it goes into the blast pot.
Still, it's good to combat the heat when you can, especially in the summer. This will keep your engine running its best, and prevent the possibility of overheating.
Coolant additive
An easy way to keep your compressor running cool is a radiator coolant additive. There are many varieties out there, but our favorite is Purple Ice which can reduce the temperature of the coolant by up to 25°F. It's simply added to the coolant reservoir.

One more note about coolant — make sure to always park on a level surface so the coolant can properly circulate through the engine.
Keep the radiator clean
Another way to keep your compressor running cool is to keep the radiator well ventilated. Regularly flushing out the radiator fins to keep them free of dust and debris will allow for ample airflow. See our video on summer compressor maintenance here.
Run the machine with the canopy down
Here's a common misconception: running the compressor with the canopy or "hood" up will keep it cooler. It's actually quite the opposite! The compressor is designed to run with the canopy down, so air can be properly directed over the engine, keeping it cool. It's always best to run the compressor with the canopy down.
Don't use max pressure if it's unnecessary
You should always adjust your blast pressure relative to the job, using the blast pressure regulator. Running the machine at the maximum PSI all the time just puts unnecessary strain on the equipment, and can increase the risk of overheating in the summer.
Refer to our article on how to choose the right blast pressure and the chart below.

We hope you stay cool and busy this summer!
— The Dustless Blasting Team