With Our Proven Business Package
MMLJ has spent millions on brand recognition so you don't have to! Start your Dustless Blasting business with a direct link to the following household names: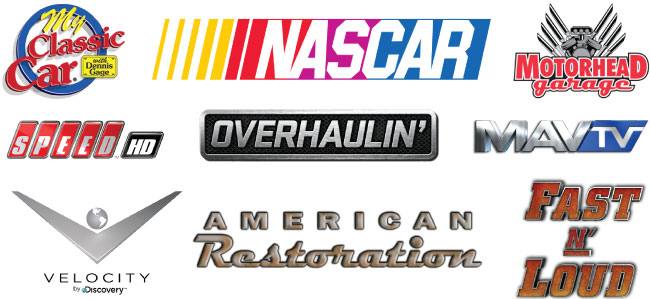 ... And Many More!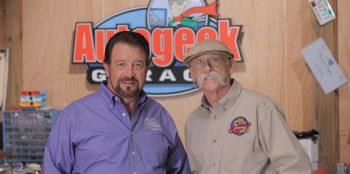 At MMLJ, we are constantly focusing on increasing brand awareness and creating a demand for Dustless Blasting.
With our complete business package, you can piggyback on our success, reaping the benefits of our considerable marketing efforts, and the legitimacy of our brand.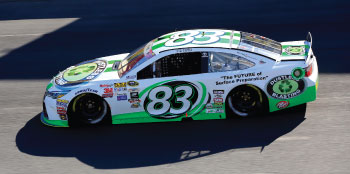 People don't want things power washed, soda blasted or sand blasted any more. They want Dustless Blasting!
SUPPLY THE DEMAND IN YOUR AREA
Our Pre-Designed Business Package gives you everything you need to effectively promote your own Dustless Blasting business.
---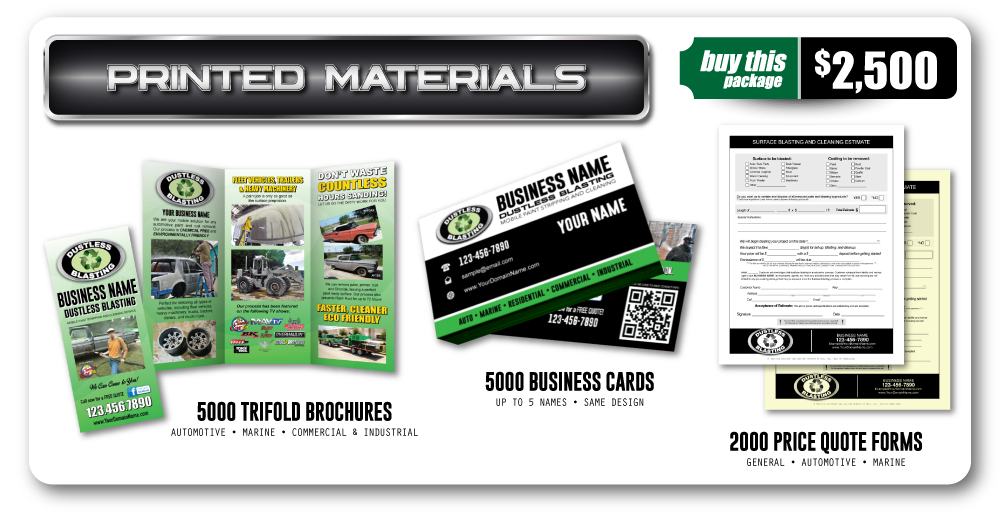 5000 Trifold Brochures
You get 5000 high quality trifold brochures customized with your business information. These are a perfect handout to explain and sell the services you offer. Pass them out at trade shows, auto meet ups, body shop offices, or even bulk mail them to people in your area.
5000 Premium Business Cards
Our fold-over business cards are like a mini pamphlet with your contact information plus an overview of your services. Alternatively you can opt for a traditional, non fold-over business card.
2000 Job Quote / Pricing Forms
Use these price quote forms to easily give quotes and price job.
Professional Website
Choose from several professional website templates which we will populate with your business information and relevant keywords. Your website will be complete with a contact form that makes it easy for your customers to contact you. They can even upload a picture to the contact form, giving you a better idea of what their project is.
Facebook Business Page Setup
We will set up a Facebook business page for you, and create your cover photo and profile photo. We'll also promote your new page from our own page if possible, and if you have any questions about how to use your page, we're only a phone call away.
YouTube Channel Setup
We will setup a YouTube channel for you and create your YouTube Channel's profile photo. Additionally, we'll upload several personalized videos to your channel, which will also be embedded on your website for added search engine visibility.
Two Pairs of Vehicle Magnets
Display the Dustless Blasting logo and your phone number on your work truck. Not only will it give you a more professional appearance, but it is free advertising as well. Comes with four 12" x 18" Magnets.
10 Company Polo Shirts
Give your crew a professional appearance and uniform look with Polo Shirts embroidered with the Dustless Blasting logo.
25 Yard Signs With Your Info
You've seen these numerous times used for real estate and political campaigns, they are perfect for increasing awareness of your brand too! Blasting draws a lot of attention, so put a couple of these out near where you're blasting, and people are sure to take notice! These are made of corrugated plastic, which is durable enough to be used indoors and outdoors, and can be left in place for long periods of time.
100 Promotional T-Shirts
These T-Shirts proudly display the Dustless Blasting logo! Hand these out at events and trade shows, or give them to your first 100 customers!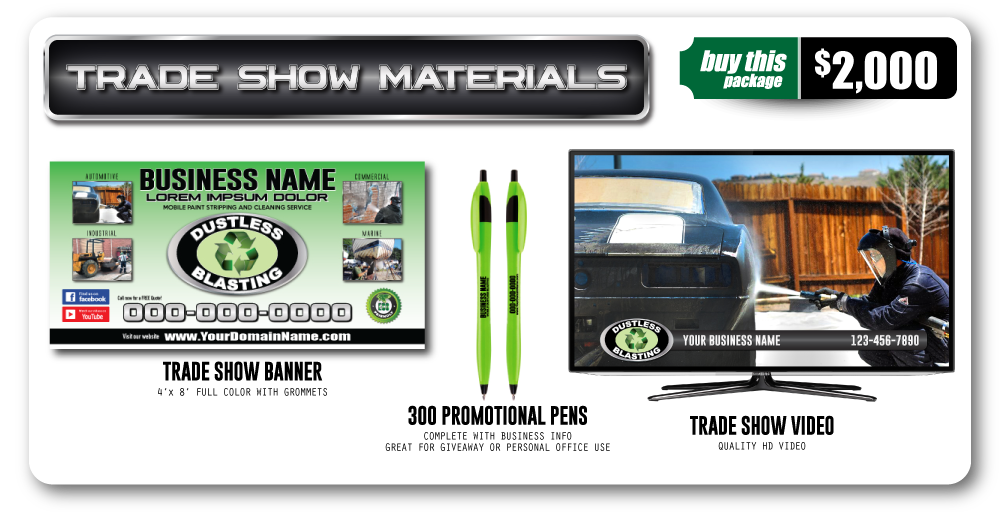 Trade Show Banner
Use this large vinyl banner to attract interest at trade shows, or hang it anywhere it can be seen.
Trade Show Video
This is a video you can play at trade shows on a TV or laptop. It will grab people's interest and show them what you can do. This comes in the form of a 720p HD video file sent to you via Dropbox, that way you can use it however and wherever you want.
300 Promotional Pens
You will get 300 ball point pens with your business name on them. These are a classic promotional item, giving your customers something to remember you by.

Marketing is critical to the success of any business. Get noticed by customers with your professional image and branding. The Complete Contractor Package maximizes the effectiveness of the print materials, online presence, professional branding and trade show materials to promote your business and get found by potential customers. In addition, your business will be included in our Preferred Contractor Program where customers in your area who contact us looking for service will be referred to you.
If you have any questions about this marketing package, give us a call or fill out our contact form here.